Two mismatched, desperate souls find each other in the rodeo bull-ring.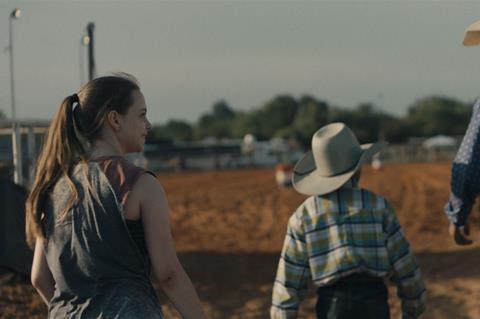 Dir: Annie Silverstein. US. 2018. 109mins.
Two very different characters, both fearful of going nowhere, form the heart of Bull, a slow-burn drama with familiar contours but a sure sense of place and a great deal of restrained empathy. Making her feature debut, director Annie Silverstein takes us inside the world of people with limited economic prospects who could be buried by their circumstances. But by resisting sentimentality, the filmmaker, alongside her naturalistic actors, allows us to sit inside the characters' despair so that we appreciate the intensity of its stifling oppression.
Bull unassumingly gives us a portrait of poverty in which there are no simple solutions or angelic characters
With superficial similarities to the acclaimed rodeo drama The Rider, Bull premiered at Cannes in 2019 (UCR) to strong reviews and is now set for streaming exposure where it will be embraced by those art-house audiences who crave realistic depictions of small-town American life.
Life isn't easy for Kris (Amber Havard), a white 14-year-old girl who lives with her depressed grandmother now that her single mother is in prison. She's not too fond of her black, middle-aged neighbour Abe (Rob Morgan), a former rodeo cowboy who, because of his age and serious injuries, is now one of the men who calms down the bull after it throws off its rider. But eventually, she begins to feel drawn to Abe's milieu, attracted to the ferocity of the bulls and the excitement of the rodeo.
Silverstein, who won the top prize in Cinéfondation at the 2014 Cannes Film Festival, isn't necessarily covering new thematic terrain with her story of mismatched individuals brought together because of a shared passion. And certainly Bull's portrayal of a young woman in tough financial straits will remind viewers of other underclass snapshots such as Fish Tank and The Florida Project. But Bull's deliberate, relaxed pace allows Kris and Abe to emerge as complicated, lived-in characters who have come to understand that they have to fight for everything in this life. Abe hides his bruises and concussions from his doctor so he can get back in the ring, while Kris feels alienated both at school and around her juvenile-delinquent friends, whose racism, drinking and drug abuse could lead her down a similar self-destructive path that has already ensnared her mother.
Bull unassumingly gives us a portrait of poverty in which there are no simple solutions or angelic characters. Rather, we meet people in difficult situations, sometimes of their own making, who don't necessarily have the tools to escape. Morgan plays Abe as a beaten-down man who has let selfishness and alcoholism determine his dim fate, while first-timer Havard is superbly sullen and withholding, giving us a troubled teen who is apprehensive about trying to make a connection with this older man lest she be disappointed by yet another adult.
Shabier Kirchner's low-light cinematography gives Bull's nighttime scenes an unfussy beauty, while several sequences with real-life rodeo cowboys emphasise the danger of the life Abe can't walk away from but which Kris sees as her ticket out of her dead-end existence. In the movie, bulls represent the unknown, the unbridled and the unpredictable. No surprise, then, that these powerful beasts are both foreboding and enticing for characters desperate for a fresh start but unsure of what might await them.

Production company: Bert Marcus Film
US sales: 30WEST, info@30WEST.com/International sales: Film Constellation, sales@filmconstellation.com
Producers: Monique Walton, Bert Marcus, Heather Rae, Ryan Zacarias, Audrey Rosenberg
Screenplay: Annie Silverstein, Johnny McAllister
Production design: Meredith Lippincott
Editing: Miguel Schverdfinger, Todd Holmes
Cinematography: Shabier Kirchner
Music: William Ryan Fritch
Main cast: Rob Morgan, Amber Havard, Yolonda Ross