Dir/scr Paul King. UK. 2009. 101 mins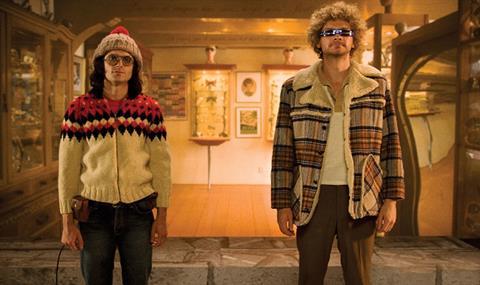 There's plenty to admire in Bunny And The Bull – visual inventiveness is its forte, with part-animated Delicatessen-style visuals matched with a Gondry/Jonze ethos. It's remarkable that The Mighty Boosh director King has achieved what he has for £1m. However, Bunny's sub-Withnail plot is dull at best, its unfunny protagonists buried under a mound of papier-mache sets. Only Julian Barratt breaks out of the arch aesthetic constraints, delivering an insane, Dachshund-suckling Russian vagabond to remember.
Technically, Bunny is an achievement, shot entirely in studios in London and Nottingham
Stop-frame, fully animated, miniature sets-within-sets; there's an Alice in Wonderland feel to Bunny and the Bull which may entrance limited, younger audiences when it opens in the UK on November 27 through Optimum (Wild Bunch is handling world sales). But its central duo, the housebound Stephen (Hogg) and his boozy, womanizing best friend Bunny (Farnaby) are somewhat dreary companions as they set out on their tour of Europe, giving the whole enterprise a doughy air. Even an encounter with the lively Spanish waitress Eloisa (Echegui) can't lift the atmosphere; the sets are indeed lovely, but Bunny And The Bull fails to reach across the soundstage into cinematic terrain.
Not a Mighty Boosh film, although it does feature the BBC comedy classic's director and some of its stars, Bunny is largely related in flashback, as Stephen mopes around his apartment cataloguing his life, unable to venture outside. Ordering the vegetarian special from a local seafood restaurant called Cap'n Crab sets him reminiscing. A year ago, we are told, Stephen's heart was broken by his secret love and, after a win on the horses, his best friend Bunny suggested they take the Eurostar and embark on Stephen's idiosyncratic tour of Europe (the Belgian National Cookbook Museum, the National Shoe Museum of Poland, etc).
Bunny And The Bull proceeds to relive the by-now trio's trip – often in miniature – starting in Poland, crashing on an Alpine pass, and ultimately headed for Andalucia to a fiesta in Eloisa's home town where her brother Javier (Noel Fielding, hammy) is a matador.
Hogg is one-note as the depressed Stephen and while Farnaby seems livelier as Bunny, he stops short of the edgy Withnail that King always seems to be promising. Together, they seem overwhelmed by their director's artistic ambitions.
Technically, Bunny is an achievement indeed, shot entirely in studios in London and Nottingham. The loss of any bright, "exterior" light does add a weight to the proceedings, though, which King attempts to alleviate by using miniature figures, an entire papier-mache covered "newspaper" set, placing puppetry as a backdrop and even shooting inside a snowdome.
To sign up for Screen's weekly Reviews Newsletter with all the week's new releases, international openings and full festival reviews delivered free to your mailbox every Friday, please click HERE
Production company
Warp X
International sales
Wild Bunch
+ 33 1 53 01 50 20
Producer
Mary Burke
Cinematography
John Sorapure
Production design
Gary Williamson
Main cast
Edward Hogg
Simon Farnaby
Veronica Echegui
Julian Barratt
Noel Fielding