In Guatemala, a young woman goes in desperate search of her sister in Justin Lerner's nailbiting drama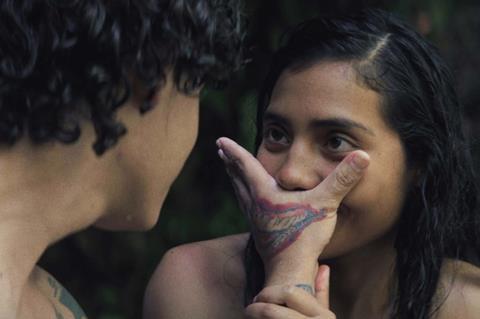 Dir/scr: Justin Lerner. Guatemala/US/Mexico. 2021. 125 mins
A young woman in search of her missing sister infiltrates a criminal gang in a Guatemalan coastal town, in the hope of finding answers, but gets sucked ever deeper into its activities. And leaving the gang, she learns, is not an option. Now and then a US director immerses himself in Latin American culture so effectively that he delivers with all the gritty authenticity of a local filmmaker. Cary Joji Fukunaga did it with Sin Nombre, Joshua Marston with Maria Full of Grace. Now Justin Lerner has built on years of collaborative work with members of Guatemala's 'clicas', or youth gangs, to deliver a nail-biting, evocative and utterly persuasive crime drama that is very much a part of the country's burgeoning film output.
Vibrantly lensed on widescreen, composed and cut to eke the maximum character and drama from its locations
Cadejo Blanco featured in Tallinn's current waves strand, after appearances in Toronto and Guadalajara. With its combination of verité and action, and a formidable female lead, it has more than enough quality to follow Fukunaga and Marston's films into arthouse cinemas.
Sarita (Karen Martinez) lives with her grandmother and sister Bea in a poor district of Guatemala City. She is the more grounded of the siblings, while her sister has a naive habit of dating criminals; so when Bea suddenly disappears, Sarita fears the worst. Knowing the identity of the latest boyfriend, Andres (Rudy Rodriguez), she heads for his hometown of Puerto Barrios. Rather than risk asking a dangerous criminal what he has done with her sister, she makes a hardcore pitch to join the gang.
Andres is one of its lieutenants, alongside Damian (Brandon Lopez), both barely out of their teens and leading a group that is even younger. Lerner economically paints a vivid picture of their operation: women working in the cocaine lab, tiny boys collecting payments, a network of snitches and spies, others killing as casually as delivering the milk – all serving the only adult, a tiny but chilling middle-aged man who is obsessed with killing off his opposition. "Make sure that motherfucker dies," he barks, while in a rush to get his kids to a birthday party.
This unnamed chief wants to turn Sarita into one of his prostitutes. Andres wins her a reprieve, of sorts, as sexual bait for a rival crime boss, luring him to a place where assassins lie in wait. Sarita's baptism of fire is one of two impressive set pieces in the film, the other also an intended execution, which Lerner orchestrates with panache.
Meanwhile, Sarita finds that the world she has entered is not as black and white as it seems, with Andres revealing a softer side and strong desire to escape a life that was hardly chosen, but unavoidable. Even the bullish Damian solemnly reflects on the fact that adults in the town "would all be happy if we're dead."
Cadejo Blanco is Boston-born Lerner's third film, after the US-based Girlfriend and The Automatic Hate. Here he works with Argentine DoP Roman Kasseroller and an otherwise wholly Guatemalan crew, including award-winning director Cesar Diaz as co-editor. The result is vibrantly lensed on widescreen, composed and cut to eke the maximum character and drama from its locations, whether bustling nightclubs, lonely streets, or on the highway.
Of the youngsters, only Martinez and Lopez (who shared a special jury prize in Un Certain Regard for 2013's The Golden Cage) are professional actors; many are current or former gang members, which would certainly explain the film's easy naturalism. Rodriquez, who lends Andres an awkward, tightly coiled vulnerability, was working in a garage when he answered the casting call.
But for the most part, the attention is on the remarkable Martinez, whose Sarita is stern-faced, hard to read, with a fortitude and a survivor's knack for improvisation – perfect undercover material, in fact. At the same time, there are glimpses of the emotion she is keeping in check.
Production companies: La Danta Films, The Orange Company, Imperative Entertainment, Cine Caribe
International sales: WaZabi Films: anickpwazabifilms.com, lornepwazabifilms.com
Producers: Mauricio Escobar, Justin Lerner, Jack Patrick Hurley, Ryan Friedkin
Screenplay: Justin Lerner
Production design: Fernando Galvez Moscoso
Editing: Cesar Diaz, Justin Lerner
Cinematography: Roman Kasseroller
Music: Jonatan Szer
Main cast: Karen Martinez, Rudy Rodriguez, Brandon Lopez, Pamela Martinez, Juan Pablo Olyslager, Rudy Wildfredo Urrutia, Heriberto Ochoa