Documentary about the extraordinary life of Mexican singer Chavela Vargas, adopted by Almodóvar in her late-life revival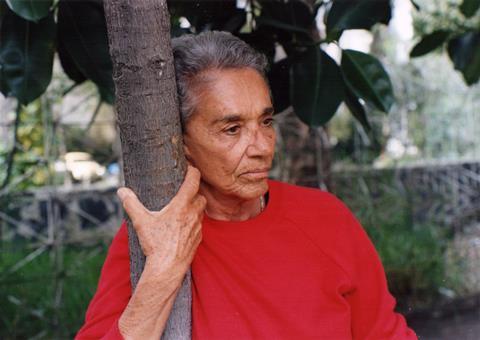 Dirs: Catherine Gund, Daresha Kyi. US, 2017. 90 mins
'Solitude', 'pain' and 'desolation' are key words in the repertoire of Mexican singing legend Chavela Vargas but – as an admirer comments in documentary Chavela – dark feelings can be hugely cathartic. And indeed this depiction of the singer's chequered life turns out intensely celebratory, and will send fans and newcomers alike rushing to the back catalogue of a great vocalist whose international reputation received a boost when Pedro Almodóvar started featuring her songs in his work.
Certainly, films about the expression of agony rarely feel this uplifting
Comprised of interviews, archive footage and stills, plus footage of Vargas herself, both in interview and in full flight on stage, Chavela is a vivid portrayal of an artistic, social and sexual rebel whose difficult but finally triumphant life finally proved that there sometimes really are second acts in showbiz lives. A must for festivals with either LGBT or musical focuses, Chavela should spread considerably wider.
Formally conventional, but never less than involving, the film – by the Aubin Pictures team behind documentaries including 2014's Born to Fly: Elizabeth Streb vs. Gravity - begins with Vargas interviewed in her Mexico home in 1991, aged 71. She insists that she'll talk about "where I'm going, not where I've been" – words that make sense when we realise that, even this late in life, she had a lot of career ahead of her.
The film traces her life from her birth in 1919 as Isabel Vargas Lozano in Costa Rica, beginning with her parents rejecting her because of her boyish demeanour. As a young woman she moved to Mexico City, where she sang in the capital's cabarets, and where her career really took off once she rejected the conventional feminine mannerisms of Mexican female singers, dressing in a more masculine style with trousers and her trademark poncho, and establishing the persona that allowed her to be a deeply moving interpreter of songs of love and loss (the lyrics of her repertoire, translated in English on screen, show a remarkable consistency in theme and intensity).
The film isn't always as informative as it might be about Vargas's dark side – although long-term lover Alicia Elena Pérez talks about a propensity to violence – but it's clear that she had one. The singer, emerging as witty and acute in her self-knowledge, says she sees 'Chavela', her persona that emerged in the early 40s, as "a bull… kicking against life". Vargas's hard living emerges vividly, whether it's the lifelong drinking that began in the bohemia of Mexico City, or her career as a formidable lesbian seducer with a penchant for the wives of eminent men, as well as celebrities, including – she insists – Ava Gardner. She also had a close friendship, at the very least, with Frida Kahlo.
For quite a stretch, Vargas's story looks set to be a classic showbiz tragedy, as drink and poverty lead her into reclusion in the town of Tepoztlan. But after 12 years' silence, she returned triumphantly to the stage in Mexico, then visited Spain, where she was discovered by, among others, Almodóvar, who is seen calling her "a faithful representation of myself." The Spanish director helped promote the remarkable comeback that Vargas staged in her 70s, and other friends from this period including singer-actor (and sometime Almodóvar star) Miguel Bosé. There are also testimonies from lovers and associates, notably lawyer Perez, who refers to her former partner as 'Senõra' - "with a capital S," she insists – and hints at the singer's intractably difficult personality.
The performances – some seen in rough archive footage, although the sound is always high quality – show just what the qualities were that made Vargas's singing so moving. The sheer intensity of her singing would certainly seem to testify to the life of suffering she experienced, whether from parental rejection or from the difficulty of living in Mexico as a lesbian; but whether that intensity is the result of an agonized soul, or more simply an effect of phrasing and consummate performance skills, is a matter for listeners to decide. By the time she died in 2012, having at last gone public about her lesbian identity, Vargas was a legendary figure – and the film makes a case for her being one of Latin song's true immortals. Certainly, films about the expression of agony rarely feel this uplifting.
Production company: Aubin Pictures
International sales: Latido Films, latido@latidofilms.com
Producers: Catherine Gund, Daresha Kyi
Cinematography: Catherine Gund, Natalia Cuevas, Paula Gutiérrez Orío
Editor: Carla Gutierrez
Music: Gil Talmi
Main cast: Chavela Vargas, Pedro Almodóvar, Elena Benarroch, Miguel Bosé, Alicia Elena Pérez Duarte y Noroña