Pawel Pawlikowski follows up Ida with this story of two lovers in 1950s Poland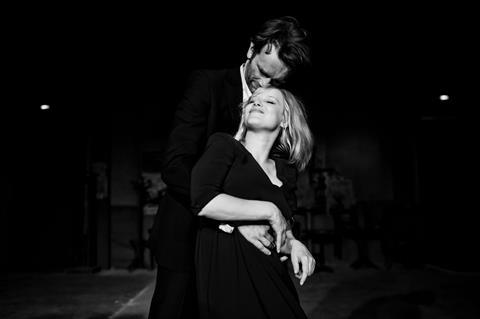 Dir. Pawel Pawlikowski. Poland/UK/France 2018. 89 mins
Even without reading background material, it comes as no surprise that the closing frame of Pawel Pawlikowski's Cold War bears the dedication, 'for my parents'. The seductively intimate love story between Wiktor and Zula, starting in the ruins of post-War Poland and playing out on the boulevards of Paris, feels personal; drenched in music, buffeted by the turbulence of post-War Europe, relationship politics and patriotism. (Although the mis-matched lovers share the names of Pawlikowski's own mother and father, that's where the similarity ends.) At a focused 82-minutes, Cold War is glorious, sophisticated film-making, shadowed by the spirit of Pawilowski's Oscar-winning Ida. Lead actress Joanna Kulig is arresting.
At times, particularly during the Polish sequences, Pawlikowski's camera feels thrillingly liquid
That Wiktor (Tomasz Kot) and Zula (Kulig) are already shrewd survivors of a ruinous war when they meet gives Pawlikowski's story an unpredictability that never allows the viewer to relax into this tale of love, compromise and opportunism. Shot, like Ida, in exquisite black-and-white, and also in the Academy 1:33 aspect ratio, Cold War launches in Competition at Cannes where it should entrance.
The first half of the film, which delivers an immersive portrait of rural Poland as its new masters raid the country's folklore and traditions for propaganda purposes, is perhaps stronger than the second, the breezy New Wave-influenced Paris-set section where the exiled lovers tussle over and over with their fate. Wherever they are, though, there's a perceptible depth to their world and the images that capture it.
Pawlikowski starts his film with a series of face-on ethnographic shots of street musicians in a ruined, rural Poland of 1946. Wiktor and his travelling companions Irena (Agara Kulesza) and party apparatchik Kaczmarek (Borys Szyc) are, it will transpire, recording the folk music, dance and song of Poland from the back of a rickety van in a bid to preserve the folklore and ultimately make a cultural statement for the new satellite state. ("Where I come from, every drunk sings like that," says Kaczmarek, though he's wise to the propaganda potential and eventually has them singing about how great Stalin is).
This is the start of a musical journey for the film – there is no score, only songs arranged by Marcin Masecki – which will take the viewer from rural Poland to the jazz clubs of Paris in the early 1960s (like Ida, in which Kulig played a singer). Singer/dancer Zula, who isn't a peasant at all and is rumoured to have killed her father, edges her way to the front of what will eventually become the real-life Mazowsze folk ensemble. Worldly, older Wiktor, who has been to the jazz clubs of the west, is taken by her "energy, spirit, she's original". Like Wiktor, the camera ceaselessly looks for her; on the stage, in reflections, even at the back of the troupe (where she doesn't stay for long). She, meanwhile, tells Wiktor that her father "mistook me for my mother and I showed him the difference".
Eventually, Wiktor decides they should defect to the West, walking across the border on a Mazowsze tour to East Berlin back in 1952, when you could still just pack a bag and use your feet. It is never certain that the canny Zula, now the star of the show, will join him, and thus begins a push-pull over the latter half of the film as the couple roams, never quite connecting, between Paris and the L'Eclipse nightclub, Yugoslavia, Berlin and Poland. Even when they are together in Paris, jobbing musician Wiktor is in thrall to a film director named Michel (Cedric Kahn), to whom he pimps out Lula's glamorous back story to make her more attractive and exotic.
At times, particularly during the Polish sequences, Pawlikowski's camera feels thrillingly liquid. Stately shots inside a ruined church or backstage move at one with the characters, events or the music, much the same as a night cruise down the Seine in the second half. Pawlikowski and DoP Łukasz Żal (returning, like production designers Katarzyna Sobanska and Marcel Slawinski, from Ida) often set the camera high, arranging the players into a moving artwork.
British-based since his teens, Pawlikowski (My Summer of Love, Woman In The Fifth) returned to Poland to make Ida, and his homeland continues to unlock these stories which play on similar themes but are beautifully, satisfyingly different. What's so intriguing about Cold War is that the film gives us a vision of a Poland in which everyone is a hardened survivor of conflict, where bridges have been crossed and one more betrayal or bargain for self-advancement is just another in a long line of similar events. It is as much about music — how it lives in us and animates our stories — as it is about Wiktor, Zula, or the idea of finding a home in a world which is constantly shifting.
Production companies: Opus Film, Apocalypso Pictures, MK Productions
International sales: Protagonist Pictures, mk2
Producers: Tanya Seghatchian, Ewa Puszczyńska
Screenplay: Paweł Pawlikowski, Janusz Głowacki, with the collaboration of Piotr Borkowski
Editing: Jarosław Kamiński
Production design: Katarzyna Sobańska, Marcel Sławiński
Cinematography: Łukasz Żal
Music: Marcin Masecki
Main cast: Tomasz Kot, Joanna Kulig, Agata Kulesza, Borys Szyc, Cedric Kahn, Jeanne Balibar