Blending body horror and climate change, this future of body alteration is 'pure, essential Cronenberg'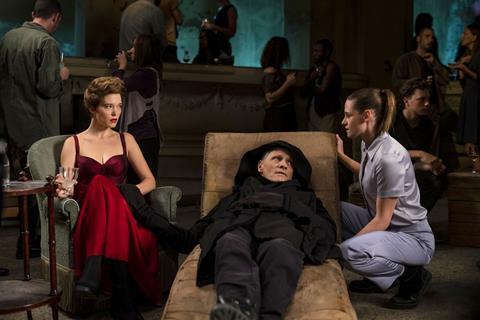 Dir/scr: David Cronenberg. Canada/Greece. 2022. 107 mins.
Pure, essential Cronenberg, Crimes Of The Future comes across as a manifesto of the Canadian director's lingering preoccupations, the works for which he is justifiably most celebrated. The worlds of Dead Ringers, Crash and Naked Lunch in particular swarm all over this vision of the future. and working again with Carol Spier, the production designer on those films (and all his work), has resulted in a film which feels like re-entering his mind's eye. It's a piece which is deliberate, but not sterile; disturbing, but too grounded in reality to be truly frightening, even though it probably should be given it attempts to blend the fears of body horror with climate change. His collaborator of old, JG Ballard, would have loved it.
With this distinctive old friend of a feature, Cronenberg is back to reclaim the word Cronenberg
Originally written by David Cronenberg almost two decades ago, and bearing the same title as one of his low-budget early films (though they have nothing else in common), Crimes Of The Future was a prescient work back then, and the future is now for this film. That may well both disappoint fresh audiences while pleasing his old fans. The way this story of body alteration is told is a little distancing: it lacks a developed central character although Viggo Mortensen is fine as the lead (and eerily reminiscent of Naked Lunch's Peter Weller — the two films also share a fondness for creepy inanimate objects.) With Neon on board for the US and a marketing campaign which will undoubtedly focus on Cronenberg's return to his roots, art house play is assured. Kristen Stewart's presence may boost interest, although her twitchy cameo is not her finest hour.
Some film-makers are futurists as well as story-tellers — as are their production designers – and Cronenberg is certainly one of them. The world we enter here, a utilitarian place set either underground or on the dark graffiti-strewn streets of Athens, is obsessed with the human body and the potential for its alteration, grotesque or otherwise, as a spectacle. Pain has been eliminated, so one hopes the eight-year-old boy named Brecken who is murdered in the introduction by his mother feels nothing as she smothers him. He eats a plastic bin in a disturbing initial sequence.
We then move to the lair-like home of world-famous performance artists Saul (Mortensen) and Caprice (Léa Seydoux, reliably interesting in the role). He's sleeping in an OrchidBed 'living' bed made by LifeFormWare, complete with tentacles, which anticipate his needs as he grows new organs inside his body. These are removed publicly by Caprice as he lies inside an autopsy suite called the Sark Unit in a performance from which they both derive sexual pleasure (so very Crash). It appears that although pain has 'all but disappeared', the act of cutting into skin delivers a high. Caprice tattoos his growths for identification by the quasi-legal National Organ Register, staffed by the fusty functionaries Timlin (Stewart) and Wippit (Don McKellar), concerned about the future of accelerated human evolution.
Saul's not well though. His throat is constricting and he can't eat, despite the BreakFaster chair manipulating his body as he tries to feed it. He's also doing some undercover work for the Body Crime Unit, for reasons best known to himself. And when Brecken's father approaches him to perform a public autopsy on his dead child, the film moves towards its thought climax. Howard Shore's thoughtful blend of strings with Moroder-like synth helps pulse it there.
There are several loose ends. The characters at the Organ Register don't really go anywhere – when Saul gets a zip inserted in his stomach so he can be part of a secret 'inner beauty' contest, it's more of a salacious top note that gives Caprice the chance to lick it than to explore the beauty of what seems a clear allegory for cancer. Likewise, Timlin's main part in the film is to tell the audience that 'surgery is the new sex' and bow out. But the Cronenberg of old — not the director of, say, recent works like Maps to the Stars or Eastern Promises – was always direct and provocative. Thus Caprice has her face cut, another performance artist has his eyes and lips stitched closed while his body is dotted with human ears. This is, unfortunately, hardly the future.
Back in 1996, Crash scandalised Cannes. Had a sequence in Crimes Of The Future in which Saul and Caprice get off on being cut by lasers screened back then, the same reaction would have taken place. Nobody will be at all scandalised now but, with this distinctive old friend of a feature, Cronenberg is back to reclaim the word Cronenberg; mis-applied to so many features ever since, and now back where it belongs.
Production companies: Serendipity Point Films, Telefilm Canada, Ingenious Media
International sales: Rocket Science, info@rocket-science.net
Producers: Robert Lantos, Panos Papahadzis, Steve Solomos
Cinematography: Douglas Koch
Production design: Carol Spier
Editing: Christopher Donaldson
Music: Howard Shore
Main cast: Viggo Mortensen, Léa Seydoux, Kristen Stewart, Scott Speedman, Bungue, Don McKellar