An 11-year-old Senegalese girl living in Paris finds camaraderie in a teenage dance troupe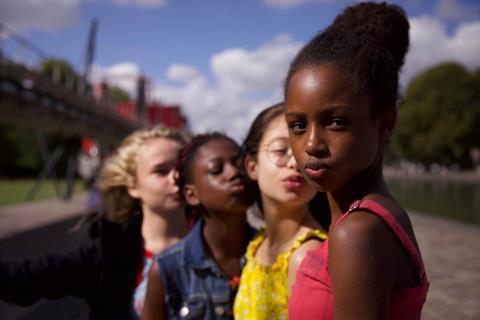 Dir/scr: Maïmouna Doucouré. France. 2019. 95mins
For her feature debut, writer/director Maimouna Doucoure (the Sundance-winning short Maman(s)) sets the sexual awakening and desperate need for acceptance of an 11 year-old girl against a clash of cultures in the internet age. The sight of twerking pre-teen bodies is explicitly designed to shock mature audiences into a contemplation of today's destruction of innocence, but some missteps hold Cuties at a distance for that demographic: a film to respect for its audacity, admire for its lead female performance perhaps, but also view as a dramatically contrived.
Doucoure seems to want to provoke censure, but fails precisely because she's trying so hard.
Premiering at Sundance after which it travels to Berlin's Generation section in advance of a French theatrical release and Netflix global outing, Cuties will certainly garner mainstream media attention, but it's the streaming service, and its giant young audience, which should propel Doucoure's debut into the YA hit zone of 13 Reasons Why or The End of the F***ing World.
Underscoring that this is her target audience, Doucoure moves the film along furiously and brightly, painting the scenario in broad, teen-friendly, neon-accented brushstrokes. It's also scored with an eye to the zeitgeist – heavy on Ygress, and with tracks including 'My Bitches Are Comin'. Adult supervision is conveniently negligible at home or at school; this is a film for and about kids, and Senegalese immigrant Amy (or Aminata), played impressively by Fathia Youssouf Abdillahi throughout, is chief amongst them.
Amy's home life is troubled: her family is deeply religious and she is consistently admonished to be pious and cover her head when outside the family's new home, which is a giant public housing block in Paris mostly inhabited by her fellow countrymen. She awaits the return of her father from Senegal but, when he does come back, it will be with his new second wife – a fact which Amy's depressed and mostly-absent mother Mariam (Maïmouna Gueye) initially hides. Amy must go to school while looking after her two younger brothers (which she often does by locking one in the bathroom). There, she is drawn to a bitchy girl gang who have a dance group called The Cuties. And, as it turns out, she will stop at nothing to gain their acceptance.
Doucoure's screenplay requires Amy's behaviour to escalate radically (and often hysterically) in the absence of any real-world consequence. She steals a phone from a family friend and money from her distracted mother; her brother floods the bathroom; she goes to school wearing a tank top and PVC trousers and has screeching fights with rival gangs. Yet nobody in this close-knit community raises an alarm. In short, she's acting out in some style, and pretty soon she wins a place in the Cuties troop despite her "flat ass".
We then move to outrageous musical montages involving close-up crotch shots of pouting pre-teens. Doucoure seems to want to provoke censure, but fails precisely because she's trying so hard. Ultimately, that's the fate that also befalls Amy as she learns the perils of the internet and the limits of the selfie.
All four Cuties members give excellent performances, both in their routines and as convincing members of a fairly oppressive demographic – the pre-teen girl gang. It's Abdillahi who is outstanding, however, moving between child and young adult with an ease that mirrors the real-life confusion of that age. Doucoure captures her, and pre-adolescence, at a moment in time which young audiences will recognise and respond to. Most viewers – and parents in particular – will find some truth in at least parts of Cuties. Ultimately, though, Doucoure has chosen her own girl gang, and they're the ones who will most benefit from this cautionary tale when it moves to streaming.
Production companies: Bien ou Bien Productions
International sales: BAC Films, Netflix
Producer: Zangro
Cinematography: Yann Maritaud
Editing: Stephane Mazalaigue, Mathilde Van De Moortel
Music: Nicolas Nocchi
Main cast: Fathia Youssouf Abdillahi, Esther Gohourou, Ilanah Cami-Goursolas, Médina El Aidi-Azouni, Myriam Hamma, Maïmouna Gueye