Dir/scr. Laila Pakalnina. Latvia, Estonia, Poland. 2015. 90mins.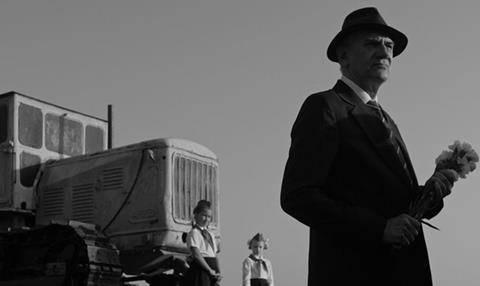 Writer-director Laila Pakalnina's chaotic satire of Soviet mythology begins and ends with shots of a chicken. In the intervening ninety minutes, she fills the frame with panicking poultry, avalanches of cabbages, rioting peasants and symbolic shots of toppling scythes. Pakalnina mounts a continual assault on the fourth wall: a smirking man repeatedly locks eyes with the camera to make pronouncements like "God no longer exists." Dawnis so parodically Russian in its style that it might, in fact, be a parody. The sly humour notwithstanding, this is an exhausting viewing experience, the kind of film to be endured as much as enjoyed.
The widescreen black and white photography is nothing if not striking. There is a monstrous beauty to the film at times
Bold both stylistically and in its political message, Dawn is certain to be a talking point on the festival circuit. However, the prospects for sales to territories beyond those involved in the co-production are limited by cultural specificity and the fact that watching it feels a bit like having a nervous breakdown.
The film is inspired by the tale of Pavlik Morozov, a boy who became a Soviet legend and a celebrated martyr to the cause after he denounced his own father to Stalin's secret police and was subsequently killed by his family. Pakalnina relocates the story to Latvian soil: Pavlik is re-christened with the Latvian name Janis (Antons Georgs Grauds). It's perhaps no accident that Dawn received its world premiere at the Black Nights Film Festival on November 18th, Latvia's National Day.
Little Janis looks like he stepped out of a propaganda poster. Clear-eyed, fair-haired and clean-limbed, he weeps righteous tears over the body of the mother his father beat to death. Meanwhile, that father (Vilnis Daudziņš) is a grotesque, monstrous creature, all stained teeth and slavering hatred for his son. Other key characters include Mirdza (Liena Šmukste), the portly, terminally tired chairwoman of the collective farm; and the nameless messianic chairman of the village council (Jēkabs Kalniņš) – in one shot, Pakalnina positions him so that he is given a the appearance of wearing a halo, a halo which on closer inspection turns out to be a grubby window covered in dead insects.
The widescreen black and white photography is nothing if not striking. There is a monstrous beauty to the film at times. Pakalnina has a taste for the absurd and surreal in her symbolic imagery. A plane, lost on the way to the collective farm, is forced to drive behind a donkey cart. A worker urinates in a graceful arc from the top of a viaduct; a statue of an angel is carried overhead during the ransacking of a church. The long, complicated tracking shots are densely packed with surging characters brandishing spades and axes, escaping dogs and scattering chickens. There is certainly a lot going on, but it is hard to be certain of precisely what it is going on for much of the time.
The discordant score is as strident as the visual elements. And the buffeting sound design, full of screaming babies and manic laughter, means there is very rarely a moment of peace or reflection, no escape from the film's curious blend of heartfelt melodrama and savage satirical message.
Production company: Hargla Company, Miracle Worker, Staron Film, Digitaalne Sputnik
International sales: Hargla Company Laila_Pakalnina@diena.lv
Producers: Laila Pakalnina, Kaspar Kallas, Malgorzata Staron
Screenplay: Laila Pakalnina
Cinematography: Wojciech Staron
Editor: Kaspar Kallas
Production design: Jurģis Krāsons
Main cast: Wiktor Zborowski, Vilnis Daudziņš, Andris Keišs, Antons Georgs Grauds, Liena Šmukste