Director: Alice Winocour. France-Belgium 2015. 101 mins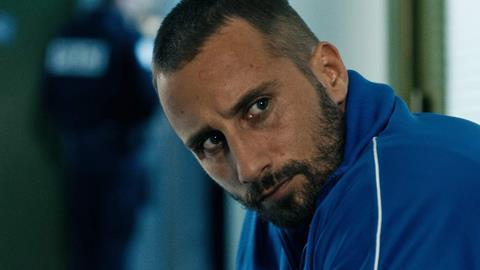 French writer-director Alice Winocour takes a surprise detour into genre territory for second feature Disorder (Maryland), a tough, nuanced suspenser that couldn't be more different from her very art-house debut, 2012's period piece Augustine. Eminently exportable, Disorder should be a hot festival item too - not least thanks to a compelling performance from Mathias Schoenaerts, who after some uneasy turns in costumers such as A Little Chaos and Far From The Madding Crowd really lets his star quality shine here.
Disorder is a film about haves and have-nots, about the psychological effects of war, and about the abuse of women as chattels.
As in the films that made his name - Bullhead and Rust and Bone - Schoenaerts plays a troubled muscleman. Vincent is a soldier freshly returned from Afghanistan, where he's acquired some psychological and physical problems that may see him invalided out of the army. Meanwhile, he takes a job with the security corps at a swanky party taking place in Maryland, the opulent estate of Whalid (Percy Kemp), a Lebanese businessman.
Vincent's eye is caught by Whalid's beautiful wife Jessie (Diane Kruger) and shortly after, he's hired to look after her and her young son Ali. Nerves permanently crackling as if he's still in a battle zone, Vincent saves his charges from violent attack. But back at Maryland (which is also the film's French title), it becomes clear that Jessie's expensively cushioned world has fallen apart, as a result of skullduggery in high places - which Vincent, considerably smarter than people assume, has sniffed out at the party.
The final act, elegantly executed in the best action/suspense tradition, has Vincent attempting to repel intruders into Jessie's palace-turned-prison.
Winocour doesn't overstate her subtexts, but they're there - Disorder is a film about haves and have-nots, about the psychological effects of war, and about the abuse of women as chattels. A TV clip about women and Islamic State carries parallels with Jessie's own position, and reminds us that the capitalist West is hardly blameless when it comes to disempowering women. It's a pity that Kruger's role as Jessie is somewhat underdeveloped, although it's part of the film's logic that she's often observed from afar, before her and Vincent's rapport begins to open up.
Both leads are on great form, though, and the slow-burn approach to their relationship pays off beautifully as things get ever tighter in the drama's final stretch. Textured sound design also takes us right into Vincent's head, ramping up the tension no end.
Production companies: Dharamsala, Darius Films, Mars Films, France 3 Cinéma, Scope Pictures
International sales: Indie Sales, sales@indiesales.eu
Producers: Isabelle Madelaine, Emilie Tisné
Screenplay: Alice Winocour, Jean-Stéphane Bron
Cinematography: George Lechaptois
Editor:Julien Lacheray
Production design: Samuel Deshors
Music: Gesaffelstein
Main cast: Matthias Schoenaerts, Diane Kruger, Paul Hamy, Zaïd Errougui-Demonsant