Dir. Drake Doremus. US, 2015, 101mins.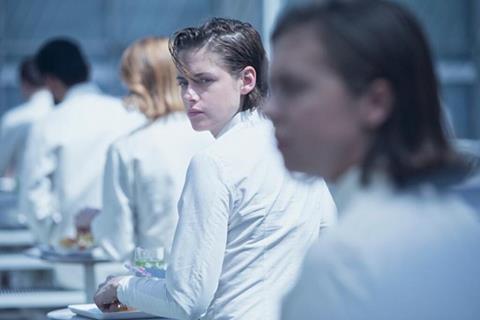 One of the most terrifying futures you could contemplate is a world in which imagination has so run dry that people have to recycle old dystopias. That's more or less where we seem to have got to in Equals, a science-fiction love story set in a world that is visually sheened to evocative perfection - but in which the central premise is creakingly old hat.
Equals just about passes muster as a solid vignette of love against the odds, but when it comes to futurism, its vision is dustily archaic
Kristen Stewart and Nicholas Hoult play a star-crossed future Romeo and Juliet rediscovering love in a world where emotion has been universally suppressed. Their performances, eking genuine feeling from a glacial milieu - and no less glacial execution - offer the main appeal of a film that gets by on impressive visual style, but that adds nothing new to the annals of nightmare futurism.
Director Drake Doremus has so far - in his Sundance-winning Like Crazy (2011) and Breathe In (2013) - established a reputation for making serious dramatic mileage out of the agonies of modern love, but the glum and earnest Equals shows him on less certain ground. Adepts of science-fiction - even of the upmarket philosophical strain recently represented by Ex Machina - will probably shun this, while the lack of mainstream appeal is just about offset by the pairing of Stewart and Hoult in offbeat form.
The story takes place in a future, some time after human development has been radically rerouted following a Great War- we know this thanks to a series of history broadcasts that seem to be permanently piped into city streets and workplaces, presumably by dictat of the Ministry of Exposition. In this society, known as 'the Collective', everybody is seemingly interchangeable, identities pared down to a bland minimum by medical regulation, individuals all living alone, and by day striding blank-facedly to work in immaculate white uniforms. But official warnings on omnipresent screens tell of a condition called SOS, or 'Switched-On Syndrome' (what's not to dig, man?), in which the emotions, and most dangerously Love, become fully operative again.
This is exactly what happens to illustrator Silas (Hoult) and his co-worker Nia (Stewart), a writer. After an initial coyly tentative session of touching and hugging, as if they were cautiously inventing romance, things heat up between them, and they plan a future together. But things take a sorrowful turn as the script shamelessly reworks a very familiar Shakespearean twist.
The original story, according to the credits, is the director's, but scriptwriter Nathan Parker isn't able to muster any of the teasing complexities of his Moon script. Fortunately, the two leads bring the material some real subtlety, as they push against the inherent restrictions of the premise, Stewart making good use of the chilly edge she sometimes brings to her roles.
Visually, the film is more than striking, designers Katie Byron and Tino Schaedler make imposing use of existing futuristic architecture in Japanese locations, while John Guleserian uses a restricted palette dominated by cold turquoise tempered by warm orange, his facial close-ups delicately maximising emotional nuance.
But there's a terribly déjà vu feel to this vision of a loveless future - echoes of bad futures that hark back not just to 1984 but to Evgeny Zamyatin's 1920s novel We. While Andrew Niccol's latter-day imagined futures in Gattaca and In Time are specifically attuned to contemporary anxieties about social control and exclusion, Equals merely reworks scenarios that arose out of specific 20th-century political anxieties. Equals just about passes muster as a solid vignette of love against the odds, but when it comes to futurism, its vision is dustily archaic.
Production companies: Scott Free, Route One Films
International sales: Mister Smith Entertainment, info@mistersmithent.com
Producers: Michael Schaefer, Michael Pruess, Ann Ruark, Jay Stern, Chip Diggins
Executive producers: Ridley Scott, Marshall Levine
Screenplay: Nathan Parker
Cinematography: John Guleserian
Editor: Jonathan Alberts
Production design: Katie Byron, Tino Schaedler
Music: Sascha Ring, Dustin O'Halloran
Main cast: Kristen Stewart, Nicholas Hoult, Guy Pearce, Jackie Weaver