Dir: Burhan Qurbani. Germany. 2010. 91mins.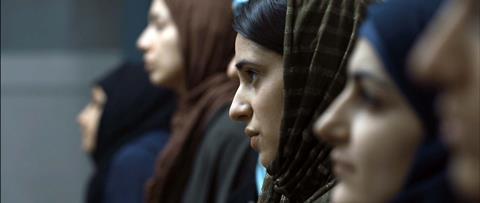 A poorly scripted indie melodrama which interweaves three stories of young people from Muslim backgrounds in Berlin, Faith mines the same culture-clash seam as Fatih Akin's Head On but suffers by comparison. Whereas Akin's film pegged its illuminations about second-generation German Turks on a real and compelling story, Faith – which deals with German muslims from a variety of ethnic backgrounds – invents characters to serve arguments which are as muddy and confused as its inconclusive dramatic arc.
The film sacrifices what small investments the audience makes in the characters by imposing on them lurid acts of madness, fundamentalism, violence or self-hatred
Faith may find a small theatrical audience on home ground, helped along by its smooth indie look, classy credits and sentimental Arab-West fusion soundtrack. But with its artsy TV genes, the film's real home appears to be in a serious issue-drama slot on the small screen. Outside of Germany, its chances are minimal.
Maryam (Zaree) is the daughter of progressive, tolerant Turkish imam Vedat (Erincin). With her father distracted after the death of her mother, Maryam and her friend Renan (Abdel-Maksoud) take advantage and party hard. But when she takes an abortion pill and the combination of the drug, constant bleeding and stomach cramps starts playing with her mind, Maryam turns into a devout, intolerant Muslim who holds her liberal father in contempt.
In a second strand, happily married policeman Ismail (Ljubek) is attracted to a Bosnian illegal immigrant to whom, it transpires, he is connected by a shooting that still haunts him.
African muslim Sammi (Acheampon) has 'unnatural' feelings for his fellow fish market worker Daniel (Moya), though the homophobia of his work environment and his feelings of religious guilt force him to repress the realisation that he is gay.
Set during Ramadan against the background of a wintry and hostile Berlin, Qurbani's debut is structured in five chapters as a Hajj, or Islamic pilgrimage, involving steps such as 'devotion', 'self-sacrifice' and 'the choice of a path'. These on-screen chapter dividers, though, have little real relevance to the rather perfunctory stages of the three stories we see unfolding here.
There's no faulting the actors, and there is drama aplenty in the stories of Maryam and Ismail - although the latter is underplotted, giving the viewer little to go on beyond the fact (expressed in a series of intense close-ups) that he is conflicted.
In each case, though, the film sacrifices what small investments the audience makes in the characters by pushing them into lurid acts of madness, fundamentalism, violence or self-hatred that feel imposed. Islam may be a hard taskmaster – but it's nothing compared to the script, co-written by Qurbani with Ole Giec. At the same time – perhaps by way of compensation – all three stories are left frustratingly unresolved.
To sign up for Screen's weekly Reviews Newsletter with all the week's new releases, international openings and full festival reviews delivered free to your mailbox every Friday, please click HERE
Production company
bittersuess pictures
International sales
Memento Films International
(33) 1 53 34 90 20
Producers
Susa Kusche
Uwe Spiller
Robert Gold
Screenplay
Burhan Qurbani
Ole Giec
Cinematography
Yoshi Heimrath
Production design
Barbara Falkner
Editor
Simon Blasi
Music
Daniel Sus
Main cast
Maryam Zaree
Jeremias Acheampong
Carlo Ljubek
Marija Skaricic
Sergej Moya
Vedat Erincin
Anne Ratte-Polle
Nora Abdel-Maksoud