Stanley Tucci directs Geoffrey Rush and Armie Hammer in an artistic endeavour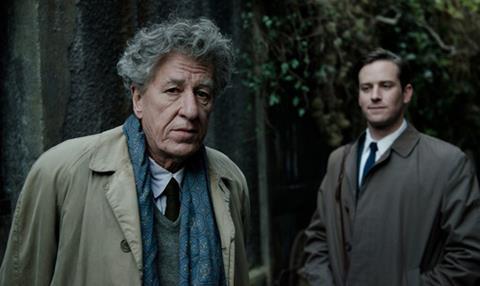 Dir: Stanley Tucci. UK, 2017, 90 mins
A handful of films about the art of portraiture show how the process of creation can be as agonizing for the sitter as for the painter – Jacques Rivette's La Belle Noiseuse being one. In some ways, however, Stanley Tucci's Final Portrait is closer in intention to Victor Erice's The Quince Tree Sun, which suggested that once an artist gets started on a canvas, there is not necessarily a clear end in sight. This account of an encounter with legendary painter and sculptor Alberto Giacometti (Geoffrey Rush) takes as its springboard a principle captured in the artist's comment, "the more one works on a picture, the more impossible it becomes to finish it." Actor-director Tucci has demonstrated light brushstrokes before – notably in Big Night (co-directed with Campbell Scott) and period piece Joe Gould's Secret, but this relatively concise passion project won't, in the end, stop viewers getting the cramps that come with much longer sittings.
Effectively a chamber piece spiked with musings on the difficulty of art, the piece is by nature a little stagey as well as talky
Based on a memoir by American writer James Lord, the film is set in 1964 and starts with Lord (Armie Hammer) recounting in voice-over an invitation by Swiss maestro Giacometti (Geoffrey Rush) to paint his portrait - it won't take him long, he says. Sure enough, the project ends up becoming a constantly extended, seemingly impossible affair, because of the artist's perfectionism, self-doubt and perverse unpredictability.
All Lord has to do is sit still for days on end, and go for occasional walks and drinking sessions with Giacometti, during which they discuss such topics as geometry, Cézanne, and the artist's animus for Picasso. Hovering meanwhile in the background are the Giacometti's long-suffering wife Annette (Sylvie Testud) and his put-upon but cheerfully resilient brother, sculptor Diego Giacometti (Tony Shalhoub). And making occasional frenzied irruptions is the painter's muse and mistress, prostitute Caroline (Clémence Poésy, in a display of neurotic irrepressibility that is grating from the start).
The painter's cluttered, run-down studio is a strikingly claustrophobic stage for what is, much of the time, a static two-hander – and it must be said that Hammer's stalwart ability to assume a Zen-like calm during the sittings, and indeed for most of the film, brings Final Portrait the relaxed, solid baseline that it needs.
By comparison, Rush's mannered, ostentatious eccentricity is something that viewers will either swallow or not. He certainly looks a dead ringer for Giacometti, sharing his lugubrious, elongated physiognomy, with the addition of an unruly frizz of grey hair, a baggy tweed jacket and raincoat, and a cigarette jammed permanently in his mouth. Rush's Giacometti fluctuates wildly between despair and a faint trace of impish hedonism, but it's a showily theatrical performance that often feels as if it's torn ready-made out of the Playing Artistic Agony textbook. Sylvie Testud, by contrast, brings composed nuance to Annette, and Shalhoub contributes a welcome light note of quizzical irony.
Effectively a chamber piece spiked with musings on the difficulty of art, the piece is by nature a little stagey as well as talky, and Tucci's script takes a knowing risk in teasing us with comments on the duration of the process at hand: "We could always just stop," suggests Lord at one point. The problem is that, when the story ends, the final product of the sittings is simply a picture of a man sitting in a chair – and the film never persuades us that we might be dealing with something sublime, rather than just a prop for an amusing art-world anecdote.
Shot on set in the UK, with some London locations standing in a little shakily for Paris (French and English graveyards, alas, just don't look alike), the film is undeniably a triumph of set design, with James Merrifield's simulation of Giacometti's studio a densely textured study in distressed greys. Otherwise, the Paris evoked here often feels less specifically early 1960s than generically bohemian, with a relentlessly touristic soundtrack to match, accordions, Gypsy jazz and all.
Production companies: Potboiler Films, Riverstone Pictures, Arsam International, Olive Productions, Lowsun Productions
International sales: HanWay Films, info@hanwayfilms.com
Producers: Gail Egan, Nik Bower, Ilann Girard
Screenplay: Stanley Tucci, based on A Giacometti Portrait by James Lord
Cinematography: Danny Cohen
Production designer: James Merifield
Editor: Camilla Toniolo
Music: Evan Lurie
Main cast: Geoffrey Rush, Armie Hammer, Clémence Poésy, Tony Shalhoub, Sylvie Testud