Dir/scr. Maris Curran. US. 2015. 83mins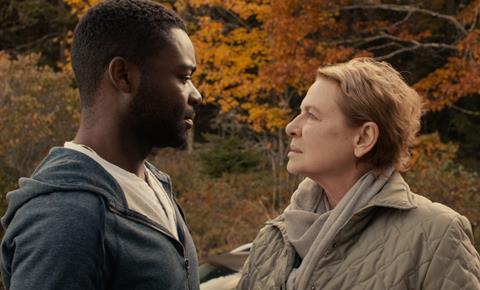 A widower and his dead wife's ailing mother try to work through their grief together in Five Nights In Maine, a commendably restrained drama that turns out to be too muted for its own good. Essentially a two-hander between David Oyelowo and Dianne Wiest, the feature debut of writer-director Maris Curran rejects the emotional tumult and third-act catharsis usually associated with this kind of film for a close study of two diametrically-opposed personalities hopelessly adrift in their sadness. But rather than being insightful or candid, Five Nights mostly feels inconsequential — an intriguing, uneven narrative experiment more than a fully satisfying story.
Even Rosie Perez, playing Lucinda's caregiver, has been encouraged to dial down her radiant personality.
Screening in the Discovery section of the Toronto Film Festival, Five Nights will garner some interest because of rising star Oyelowo, who received a Golden Globe nomination for his work in Selma. But this intimate chamber piece, precisely because it eschews dramatic fireworks, may be a tough sell commercially. Expect respectful reviews but not much of a theatrical presence.
Sherwin (Oyelowo) learns devastating news as Five Nights begins: his loving wife Fiona (Hani Furstenberg) has died in a car accident. Bereft and directionless, he decides to travel from Atlanta to small-town Maine to visit Fiona's mother Lucinda (Wiest), who has cancer. The two have never met, and even though it was Lucinda who had invited him in the wake of Fiona's passing, her brusque manner and his withdrawn demeanour make for uncomfortable encounters between the two.
Curran's handheld cameras and simple dialogue scenes suggest a filmmaker who wants to emphasise a nonchalant immediacy, as if insisting that Sherwin and Lucinda's grief isn't special or more important than anyone else's who's going through a similar situation. Accordingly, Five Nights isn't about its characters making grand breakthroughs but, rather, becoming acclimated to the reality of their circumstances — which includes Lucinda's recognition that her own death isn't too far off.
Oyelowo has always been a sensitive, nuanced actor who favours understatement, so it's not surprising that he deftly handles Sherwin's bleary, sleepwalking melancholy. (The actor is also one of the film's producers.) But Curran's script, which tends toward the austere in its character depictions, nonetheless hampers Oyelowo with clichéd backstory and unimaginative flashbacks to flesh out the reasons for Sherwin's misery. (Naturally, he and his wife were having problems before the accident, a fact that complicates his grief in predictable ways.)
By comparison, Wiest is even more left to her own devices, playing Lucinda with a defiant anger in her eyes. We come to understand that Fiona had wanted to steer clear of her mother, but Lucinda isn't so much a character as she is a streamlined representation of the ill, aging, resentful, regretful matriarch. The two-time Oscar-winner can't fight her way out of such a constricting characterisation, and she doesn't have much of a rapport with her co-star — although, one suspects, that is partly by design, Curran wanting these two to remain wary adversaries passive-aggressively jockeying for ownership of Fiona's memory.
Running just over 80 minutes, including end credits, Five Nights is intentionally slim, a self-conscious, respectful sigh in deference to the yawning chasms of anguish consuming the characters. But the film's inertia becomes stifling after a while. Even Rosie Perez, playing Lucinda's caregiver, has been encouraged to dial down her radiant personality. At its best, Five Nights strives for the up-close intensity of pained faces that Ingmar Bergman produced so masterfully. But more often, the film simply comes off as mannered, unable to find a viable alternative to the conventional histrionic tearjerker.
Production companies: Loveless, Yoruba Saxon, MNM Creative
International sales: Creative Artists Agency, filmsales@caa.com
Producers: Carly Hugo, David Oyelowo, Maris Curran, Matt Parker
Cinematography: Sofian El Fani
Editor: Ron Dulin
Production design: Sara K White
Music: David Boulter
Main cast: David Oyelowo, Dianne Wiest, Rosie Perez, Hani Furstenberg, Teyonah Parris