Lithuanian filmmaker Sharunas Bartas journeys into the Ukrainian conflict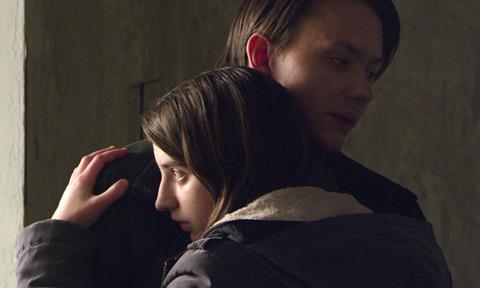 Dir: Sharunas Bartas. Lithuania/France/Poland/Ukraine. 2017. 130 mins
War is hell - but a little murky and not really that interesting in Frost, a conflict-themed road movie from Lithuanian author-director Sharunas Bartas. He established himself in the 90s as an idiosyncratic creator of imagistic, dream-like cinema with films such as Few of Us and The House, but his self-starring recent work - crime film Eastern Drift and the Bergmanesque Peace To Us In Our Dreams - has seen him attempting to redefine his signature, with mixed results.
The film's centrepiece is a compelling discussion on the nature of war with two Ukrainian soldiers
Frost is film-making as a rather Herzogian adventure into the unknown; a journey into the Ukraine conflict filmed under arduous conditions over a three-month period. Yet, whatever insights and moments of crisis Bartas met with in making the film, Frost hardly manages to convey a sense of either the immediacy or the meaning of events, let alone — despite its contemplative tone — achieve any wider philosophical observations about the condition of war. An inert lead performance from Mantas Janciauskas gives the impression not of a man plunging into the very heart of darkness, but of a student who's made a very bad decision about how to spend his gap year.
The film starts in Vilnius, Lithiuania, where young Rokas (Janciauskas) is persuaded by a friend to undertake a journey to the Ukraine, driving a truckload of materials intended for humanitarian aid. After several false starts, Rokas and his girlfriend Inga (Lyja Maknaviciute) meet up in Ukraine with their contact Andrei (Polish stalwart Andrzej Chyra) and spend an evening in a lavish hotel chatting, mainly in English, with an international bunch of Andrei's friends including a woman named Marianne (Vanessa Paradis, in a charismatic but incongruously glamorous cameo).
A long, stilted discussion about the war ensues, before Inga drifts off and spends the night with Andrei, while Rokas finds shelter in Marianne's room where she discourses quizzically on love and disillusionment. Apart from a punch in the nose for Andrei, the incident has no further repercussions.
Driving further into an ever bleaker landscape, the couple become increasingly aware of the desolation around them, although Rokas's insistence on snapping roadside ruins on his iPhone gives the journey an uncomfortable touristic edge. The film's centrepiece is a somewhat more compelling discussion on the nature of war with two Ukrainian soldiers — played by the genuine article, among numerous non-professionals in the film — whose role is to retrieve and return corpses. Eventually, the voyagers head into what they're warned is even more dangerous territory, leading to an imposing final shot whose philosophical payoff, however, barely feels earned.
A key problem is the glum demeanour of the film's two leads, whose characters come across as peculiarly jejune and clueless. Their relationship never comes into any interesting focus, with Inga mainly registering as a literal and figurative passenger on Rokas's existential journey.
Eitvydas Doskus's photography comes across as functional rather than striking, although the film somewhat transcends its visual drabness in the last half hour. A decision to shoot most of the dialogue in tight close-ups makes for a static feel, but never brings us closer to the characters; except the Ukrainian soldiers, who bring some vivid human presence to the screen.
Production companies: Studija Kinema, KinoElektron, Insight Media / Tato Film, Donten & Lacroix Films, KNM
Sales agent: LUXBOX fiorella@luxboxfilms.com
Producers: Sharunas Bartas, Jurga Dikciuviene, Janja Kralj, Olena Yershova, Volodymyr Filippov, Maria Blicharska, Monika Sajko-Gradowska, Michel Merkt
Screenplay: Sharunas Bartas, Anna Cohen Yanay
Cinematography: Eitvydas Doskus
Production designer: Oleg Dorychenko
Editor: Dounia Sichov
Main cast: Mantas Janciauskas, Lyja Maknaviciute, Andrzej Chyra, Vanessa Paradis