An ex-convict travels to meet his newborn granddaughter and reconnect with his estranged family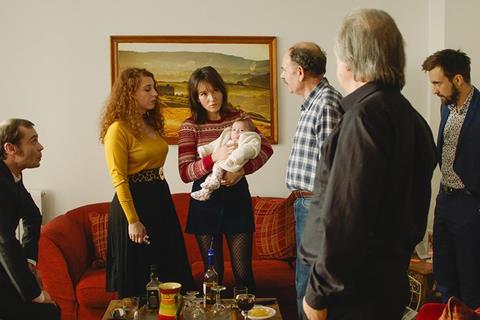 Dir. Robert Guédiguian. France/Italy. 2019. 107mins
By and large – except when he's making one-off historical dramas such as The Last Mitterand and The Army of Crime – you know what to expect from Marseilles-based writer-director Robert Guédiguian. Much of his oeuvre consists of intimate, politically-driven dramas featuring his long-standing personal repertory company. And part of the pleasure lies in the way he utilises the same actors in different permutations and political contexts: like Jean-Pierre Darroussin, who played a cynical right-wing intellectual in Guédiguian's last film The House by the Sea, now reverting in Gloria Mundi to a more familiar role as a working joe facing up to hard times.
This is especially Gérard Meylan's film, his bear-like loner emerging as a Dostoevskian redeemer and tower of strength
Hard times certainly define Gloria Mundi; a downbeat but not despairing portrayal of a world in which moral values and personal ties have become brutishly devalued, although hope of redemption still prevails. Guédiguian is nothing if not a straightforward storyteller and Gloria Mundi might easily come across as an exercise in the crashingly obvious, if the drama weren't so economically sketched by a cast who nail their characters with absolute precision and absence of superfluous detail, making for parable-like clarity. This won't bring Guédiguian new fans, and will certainly appeal most to older audiences susceptible to a certain tut-tutting 'what's the world come to?' tone, but it's a solid if minor addition to his canon.
Gloria Mundi begins with the birth of a baby, soon named (in one of the film's undeniable ouch moments) Gloria; yes, she represents hope for the future, when the past and present are so tainted. Her parents are working-class Marseilles couple, Nicolas (Robinson Stévenin) and Mathilda (Anaïs Demoustier), daughter of Sylvie (Ariane Ascaride), who works hard as a night cleaner. Sylvie lives with bus driver Richard (Darroussin), father of her other adult daughter Aurore (Lola Naymark), while Mathilda has a father she has never known – Daniel (Gérard Meylan), who has been in prison for decades, the outcome of a very chequered youth. Richard suggests that Sylvie tell her ex that he has a granddaughter; before long, Daniel leaves prison in Rennes and takes the bus to Marseilles to meet his daughter, who greets him with prickly distrust, and his grandchild.
Daniel - a solemn, philosophical loner, who has kept his sanity over the years writing haikus – takes warmly to the baby, reconnects with Sylvie and brings support to the family as life gets increasingly hard for them. Richard is suspended for his job for using his cellphone at the wheel, Uber driver Nicolas gets beaten up by some regular taxi men, Sylvie comes into conflict with the cleaners' union, and looking after little Gloria is hard work for everyone.
Meanwhile, life is very comfortable for Aurore and partner Bruno (Grégoire Leprince-Ringuet), who run a secondhand shop, buying goods cheap from the financially desperate and reselling them at a tidy profit. The couple are cynical capitalists who crow about their good fortune, sneer at 'losers', and revel in downright tackiness in their private life, at one point filming themselves in bed and crowing about the prospect of monetising it online (somehow these sharp operators haven't yet worked out the real-world economy of internet porn).
If Guédiguian is indeed France's Ken Loach, then this is very close to the British director's recent Sorry We Missed You, about the hard realities of the new gig economy, with Nicolas's Uber job playing a central role. It's also very Loachian in that economic reality and shifts in social attitude inevitably make life harder for honest working people: talk about raining stones. Guédiguian has offered versions of this scenario many times before, most recently – and rather more subtly – in The Snows of Kilimanjaro. But he has gone here for a more schematic narrative, free of the contemplative tone and character nuance of The House by the Sea, bringing characterisation here – deliberately, it seems – closer to the knowingly simplified terms of a 19th-century novelist such as Balzac.
All the key actors have worked with Guédiguian before; notably the long-time trio of Ascaride, Darroussin and Meylan. Everyone is characteristically on form, Naymark and Leprince-Ringuet neatly overcoming the challenge of bringing life to characters who are almost cartoonishly base; Stévenin, whose Nicolas bristles with eager-beaver energy at the start, goes through the most dramatic change; while the always watchable Demoustier works her ingénue exterior to surprising effect. Otherwise, this is especially Meylan's film, his bear-like loner emerging as a Dostoevskian redeemer and tower of strength.
Pierre Milon's unobtrusive, to-the-point photography helps foreground the essence of the characters while mapping the latest transformations of the city of Marseilles, Guédiguian's ever-present backdrop over the years. The use of classical music – notably Ravel – slightly milks the drama for more immediate poignancy than is really required.
Production Companies: Ex Nihilo, AGAT Films & Cie
International sales: mk2 films fionnuala.jamison@mk2.com
Producers: Marc Bordure, Robert Guédiguian, Angelo Barbagallo
Screenplay: Serge Valletti, Robert Guédiguian
Cinematography: Pierre Milon
Editors: Bernard Sasia
Production design: Michel Vandestien
Music: Michel Petrossian
Main cast: Ariane Ascaride, Jean-Pierre Darroussin, Gérard Meylan, Anaïs Demoustier, Robinson Stévenin, Lola Naymark, Grégoire Leprince-Ringuet