Disney+ scores a coup for its subscribers with the long-awaited 'Hamilfilm'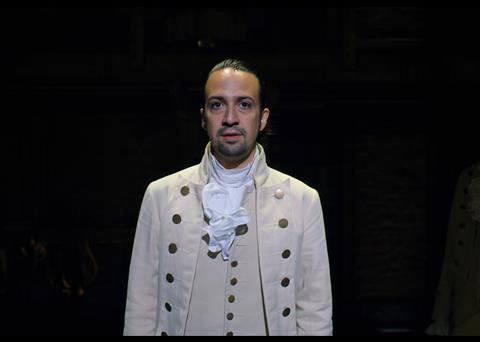 A Pulitzer, Grammys, record-breaking Tony nominations: sell-out crowds have been dazzled since the initial, off-Broadway hip-hop, R&B musical hybrid Hamilton debuted back in 2015. This breath-taking show about one of America's founding fathers certainly doesn't need small-screen validation. In fact, it wasn't scheduled for Disney+ until late-2021, after touring had finished. But things have changed, and Lin-Manuel Miranda has put himself back in the room where it happens.
The talent is exceptional, in full frame close-up and from afar
In terms of filmed stage entertainment, Hamilton is a cut above (literally, as there's an overhead camera, as well as one from the back of the stage). Hamilton is a technically difficult, fast and extremely complex stage show to perform: this film puts the viewer up close but also backs out when appropriate and makes strong strategic decisions on how to frame and move. The adrenaline is all there, surprisingly. It's even occasionally more energised as the original black and brown cast tears up the stage preaching revolution into your living room as the Black Lives Matter campaign gathers pace outside your front door. The tonal shift from roaring rebel insurgency to detailing the more dry establishment of the United States of America is still a difficult one, but the words and music compel the audience to listen, wherever they may be.
Disney reportedly paid Lin-Manuel Miranda's 5000 Productions $75 million for the rights to this film, to show first in cinemas and then on streaming. The decision to sell is in itself is unusual in terms of how it might affect the value of any performances going forward (Hamilton was scheduled to play Los Angeles right now, with British actor Jamael Westman from the London show to take the lead performed by Miranda here). In a brief video intro, the creator speaks of making the move to streaming "in a time when we can't gather". Whatever the commercial implications, the opportunity to watch the original cast – Miranda, Leslie Odom Jr, Daveed Diggs, Renee Elise Goldsberry, Philippa Soo, Jonathan Groff – should be irresistible to Disney's 52 million-plus subscribers. Welcome to the revolution.
It's not just ambitious dramaturgically, musically, or in terms of choreography, which is famously strict: Hamilton's spoken (in rap, dialogue or song) content is very rich. These were complex times, and Alexander Hamilton a particularly complicated person. Hamilton runs to 162 minutes, with a one-minute intermission that might be a natural break to digest what has gone on and prepare for what comes next, as the story moves from the battle for independence under George Washington (Christopher Jackson) to the fraught framing of the American Constitution.
There's no editing for story or time, but certainly for angles and shots with six cameras (including fixed, dolly and Steadicam) over two shows – one with an audience, one without – in New York's Richard Rogers Theatre in June 2016. The cut choices alone are endlessly fascinating, when added to a revolving stage and the dynamic use of a two-tiered set. The temptation is to try to deconstruct the wizardry, but the energy of the performances moves the eye on.
It's not just energy, though: the talent is exceptional, in full frame and from afar. Athleticism, musicality, acting: they have it all. Miranda himself can be gruff, vocally, and expressive in close-up, particularly in the final sequences. Daveed Diggs is an impressive, loose-limbed performer, in the dual role of Lafayette and Thomas Jefferson, but Leslie Odom Jr's depiction of Hamilton's arch-nemesis Aaron Burr is compelling. What a voice, and how effortless he makes it seem. The outstanding number is perhaps 'Satisfied', staged partially as a dream sequence and cut urgently, although it has competition from 'Helpless' and 'The World Turned Upside Down'. Jonathan Groff, now a household name due to his role in Netflix's Mindhunter, makes every second of every iteration of 'You'll Be Back' count as the mad King George III. But there are 46 numbers to choose from, and they're all good. Sound is excellent.
It's not quite clear what audience laughter and applause adds to the film: the camera never pans to the auditorium until the cast bow, so the noise can feel quite disconnected and irrelevant. The biggest laugh goes to Lafayette and Hamilton laughing about how: "Immigrants – we get the job done!"
For family audiences, Hamilton contains some adult themes including mistresses, duels, death, and occasional mild swearing. But it's a resonant life story of a great man all too soon forgotten. It may not end well for its central figure, but this show, and film, is all about history and how it is interpreted. They lived, they died, and now Miranda tells his story to the mass audience that Disney can offer. The uprising continues.
Production company: 5000 Broadway Productions
Worldwide distribution: Disney+
Book, music & lyrics, producer, star: Lin-Manuel Miranda (book drawn from 'Alexander Hamilton' by Ron Chernow
Director/producer: Thomas Kail
Producer: Jeffrey Seller
Musical supervision, orchestrations: Alex Lacamoire
Choreography: Andy Blankenbuehl
Filming: RadicalMedia
Main cast: Lin-Manuel Miranda, Leslie Odom Jr, Renee Elise Goldsberry, Daveed Diggs, Jonathan Groff, Christopher Jackson, Jasmine Cephas Jones, Philippa Soo, Anthony Ramos, Okieriete Onadowan