Dir: Philip Seymour Hoffman. US. 2009. 89 mins.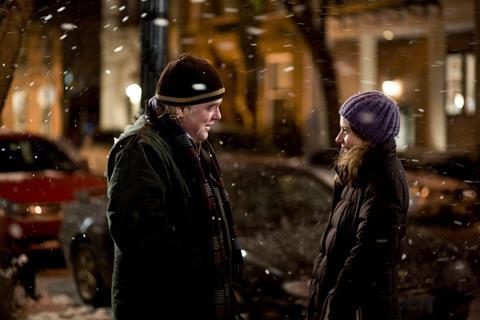 Philip Seymour Hoffman's directorial debut, based on an Off-Broadway play of the same name which follows four damaged individuals as they make their unhappy way through New York City, is a sensitively rendered piece which unfortunately lacks sufficient heft to work as either a romantic drama or a musing on life's daily miseries.
Hoffman fails to make the character's inner life rich enough to suggest the simmering longings buried beneath the surface.
Jack Goes Boating, in which Hoffman also stars, will probably appeal chiefly to the actor's fans, making this small-scale drama a niche performer for Overture Films. The film's conceptual modesty could be a blessing in ancillary markets, however, where Jack Goes Boating should transition easily to home viewers.
Aimless limo driver Jack (Hoffman) meets mortuary employee Connie (Amy Ryan) through his married friends Clyde (John Ortiz) and Lucy (Daphne Rubin-Vega). Jack and Connie start a tentative romance, but his attempts to woo her stir up lingering resentments between Clyde and Lucy.
With Bob Glaudini adapting his own play for the big screen, Jack Goes Boating retains the feel of a theatrical character drama, one in which the larger themes take precedent over plot or character. Specifically, the film seeks to examine how people make do with lives which have not turned out how they imagined, and consequently the story's wandering narrative keeps circling back to this central question.
But whatever its success on the stage, Jack Goes Boating lacks dramatic momentum as a cinematic work. Part of the problem stems from the fact that Jack remains a colourless protagonist throughout the film. While his meagre personality is entirely by design, Hoffman fails to make the character's inner life rich enough to suggest the simmering longings buried beneath the surface. Likewise, Ryan mutes the meek Connie to such a degree that she's little more than a romantic object for the luckless Jack. Jack Goes Boating wants to show how two people with severely diminished expectations can still find contentment in one another, but Hoffman has neutered the performances in such a way that the audience is challenged to invest in their romance.
By comparison, the travails of Clyde and Lucy offer a little more fire, particularly when the viewer learns about a long-ago infidelity that still roils the couple. Their marital problems can come across as too simplistic, however, to seem like the realistic obstacles that affect flesh-and-blood married people. This is unfortunate since Ortiz delivers the film's best performance, illustrating how Clyde's cocky surface hides a complete disenfranchisement with his career and relationship.
As a first-time director, Hoffman can be accused of overselling the film's third act recriminations which, again, might have had more punch on the stage but feels unconvincing and unearned on screen. In addition, he liberally incorporates slow-motion montages and melancholy jazz music on the soundtrack to demonstrate the characters' stifling discontent, but the technique quickly loses its effectiveness through overuse.
To sign up for Screen's weekly Reviews Newsletter with all the week's new releases, international openings and full festival reviews delivered free to your mailbox every Friday, please click HERE
Production companies
Overture Films
Big Beach
Olfactory Productions
Cooper's Town Productions
Domestic distribution
Overture Films
International Sales
Celluloid Dreams
+33 6 11 97 20
Producers
Peter Saraf
Marc Turtletaub
Beth O'Neil
Emily Ziff
Screenplay
Bob Glaudini, based on his play Jack Goes Boating
Cinematography
Mott Hupfel
Production designer
Therese DePrez
Editor
Brian A. Kates
Music
Grizzly Bear
(Additional score by Evan Lurie)
Main cast:
Philip Seymour Hoffman
Amy Ryan
John Ortiz
Daphne Rubin-Vega
Tom McCarthy