Dir/scr. Pedro Almodovar. Spain, 2016, 96 mins.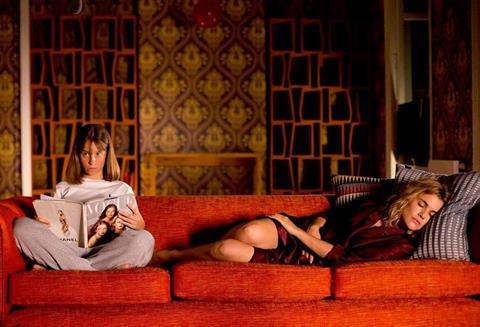 Pedro Almodovar's 20th feature is an anxious, tantalising creature which returns the Spanish director to the exclusive world of women he last visited in 2006's Oscar-winning Volver. Full of hints and omens, the sinuous Julieta bears the darker marks of his recent Hitchcockian dramas Broken Embraces and The Skin I live In, even though it's all about a mother. This story of loss and grief casts the eponymous Julieta, played at different ages by Adriana Ugarte and Emma Suarez, as a grave, fearful, woman who is constantly on the verge of being overwhelmed by her mysterious past.
Almodovar keeps the aura of mystery on a tightwire until the final frame, the viewer always a step behind
Almodovar has adapted three short stories by the Canadian writer Alice Munro - Chance, Soon and Silence from the collection Runaway - and carefully stitched them into one elusive film. Although the seams may show on a narrative level, and some may find it over-cooked, this is a luxurious slide into female neurosis, at times a modern-day Rebecca with the incomparable Rossy de Palma in the Mrs Danvers role, at others, an ode to highly-strung grief. Almodovar references Patricia Highsmith by name and Julieta is blatantly constructed on a Strangers On A Train foundation. Yet even as Alberto Iglesias's score adds a discomforting contrapuntal undertow to what we see on screen, Almodovar's top note here turns out to be sorrow.
All the visual elements which have made Pedro Almodovar's work so consistently enticing are boldly represented in Julieta, from strong colour tones to sculpted scenarios, to constant art-world nods – from a Lucien Freud poster to a Sakamoto score book – alongside the infamous wallpaper collection of art director Antxon Gomez. This is classic Almodovar, at home in Madrid for the most part, throwing vibrant colour on the screen in silky reds, blues and greens. It's as if 2014's I'm So Excited never existed in the director's through-line. Marketed tastefully, this is an art-house natural which will sustain his fans. Its enigmatic richness should also award Julieta repeat viewers, on release through El Deseo's usual partners (Spain gets an April 8 opening, followed by France on 18 May, just in time for Cannes. SPC handles in the US, Pathe in the UK).
The titular Julieta, arrestingly presented in the credits as she inhales deeply in a red, lung-like gown, is set to leave Madrid for a life in Portugal with Lorenzo (Dario Grandinetti). It's a chance to begin again, says Julieta, played in middle-age by a tentative Emma Suarez, and she won't be coming back to Spain. However a chance encounter in the street with Beatriz (Michelle Jenner), a childhood friend of Julieta's daughter Antia, throws Julieta off track and the film's plot into play.
Julieta abruptly cancels her plans with Lorenzo, who begins to follow her, and leaves her sterile apartment to return to the building where she once lived with Antia. She starts to compose a letter to her daughter, explaining the past. The room, and the mood, darkens and swirls. We are thrown back to a train in 1989.
This is, of course, the era in Spain with which Almodovar is most closely associated, and there's a burst of Movida energy to see the beautiful Adriana Ugarte in the carriage, playing Julieta in a pair of Dr Marten's and a spiky post-punk peroxide hairdo, clad in petrol blue clothes (costumes by Sonia Grande are notable throughout) . As the train rattles through the night, she encounters a strange, aggressive man in her carriage, a stag who races against the man-made machine, and Xoan (Daniel Grau), a Galician fisherman whose wife is in a coma. Death is followed by urgent sex, with Almodovar making heavy use of omens, from wildlife to weather, and the score providing a constant, humming undertow.
The film tracks forward to Galicia, where Almodovar awards us the pleasure of seeing the iconic Rossy DePalma in a wiry grey perm as a housekeeper who jealously watches over fisherman Xoan, while sculptor Ava (Inma Cuesta) is his artist friend and occasional sexual partner. Julieta is a teacher of classical studies and Almodovar makes reference to Ulysses as we trip through time and from Madrid to Galicia and out to her ailing mother and father in Murcia. Time skips in 13-year increments as this lush, rich, film plays out, and Almodovar keeps the aura of mystery on a tightwire until the final frame, the viewer always a step behind.
Once the enfant terrible of Spanish cinema, Pedro Almodovar turned 66 last year. While his aesthetic preoccupations curl in a comfortable manner and his thematic obsessions remain - he is now, and always has been, all about his women - Julieta is a sad, grieving counterpart to the brazen antics of Tie Me Up, Tie Me Down. Mistakes are made and the stakes are high, but life is long, he says, and hope remains, even as Julieta plays out to the rusty tones of Almodovar's favourite chanteuse, Chavela Vargas, singing the Cuco Sanchez 1957 classic – Si Non Te Vas.
Production company: El Deseo
International sales: FilmNation Entertainment
Producer: Esther Garcia
Executive producer: Agustin Almodovar
Screenplay: Pedro Amodovar, based on three short stories by Alice Munro; Chance, Soon and Silence
Cinematography: Jean-Claude Larrieu
Editor: Jose Salcedo
Production design: Antxon Gomez
Music: Alberto Iglesias
Main cast: Emma Suarez, Adriana Ugarte, Rossy DePalma, Daniel Grau, Inma Cuesta, Dario Grandinetti, Michelle Jenner