Dir: Jan Hrebejk. Czech Republic. 2009. 100mins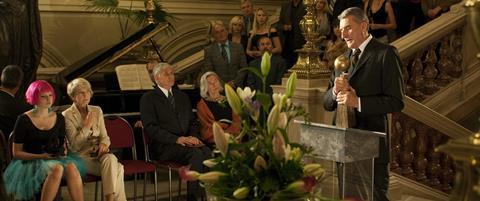 Kawasaki's Rose focuses on one family in a sobering take on the experience of Czech resistance to communism on the twentieth anniversary of the Velvet Revolution. The latest from prolific director Jan Hrebejk re-opens old wounds in its fictional story based on several true-life cases. Despite some dramatic missteps, it enters troubling grey area in what is often viewed as a struggle of good against evil.
Director Jan Hrebejk and screenwriter Petr Jarchovsky touch a uncomfortable nerve, reminding the viewer that motives are rarely pure
This Czech story will be compared to The Lives Of Others, an inspiration for the film, although Kawasaki's Rose examines betrayal decades after the fact, questioning memory as well as loyalty. The first Czech feature to confront the theme of informing and cooperating with the communist secret police may not have the box office impact of that 2006 German hit, but it should find a home on the festival and art-house circuit. Politicised viewers will welcome this dramatisation of the old regime's skill at compromising its opponents, but the title, which says little about the film's subject, doesn't help spread the word.
Kawasaki's Rose, shot in warm tones by cinematographer Martin Sacha, opens with a TV crew filming a prominent former dissident psychiatrist Pavel (Huba) while his daughter Lucie (Vlasakova) is being treated for cancer and has a miraculous recovery. The good news is overshadowed, however, when Lucie's spiteful 40-ish husband, Ludek (Mikulcik), the TV crew's soundman, admits to an affair with a blonde colleague.
Ludek, who has never won Pavel's approval, has also exhumed police records to research the programme, and tells Lucie of Pavel's denunciations forty years earlier of Borek (Kratochvil), a sculptor and former lover of Lucie's mother, Jana (Kolarova). Borek, who emigrated to Sweden, turns out to be Lucie's real father.
Petr Jarchovsky's script starts to probe the faulty memories of the characters involved, structuring its revelations around two pilgrimages – one to the sculptor's studio in Sweden, and another to the home of the former police investigator, Kafka (Chudik), now in his 70's.
The film's best moments come when the unrepentantly cynical Kafka speaks coldly of the regime's exploitation of the jealous Pavel's interest in the then pregnant Jana to punish the sculptor. Borek, fearful of a new baby and facing military service, was given the "choice" to emigrate. Kafka recounts it all with the cold precision.
As Borek, photographer Antonin Kratochvil (a non-actor) plays a perpetual adolescent who still nurses these old wounds. His bawdy, exaggerated irreverence is as annoying as the name Kafka for a policeman is pretentious. Yet his vulnerabilities were just what the secret police needed to neutralise an opponent. (The title refers to a Japanese friend of Borek's in Sweden who is recovering from a greater loss, the death of his wife and daughter).
An awards ceremony in Prague where Pavel and Borek finally confront each other feels contrived, but Hrebejk and screenwriter Jarchovsky have touched an uncomfortable nerve, reminding the viewer that motives are rarely pure.
To sign up for Screen's weekly Reviews Newsletter with all the week's new releases, international openings and full festival reviews delivered free to your mailbox every Friday, please click HERE
Production Companies/Backers
Infilm Praha
Infinity
International Sales
Menemsha Films
(1) 310 452 1775
Producers
Rudolf Biermann
Tomas Hoffman
Screenplay
Petr Jarchovsky
Cinematographer
Martin Sacha
Production design
Milan Bycek
Editor
Vladimir Barak
Music
Ales Brezina
Main cast
Lenka Vlasakova
Martin Huba
Daniela Kolarova
Milan Mikulcik
Antonin Kratochvil
Petra Hrebickova
Ladislav Chudik
Martin Schulz
Isao Onoda