Gustavo Rondón Córdova makes his feature debut with an unconventional chase movie set in Caracas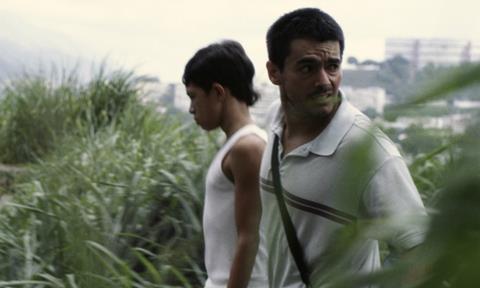 Dir/scr. Gustavo Rondón Córdova. Venezuela/Chile/Norway. 2017. 82mins
The unspoken tension between a father and son fuels La Familia, an unconventional chase picture in which the characters are fleeing retribution but also, in a larger sense, a culture in which violence is indiscriminate and rampant. Making his feature debut, writer-director Gustavo Rondón Córdova emphasizes an understated, realistic style and lets the silences speak volumes — an apt metaphor for how a lack of connection can bring down families and communities in equal measure.
A portrait of a society in which poverty and lack of law enforcement have reduced vulnerable communities to brutal proving grounds
This Critics' Week offering should receive supportive word of mouth out of Cannes, leading to further festival appearances. No stars (and a lack of a sexy marketing hook) may curtail commercial prospects, but La Familia certainly suggests a young filmmaker worth following.
Non-professional Reggie Reyes plays Pedro, a scrappy 12-year-old living in Caracas. Raised in an environment that prizes exaggerated macho swagger, Pedro gets involved in an altercation with a boy waving a gun and demanding his cell phone. In the ensuing skirmish, Pedro stabs the kid in the neck, provoking his distant single father Andrés (Giovanni García) to take his son and go into hiding, fearful that there will be retaliation from the victim's family or gang affiliates.
Born in Caracas himself, Córdova clearly feels a kinship to his subject matter, showing the Venezuelan city as a grim place where crime is a fact of life and boys are left to become men on their own. After an extensive casting search, the filmmaker tapped Reyes, a Caracas native, and the unpolished adolescent complements García, a working actor. Pedro is all surly, twitchy yin to Andrés' pensive, regretful yang.
La Familia doesn't shed much light on Andrés and Pedro's relationship prior to their journey, letting discomfort dominate their interactions. We deduce that the boy dislikes his father for myriad reasons — his absence in Pedro's life, his unwillingness to mimic his son's macho demeanour — while the inarticulate Andrés can't quite make Pedro understand that glamorizing a violent lifestyle will lead to ruin.
Andrés takes Pedro along on his different menial service jobs, deducing that his son's pursuers won't think to look for him there. As a result, La Familia doesn't sport anything resembling traditional chase scenes — we never actually see who's hunting the pair — but that only adds an existential tension to every seemingly mundane scene. While the characters work as servants at fancy parties or help remodel a rich client's house, there is always the possibility that gun violence could erupt from the phantom pursuers.
The violence is never stylized, Córdova showing its subtle, corrosive force in these people's lives. Whether it's Pedro and his friends playing assaultive video games or aggressively taunting each other's manhood while hanging out on the street, the film crafts a portrait of a society in which poverty and lack of law enforcement have reduced vulnerable communities to brutal proving grounds for young men.
At his young age, Pedro has decided that acting tough is the only way to survive, which contributes to Andrés' sadness. Maybe this father could have taught his son better — if only he'd been able to be around, not stuck hustling meagre jobs to eke out a living.
Production companies: La Pandilla Producciones, Cine Cercano, Factor RH, Ávila Films, DHF
International sales: Celluloid Dreams, info@celluloid-dreams.com
Producers: Natalia Machado Fuenmayor, Marianela Illas, Rubén Sierra Salles, Rodolfo Cova, Gustavo Rondón Córdova
Executive producers: Darren Dean, Elayne Schneiderman Schmidt
Cinematography: Luis Armando Arteaga
Production design: Matías Tikas
Editors: Andrea Chignoli, Cristina Carrasco, Gustavo Rondón Córdova
Music: Alejandro Zavala
Main Cast: Giovanny García, Reggie Reyes