Dir. Ira Sachs. US, 2016, 85 mins.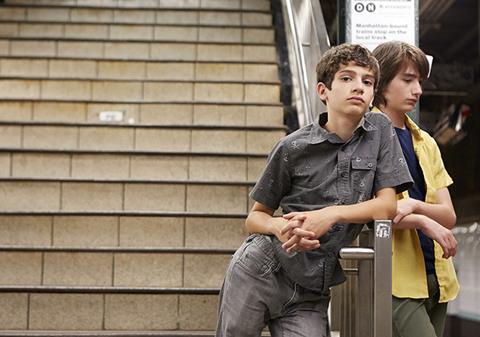 Small and intimate it may be – and Ira Sachs' Little Men is more compact than his last slow-burn hit Love Is Strange – but there's no end to the discreet pleasures on screen here. Viewing the gentrification of Brooklyn through the innocent friendship of two mismatched 13-year-old boys, this is a deftly-handled, sparkly little jewel which will find its audience, whatever the mode of delivery.
Performances are strong across the board, in roles which are subtly introduced and empathetically played out.
Any distributor who comes on board – Mongrel acquired international rights with WME handling domestic sales prior to its Sundance world premiere - will be hoping to reconnect with the Love Is Strange art-house and festival audience. While the story of Little Men isn't quite as catchy or starry as the gay marriage travails of John Lithgow and Alfred Molina, Sachs' name itself is deservedly becoming a draw after six well-received features including the Sundance Grand Jury prize for Forty Shades of Blue. Little Men is as equally nuanced and intriguing as any of his previous work, Sachs' style unfussy and detailed as he follows a New York City theme from Keep The Lights On and Love Is Strange.
Parallels could be drawn to 2007's The Visitor, but Little Men deals instead with the very current issue of gentrification – the poorer, mostly immigrant families being forced out of inner-city neighbourhoods which have now become fashionable, particularly Brooklyn.
Performances are strong across the board, in roles which are subtly introduced and empathetically played out. The two 13-year-old leads, both superbly cast and played by newcomers Theo Taplitz and Michael Barbieri, are the most touching. The camera lets us quietly see that Jake (Taplitz) is an awkward soul in the briefest of strokes. He doesn't join in the classroom ruckus when the teacher is out of the room – then, hurt from a snub, he hugs the maid who comes to pick him up from his Manhattan school just a few beats too long. He discovers through a misguided phone conversation that the reason his parents aren't at home is that his grandfather has just died.
We then move from Manhattan to Brooklyn where Jake's family – dad Greg Kinnear and mother Jennifer Ehle - is met stiffly by the grandfather's tenant Leonor (Paulina Garcia, from Gloria), who runs a small dress shop beneath the house which has now been bequeathed to them. It feels like there's a history between them. She hasn't been invited to the funeral, for example, but turns up with a cake.
Leonor's son, the outgoing Tony, bonds immediately with Jake over Percy Jackson – a little young for the 13-year-olds, but they're right on the cusp of growing up. Jake finally has a friend. They roller blade and skate, have sleepovers, go to a teenaged disco, and talk about going to the LaGuardia High School where Jake wants to be an artist and Tony would like to be an actor, like Jake's jobbing dad Brian ("he's not that successful or anything," says Jake). Sachs and co-writer Mauricio Zacharias are so spot-on when it comes to capturing the boys' friendship and it's always perfectly natural and unforced.
But class and money are lurking behind these youthful hopes. Egged on by his sister, Brian would like to get market – or close to market – rent from Leonor, despite her close relationship with his dad. And Leonor, who hails from Chile and is a single mother to Tony, is proud and prickly. She's no pushover and she's not always nice. Sachs is even-handed here as the story plays out.
There are no particular look-at-me money shots of Brooklyn in Little Men, but there's always a strong sense of place throughout as the boys rollerblade and scoot around the hood. Sachs keeps his colour palette bright and natural. Enjoyable highlights are the disco sequence, with the childrens' neon necklaces glowing in the dark, and an acting face-off at the Strasberg theatre. The remarkable, magical thing about this film is that, at 85 minutes, it's so whole. With its fully-formed people and changing places, Little Men is a film a viewer can live in, and think about while they're there.
Production Companies: Faliro House, Parts & Labor, Race Point Films, Raptor Films, RT Features, Water's End Productions
International Sales: Mongrel International, charlotte@mongrelmedia.com
Producers: Lucas Joaquin, Ira Sachs, Christos V. Konstantakopoulos, Jim Landé, L.A. Teodosio
Executive Producers: Jay Van Hoy, Lars Knudsen
Screenwriters: Mauricio Zacharias, Ira Sachs
Cinematographer: Óscar Durán
Editors: Mollie Goldstein, Affonso Gonçalves
Music: Dickon Hinchliffe
Main Cast: Greg Kinnear, Jennifer Ehle, Paulina Garcia, Theo Taplitz, Michael Barbieri