Dir. Niall McCann. Ireland/UK, 2016. 104 mins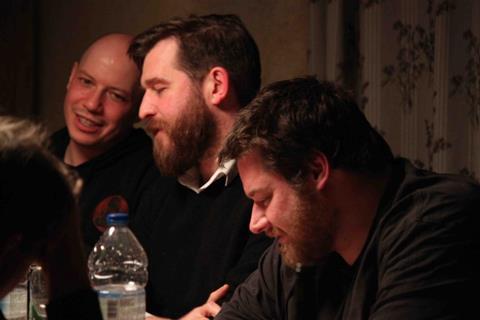 After his sharp-edged documentary about art-pop agitator Luke Haines, Art Will Save The World, director Niall McCann broadens his scope without losing punch in another loving tribute to indie-rock outsiders. Toggling the narrative focus between the mid-1990s rise of Glasgow independent label Chemikal Underground and various labelmates' 2015 return to the site of a 1997 French festival, McCann mounts a warm-spirited mix of glowing nostalgia, tremendous music, gang bonds and on-point politics in Lost In France, wherein the declining options for cash-strapped indie musicians are pointedly noted.
Half-forgotten tales of drunken hijinks emerge from booze-hazed memories; one band might have been set on fire
With canny targeting at music devotees from UK distributor Curzon Artificial Eye, the thoroughly involving results could deliver modest business for small-scale production companies Still Films (Pyjama Girls) and Edge City Films (Skeletons, Lore), before broadcast appointments beckon.
If 2010's talking-heads-heavy Upside Down: The Creation Records Story offered druggier twists on the sub-genre of record-label docs, McCann's entry is more invitingly shot in its 2015 sequences by Julian Schwanitz (Where You're Meant To Be). Footage of rain-spattered tour-bus wing mirrors and autumnal backdrops set a reflective tone, while the tiny venue for the gig in Mauron is first spied through a backdoor from sepia-toned backstreets, like a teasing glimpse into a vibrant alternative universe.
The musicians inside prove engagingly earthy company, their ranks including The Delgados, cult favourites who launched Chemikal Underground in 1994; Franz Ferdinand's dapper Alex Kapranos, who hadn't yet formed Franz in 1997; folksy guitarist/singer RM Hubbert, a bear-ish chap with fluent finger-picking skills; and Stuart Braithwaite, cheery axe-man in noise-rock powerhouses Mogwai.
For those who recall a time when Mogwai could occupy the NME's cover, the home-made archive footage should provide nostalgic tingles. For newbies, the history is briskly detailed and, thanks to spot-on music choices, terrifically soundtracked. The three-chord tornado of Mogwai's Mogwai Fear Satan is so good it gets used twice, first for a rush-of-youth montage of press cuttings, archive footage and on-screen text explaining Chemikal's rise. Later, it backs Braithwaite's speech about the transporting power of music, a point slammed home by editors Cara Holmes and Nicky Gogan's adrenalised cuts between Braithwaite and ecstatic fans' faces at a volcanic Mogwai gig.
With self-deprecating charm, The Delgados' Stewart Henderson details how Chemikal was founded by passionate music fans with little business nous at a time when that still seemed possible. Lovely anecdotes include one about the impromptu signing of Falkirk's mordant mavericks Arab Strap. In a hand-written letter, The Delgados' singer, Emma Pollock, advises the Strap to "get an adult" to read the contract before signing because, she warns, "we're a bunch of cowboys".
Still, a combination of serendipity, great bands and an on-side music press helped boost Chemikal's renown, enough to justify 1997's mob-handed trip to Mauron. Amusingly, though, no-one here remembers how the foray was funded, or survived. Half-forgotten tales of drunken hijinks emerge from booze-hazed memories; one band might, notes Braithwaite, have been set on fire. "Carnage," deadpans former Strap manager Tam Coyle.
When Coyle makes a biting aside about a recent NME cover of Taylor Swift, the doc's stance on today's UK indie press rings clear. Further ire is saved for the decline of the support networks that helped Chemikal's rise. As Glasgow's music history is briefly sketched out, Hubbert bemoans the closure of venues where bands could experiment. Henderson, meanwhile, recalls the vital role once played by the now-embattled welfare state in giving cash-strapped musicians time to find their voices.
Despite the diagnosis of an ailing indie scene, the tone is closer to a celebration than a wake. The tour-bus banter and live footage reveal near-familial bonds between these industry fringe-dwellers; at the climax, infectious grins abound as Kapranos, Braithwaite, Hubbert and The Delgados' Paul Savage rattle through a hearty live team-up. If more live footage might have helped propel the film's faintly meandering late stretches, McCann still manages to make a robust, warming and often invigorating case for outsider music's DIY idealism.
Production companies: Still Films and Edge City Films in association with Creative Scotland and The Irish Film Board
International sales: Still Films, nicky@stillfilms.org
Producers: Nicky Gogan, Paul Welsh
Executive Producers: Keith Potter, Leslie Finlay
Cinematography: Julian Schwanitz
Editors: Cara Holmes, Nicky Gogan
Music: Chemikal Underground & Friends
Music supervisor: Caroline Campbell
Featuring: Stewart Henderson, Stuart Braithwaite, Emma Pollock, Alex Kapranos, Paul Savage, RM Hubbert