Angelina Jolie returns as the wicked fairy godmother, Michelle Pfeiffer in hot pursuit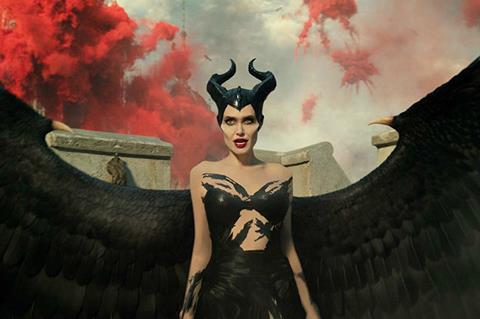 Dir. Joachim Ronning. US. 2019. 118 mins.
Even a sinister magical fairy has to learn to let her daughter grow up and live her own life: That's the potentially potent premise of Maleficent: Mistress Of Evil, a lacklustre sequel undone by the same bloated effects and bland storytelling that tend to hamper other sub-par fantasy films. As with the 2014 original, this installment's best feature is Angelina Jolie, who gives the title character a luxurious menace and a playful dry wit, all in service of a film in which she must watch her goddaughter Aurora (Elle Fanning) marry a fellow human, forcing Maleficent to spend time with a species she despises.
Mistress Of Evil invests heavily in inundating our eyeballs with relentless enchantment
Mistress Of Evil has its heart in the right place — preaching the importance of inclusiveness, studying the bonds between mothers and their children, and advocating hope over fear — but good intentions can't overcome a nagging blockbuster familiarity amidst the pumped-up proceedings. The first Maleficent grossed $759 million worldwide, and Disney no doubt hopes to at least match that tally with this second chapter, which arrives in UK and US theatres on October 18. The studio is basking in back-to-back billion-dollar live-action hits thanks to remakes of Aladdin and The Lion King, and while Mistress Of Evil may not deliver as robustly, it will be one of the few mainstream films aimed at women amidst a glut of male-centric action dramas such as Joker and Gemini Man.
As the new film begins, Maleficent (Jolie) is anxious about the fact that Princess Aurora (Fanning) plans to marry handsome Prince Philip (Harris Dickinson): As a fairy who has often tangled with distrustful humans, she is wary of her new in-laws. But although Philip's father, the kind King John (Robert Lindsay), only wants peace, his scheming wife Queen Ingrith (Michelle Pfeiffer), plots a coup that will result in a declaration of war against the fairies — and could jeopardise Maleficent's relationship with her human goddaughter.
The 2014 movie presented a sympathetic origin story for Sleeping Beauty's monstrous villain, decking out the Oscar-winning actress in striking makeup which resembled the angular character from the animated 1959 film. The novelty of that conceit is difficult to replicate for Mistress Of Evil, requiring filmmaker Joachim Ronning (who co-directed Kon-Tiki and Pirates Of The Caribbean: Dead Men Tell No Tales) to instead build out this fantasy world, introducing new lands and characters while raising the overall stakes. A sequel that starts with a marriage proposal ends with epic battle scenes as the fate of several kingdoms hangs in the balance.
Mistress Of Evil invests heavily in inundating our eyeballs with relentless enchantment, which unfortunately translates into largely dreary CG renderings of pixies, sentient trees and other woodland critters. As impressive as Maleficent's makeup and majestic black wings are — giving us a three-dimensional reimagining of a fearsome cartoon character — the rest of the film lacks that same sense of wonder and wit in its construction. (A subplot involves Maleficent discovering that she is not, in fact, the last of the dark fey, and the film casts Chiwetel Ejiofor to play the group's noble leader, to very little emotional effect.) The closest Mistress Of Evil comes to cheekiness — outside of Jolie's it's-good-to-be-bad portrayal and cleverly sharpened cheekbones — is Pfeiffer's knowingly arch portrayal of Queen Ingrith, whose tight smile hides a megalomaniacal streak as she chews the scenery while conspiring to destroy the fairies.
The film sets up humans against fairies and this is clearly meant to speak to our world's rampant xenophobia; as such, it's mildly subversive that Mistress Of Evil prods the audience to side with Maleficent over humanity. The evil of genocide and reactionary politics are thematic touchstones, and Maleficent preaches tolerance and setting aside the divisions of the past. But as well-meaning as those talking points are, they feel perfunctory as the predictable, spectacle-laden plot lumbers along.
More affecting is Maleficent's slow realisation that Aurora, the young woman she took under her (literal) wing, is about to become her own person — a bittersweet development for a misunderstood creature whose painful past has made it hard for her to be close to others. Just as Maleficent must do battle with Queen Ingrith, so too does Jolie wage war with a film that's so awash in effects that it somewhat diminishes her formidable presence. But the actress's scenes with an otherwise underused Fanning are touching, especially when Aurora manages to remind her that she's no wicked godmother.
Production company: Roth Films
Worldwide distribution: Disney
Producers: Joe Roth, Angelina Jolie, Duncan Henderson
Screenplay: Linda Woolverton and Noah Harpster & Micah Fitzerman-Blue
Production design: Patrick Tatopoulos
Editing: Laura Jennings, Craig Wood
Cinematography: Henry Braham
Music: Geoff Zanelli
Main cast: Angelina Jolie, Elle Fanning, Chiwetel Ejiofor, Sam Riley, Harris Dickinson, Ed Skrein, Imelda Staunton, Juno Temple, Lesley Manville, Michelle Pfeiffer