Gary Oldman plays the feted screenwriter Herman J. Mankiewicz in David Fincher's lavish Hollywood recreation for Netflix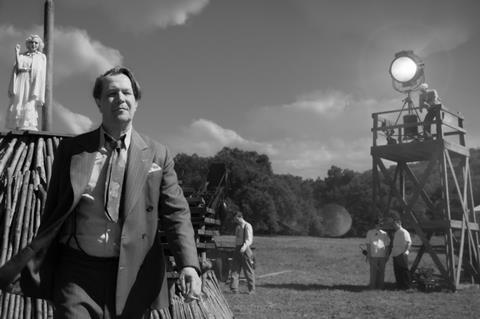 Dir: David Fincher. US. 2020. 131 mins.
Mank is a passion project. David Fincher's snappy, sprawling drama about legendary Hollywood screenwriter Herman J. Mankiewicz and the creation of Citizen Kane was written by the director's father, Jack, who died in 2003. (Mank is financed by Fincher's Mindhunter collaborator Netflix, the streaming service which has jumped on many personal projects deemed too risky for conventional investors.) A talky, tricksy, fast-paced film about a self-destructive writer and the people he ultimately decides to take down with him, Mank is most stunning in the element which prevented it being made before now – Fincher and DoP Eric Messerschmidt's (Mindhunter) insistence on luscious, lavish black-and-white imagery, all spliced and framed in deep-focus Kane mode with astonishing silvered contrast. Sound, recreated to mimic the time, is an echoic memory of long-ago yarns. The backlots, soundstages, even William Randolph Hearst's (Charles Dance) San Simeon castle are recreated in a filmic way – layers of artifice upon artifice which make Fincher's passion mesmerising.
Hollywood is endlessly fascinated with itself, and that age in particular. As Louis B. himself might have said, this is not new material
That very cleverness, though, works at odds to the story: Mankiewicz's (Gary Oldman) personal life and road to writing Kane is tempted into busy detours which distract. This isn't just the breezily-paced story of Kane itself, its origins in Mankiewicz's friendship with Hearst and his mistress Marion Davies (Amanda Seyfried), or even his relationship with Welles (Tom Burke) and their eventual dispute over writer's credit (all of which featured in 1999's RKO 281). Fincher also spins off to take in Hearst's antipathy to organised labour, the duplicity of the early Hollywood studio heads and their sabotage of Upton Sinclair's 1934 run for the Governorship of California and Mank's relationship with his producer brother Joe (Tom Pelphrey) - all the while tracking how a clever, funny man can so enthusiastically embrace his own demons. Hollywood was a small, clubby town back then, and Fincher explores every corner of it in his return to feature film-making after episodic TV. Gary Oldman chases ephemera which can at times seem stubbornly elusive.
Set to be widely admired, if not quite adored, Mank should be consumed on the big screen wherever Netflix allows and will be a prestige product on the streaming site from December 4. Film historians and insiders will be entranced, and the who-really-wrote-Citizen-Kane debate will spring back into life (the credits went into arbitration, and Pauline Kael later argued it was a solo Mankiewicz effort. They both took home an Oscar, Kane's only Academy Award). Awards play is also possible here, although a valiant Oldman, who is in practically every scene, has his work cut out credibly playing a man who was the same age as Marion Davies, played by Seyfried - despite his wanton self-destruction. This visual anomaly does emphasise the thrust of the piece, though: that the legendary dream factory was all about the fantasies of older men, their power games, their money and desires that would brook no arguments.
In Mank, we get to see these titans of industry ply their trade. The film is anchored in a bungalow in the North Verde Ranch of the Mojave of 1940 where Mankiewicz has been brought to dry out and write a script for 24 year-old wunderkind Welles, recently the recipient of a sweetheart deal with RKO giving him full creative control. Bedridden with a broken leg after an accident, a reluctant 'Mank' settles on a deadline of "60 days and a noodle" with Welles, (Burke captures that creamy baritone with ease). Mank is given a British assistant played by Lily Collins to type the screenplay: her husband is MIA in the war which rages overseas, one more extra thread in an already busy film.
Fincher then flashes back and forward like a learner driver crunching the gears on a double lesson (Mank runs to 131 minutes). Back to the car crash, then back again to the writers room on the Paramount backlot in the 1930s where we meet the legendary titans of Hollywood including David O. Selznick and the MGM double act of Irving J. Thalberg, and, most ominously, Louis B. Mayer. The tone is jolly: Mank is a funny guy, a gambler, a drinker and an all-round bon vivant who works as a prototype script doctor. Benny Goldman could have written the score, which nattily punctuates the beats on the type of dialogue Mankiewicz was famous for (the score is from Trent Reznor and Atticus Ross).
The studios are gripped by Depression-era labour problems, especially when Mayer uses the economic climate to cut salaries by half and threatens to move out of California. As a former journalist and columnist in New York - and a compatriot of Dorothy Parker - Mank is savvy as to how the game works, but eventually finds he can't drink his conscience away, try as he might. The heart of the drama lies in that 1934 election, when studio heads were pushed by Hearst into turning against "communist" Sinclair by producing false propaganda. Sounds familiar? Mank takes his revenge on the page, despite his fondness for the cheerful showgirl Davies. (A recreation of one of Hearst's home movies starring Davies, who struggled with the transition to talkies, and a showdown at a fabulously-realised San Simeon circus-themed party are Fincher's two showpiece sequences. Odd to realise how power shifts and, while Citizen Kane is regularly hailed as the best film ever made, Hearst's empire has been lost to time.)
Hollywood is, of course, endlessly fascinated with itself, and that age in particular. As Louis B. might have said, this is not new material. Reference to Goebbels and the Nazi party's "big lie" help push Mank into today's world, while the Paramount writer's room looks like the prototype for a modern TV series, or even 30 Rock (although the only woman to feature is a topless typist with pasties on her nipples)."Write hard, aim low!" Mankiewicz is urged as he battles the shakes to produce his life's greatest work. The dialogue in Mank is fabulously fast, hard and quippy throughout, a real tribute to the man himself. If sometimes all that detail obscures the bigger picture, Mank is still a treat; for those looking for more, we always have Citizen Kane to fall back on, after all.
Production companies: Netflix International Pictures, Rolling Title
Worldwide distribution: Netflix
Producers: Cean Chaffin, David Fincher, Eric Roth, Douglas Urbanski
Screenplay: Jack Fincher
Cinematography: Eric Messerschmidt
Production design: Donald Graham Burt
Editing: Kirk Baxter
Music: Trent Reznor, Atticus Ross
Main cast: Gary Oldman, Amanda Seyfried, Charles Dance, Lily Collins, Tuppence Middleton, Tom Burke, Tom Pelphrey, Arliss Howard