Dirs. Pierre Coffin, Kyle Balda. US, 2015. 91 mins.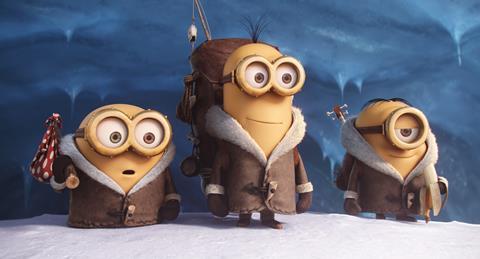 Parents may still be a little muddled as to who, precisely, the Minions are, but take note – they're coming for you and your kin. For a giant animated family film with lavish aspirations towards global box office domination, the 3D Minions is a surprisingly demented delight; a crazy, spirited, if simplistic fusion of off-beat adult humour blended with the sensibility of an anarchic toddler. Throwing the kitchen sink at the screen in terms of madcap plotting, Minions refuses to play it safe with the Despicable Me franchise ($1.5bn between the 2011 film and its 2013 sequel). With a global rollout which starts 18 June in Australia (the UK joins in the party on June 26; the US on July 10), Minions serves notice on Jurassic World's rampaging dinosaurs and Pixar's instant classic Inside Out. It's going to be a busy summer.
There's a child-like cheerfulness to this film which few adults will be able to resist, even if the story is sketched in Three Stooges-style broadstrokes.
As established in Despicable Me, which was an unexpected runaway success for Illumination Entertainment, the Minions are the slavish, banana-coloured, pill-shaped followers of supervillain Gru (from whom they stole the show). Turns out, according to Minions the movie, these bouncy, bubble-voiced tic-tacs have been in thrall to serial nasties since the dawn of time. An efficient prologue sees them careen through history, looking for the most despicable master they can serve, from T-Rex to the Pharaohs and a vampire, even Napoleon. The Minions have the unfortunate tendency of killing their bosses off with their clumsiness, however, and retreat to an icy cave, where they become depressed without an evil overlord whose whims they can indulge.
Enter Sandra Bullock, having the time of her life voicing the world's first female supervillain Scarlet Overkill, and her dastardly plot to steal Queen Elizabeth's crown jewels in Swinging Sixties London, where The Kinks, The Who and The Doors provide a rousing soundtrack to the frenetic events onscreen. The Minions are rampant scene-stealers, however, and Scarlet and the Queen have to look to their laurels to resist being bounced off the screen.
As written by Brian Lynch (Puss In Boots), Minions has no moral to deliver, and this film is simply out to have fun. Delivered by co-directors Pierre Coffin (who helmed Despicable Me and its sequel and voices most of the Minions) and master animator Kyle Balda (The Lorax) at a hectic pace, the fun never lets up – not even for a brief second. When the action even vaguely threatens to flag, it's on with a fable-in-a-film insert like Prokofiev's Peter And The Wolf, or time for a Minion to swell up in a tribute to Ghostbuster's Pillsbury Doughboy. But the film's unexpectedly offbeat humour (one of the Minions pulls a sword from a stone to become King Bob of England, for example) is most reminiscent of films like Delicatessen, or even the narrative whimsy of an Aardman work like Wallace & Gromit.
Speaking their own form of Esperanto-like gibberish (helpa-may, espera, etc) the Minions are in crisis as the plot-proper kicks off. Ailing listlessly in their icy hideaway, they need inspiration; up steps, or, rolls, Kevin, an unlikely name for a hero, and he sets off to find a new 'boss' with the help of Stuart and baby Bob, who carries a soft toy for all the toddlers in the audience to identify with. By means too complicated to explain here, they become aware of a meeting of baddies called Villaincon where they hope to find Scarlett Overkill and win her trust. She's married to the smooth-voiced Herb (John Hamm), an inventor, and together they have hatched a plan to turn her into the princess of her dreams.
With their elongated figures (smoothly continuing the style of Despicable Me) and sharp-nosed features, the humans act as a contrast to the rounded Minions, who, are described as 'bald, jaundiced, children'. The Queen has an easier time resisting their scene-thievery than Scarlett Overkill, who is given a big build-up but an unexciting arc (the film is called Minions for a reason).
The 3D component is effective but not indispensable for younger audiences who might prefer a 2D experience. Some of the backgrounds (particularly in London) look like physical sets on which animated action plays out, giving the film a nice depth of texture which makes it visually more interesting than the norm.
Narratively, Minions taps an unpredictable energy which gels with how children tell their own stories ("and then….and then….and then!"). It feels appealingly innocent, especially for a giant release with its crush of Minion marketing tie-ins. There's a child-like cheerfulness to this film which few adults will be able to resist, even if the story is sketched in Three Stooges-style broadstrokes.
Production company: Illumination Entertainment
Worldwide distribution: Universal Pictures
Producers: Chris Meledandri, Janet Healy
Executive producer: Chris Renaud
Screenplay: Brian Lynch
Production designer and character designer: Eric Guillon
Editor: Claire Dodgson
Music: Hector Pereira
Main voice cast: Sandra Bullock, Jon Hamm, Michael Keaton, Alison Janney, Steve Coogan, Jennifer Saunders, Geoffrey Rush