Rotterdam's opening film is a fever dream account of a young Portuguese soldier's experiences in 1917 Mozambique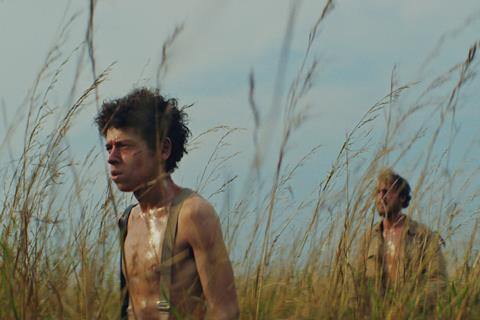 Dir: Joao Nuno Pinto. Portugal-France-Brazil. 2020. 122mins
In 1917, 17-year-old Zacarias (Joao Nunes Monteiro) signs up to join the Portuguese army dreaming of glory on the WWI battlefields of Europe. Instead, he finds himself in Mozambique, then still a ragged Portuguese colony. Floored by malaria, he wakes to discover himself without a battalion, which left without him, and without a war. So, in this heady, disorientating non-linear journey, he sets off on foot across country with the nebulous aim of doing his duty, whatever that might be.
A harrowing account of conflict at its most base and disgusting
There are parallels with Sam Mendes' 1917 that go beyond the year in which it's set: the boy soldier forced to survive on his wits in hostile terrain; an inventive approach to cinematography. But with its unflinching confrontation of the stain of colonial history and the hallucinogenic bending of reality, evoking the broken minds of fighting men, this will be a markedly less mainstream picture. Further festival screenings seem certain, and an arthouse theatrical life is possible. The film will most appeal to audiences who prefer their war movies at the unhinged, bewildering Apocalypse Now end of the spectrum, rather than a more conventional approach.
Joao Nuno Pinto's vivid fever dream is a war film without a frontline, and a challenging watch: the fractured structure is all the more perplexing because it's not always possible to trust Zacarias's baked, malarial view of the world around him. But there are moments of piercing insight in this story of a boy who must unlearn everything he held to be true and unassailable in order to survive in the inhospitable Makua territory.
Initially, on a transport ship full of what his commanding officer dismisses as "rogues, fugitives, drunks and lunatics", Zacarias is eager to learn. He takes on board the assurance of Portuguese supremacy ("We are the lions!") and listens to an account of the enemy – the Bosch – which paints them as a treacherous, inhuman threat, unseen and ubiquitous. The Africans, he is told are, like their land, a resource to be used at will. This is slammed home in an arresting early scene in which, in the absence of a landing jetty, the soldiers are carried from boat to beach on the shoulders of impassive slaves.
But Zacarias' beliefs are tested from the start – a fact which is beautifully evoked by cinematography which woozes in and out of focus, making sharpness and clarity elusive within the frame. Likewise, the swampy shadows of an unquiet night obscure everything but the silhouettes of figures, making them unreadable and uncertain.
Without his native guides (one dies, one disdainfully removes himself from Zacarias's service) the boy is desperate and near death. Encounters with a crazed coloniser, a German deserter and, most strikingly, a matriarchal tribe who save him but enslave him, all serve to reshape his place in the world.
While the structure takes some getting used to, you can't fault the ambitions of the feature: by its end, Mosquito has delivered a harrowing account of conflict at its most base and disgusting. But this is not just an anti-war film, it also takes aim at Portugal's colonial history and at patriarchy itself, viewed here as the framework about which all the violence and evil is built.
Production companies: Leopardo Filmes, Alfama Films, Delicatessen Filmes
International Sales: Alfama films alfamafilms@orange.fr
Producers: Paulo Branco, Ana Pinhao Moura, Mario Peixoto
Screenplay: Fernanda Polacow, Goncalo Waddington
Editing: Gustavo Giani
Cinematography: Adolpho Veloso
Production Design: Nuno Gabriel Mello
Music: Justin Melland
Cast: Joao Nunes Monteiro, Joao Lagarto, Filipe Duarte, Sebastian Jehkul, Miguel Borges, Antonio Nipita, Josefina Massango