A 20-something former child actor attempts to find meaning in his adult life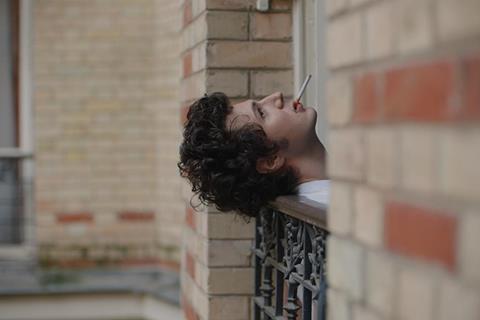 Dir. Antoine de Bary. France. 2019. 98mins
A Parisian slacker comedy with a sombre undertow proves a highly flattering showcase for ever-ascending young French talent Vincent Lacoste. He has recently proved himself as a quietly charismatic contender in serious dramas such as Christophe Honoré's Sorry Angel and Mikhaël Hers's Amanda. In My Days of Glory, however, he returns with panache to his comic roots and the self-mocking mischief he showed in his 2009 debut, Riad Sattouf's high-school farce The French Kissers.
Vincent Lacoste's eminently relaxed style makes Adrien as appealing as he is often appalling
Reuniting with Lacoste to expand on the oddball premise of his 2016 short Birth of a Leader, debut writer-director Antoine de Bary has come up with an eccentric, sometimes facetious, but emotionally serious portrait of young male malaise that's engaging and tender, with definite potential for wide exposure. That the film sometimes overplays its hand with cutely French touches – notably a breezy Gallic jazz soundtrack – certainly won't harm it commercially.
A portrait of a comically confused young man with major emotional issues under the charming surface, My Days of Glory comes across like a more laidback male answer to Léonor Serraille's 2017 success Jeune Femme. Its anti-hero is unemployed late-20s Adrien (Lacoste), who once had a promising screen career as a child actor but has done next to nothing since, and who now gets through life on a mixture of wisecracking and deeply entrenched denial. At once lacking self-confidence and yet bursting with chutzpah, Adrien is first seen conning firefighters into opening his flat for a supposed gas leak; in fact, he's just left his keys inside.
Soon, though, he finds himself homeless, crashing alternately at a friend's and with his parents. They are a drunken, at-a-loose-end dad (a weathered-looking Christophe Lambert, giving a strikingly vanity-free performance in a somewhat underdeveloped role) and a psychotherapist mum (Emmanuelle Devos, on typically expert form), who shifts between babying Adrien and coolly diagnosing his castration anxiety.
There are two rays of hope in Adrien's life. One is an awkwardly burgeoning romance with teenager Léa (very characterful Noée Abita, the discovery of Léa Mysius's Ava), who he meets when they're both in trouble at a police station. The other is the lead in a workshopped biopic of young Charles de Gaulle, for whom Adrien is supposedly a dead ringer. This strand, the theme of de Bary's earlier short, is somewhat over-indulged, not to say implausible, although it affords some sharp comic moments – notably, Adrien's preposterous appearance in full CDG costume in a Paris street, and his run-ins with a bullishly confident rival (Damien Chapelle) who's playing the general's brother.
Adrien's money problems, lack of direction and, to top it all, erectile dysfunction are all handled with a light comic touch until things take a decidedly more sober turn and our hero is finally forced to show his true feelings – which is also the cue for a movingly restrained scene in which his mother makes a confession of her own, a moment superbly handled by Devos.
The episodic narrative suffers from a degree of clutter, as if de Bary had too much material to easily fit in; like a café encounter with Léa's school friends, and a farcically glum party outing with friends Pierre and George (dorkish misfits who somewhat signal the film's debt to the Seth Rogen school of bro comedy). But it's a tender, enjoyable film, with Lacoste's eminently relaxed style making Adrien as appealing as he is often appalling, while de Bary emerges as a smart director with a strong feel for character, especially male neurosis.
Production companies: Iconoclast, Tribus P Film
International sales: Bac Films, sales@bacfilms.fr
Producers: Charles-Marie Anthonioz, Mourad Belkeddar, Jean Duhamel, Nicolas Lhermitte, Paul-Dominique Vacharasinthu
Screenplay: Antoine de Bary, Elias Belkeddar
Cinematography: Nicolas Loir
Editor: Joëlle Hache
Production design: Charlotte de Cadeville
Music: Ulysse Lottin
Main cast: Vincent Lacoste, Emmanuelle Devos, Christophe Lambert, Noée Abita, Damien Chapelle