Dir. Maggie Betts. US, 2016. 123 mins.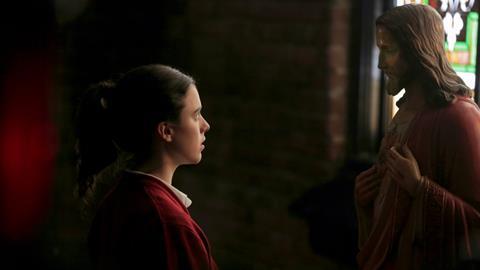 Set against the backdrop of Vatican 2 and the sweeping reforms of the Catholic Church in the early 1960s, Novitiate is a coming of age drama which explores one girl's relationship with her own spiritual and emotional needs. Driven by strong performances, this is, however, a more conventional piece than other recent pictures which explored crises of faith, notably Pawel Pawlikowski's Ida and Alice Rohrwacher's Corpo Celeste.
What's most interesting is the way Betts taps into the complicated semi-romantic dynamic between the nuns and Jesus, the man to whom they have dedicated themselves.
Austere, both in its muted palette and its deliberate pacing, this is a film which mimics the strict but unhurried rhythms of the convent. However the picture gains accessibility thanks to the giggly teen girl exuberance of the young novices who share confidences about their love for Jesus as if he's a high school crush. A promising first feature from writer/director Maggie Betts, Novitiate is a picture which should have no problem securing further festival berths following its premiere at Sundance. Given the right support, it could secure modest commercial returns although it may not be distinctive or dramatic enough to connect with an arthouse theatrical audience on a wider scale.
Cathleen's (Margaret Qualley) story starts in 1954, when, as a young girl, she is taken to church for the first time by her agnostic mother (Julianne Nicholson). The message of love resonates with Cathleen, as does something else. "It was… peaceful," she explains to her mother. Peace, and indeed love, are in short supply in Cathleen's family home, as we discover in the next scene when her errant father rolls in and the bottled-up grudges of a bad marriage boil over.
Sent to Catholic school, Cathleen meets the first of several nuns whose beatific commitment to their relationship with God strikes a chord in a young girl who is starting to feel an emptiness inside. At the age of seventeen, Cathleen tells her distraught mother that she plans to enter a convent with the aim of becoming a nun. "I'm in love, mum," she says, by way of explanation.
This scene, and the two other subsequent confrontations between Cathleen and her mother are dramatic high points. For Cathleen, the church is her vocation. For her mother, it's a controlling cult which has taken possession of every aspect of her only child's life. Vividly dressed in popping colours of the era, Cathleen's mother is a sharp and welcome contrast to monochrome of the sisters. And the acidity of Nicholson's performance also feels like a tonic when placed next to the simmering repression of the nuns.
Betts uses a score which favours pensive choral work from Arvo Part and Sir John Tavener. There's little tonal variation in the musical choices throughout the film: even when the unbidden sexual thoughts threaten to send Cathleen into a spiral of self-abnegation, the soundtrack remains tranquil and meditative.
What's most interesting is the way Betts taps into the complicated semi-romantic dynamic between the nuns and Jesus, the man to whom they have dedicated themselves. "Beneath everything else, we were women in love," says Cathleen in a voice over at the start of the film. Towards the end of the picture, the Mother Superior (Melissa Leo), prostrated before the altar, voices her anguish to 'my darling husband' over the reforms which downgrade her status in God's eyes.
Production company: Maven Pictures, Novitiate Productuons
Contact: CAA, sales@caa.com
Producer: Carole Peterman, Celine Rattray, Trudie Styler
Cinematography: Kat Westergaard
Screenwriter: Maggie Betts
Editor: Susan E. Morse
Production design: John Sanders
Score: Christopher Stark
Main cast: Margaret Qualley, Melissa Leo, Julianne Nicholson, Dianna Agron, Morgan Saylor