Dir. Penny Lane. US. 2016. 79 mins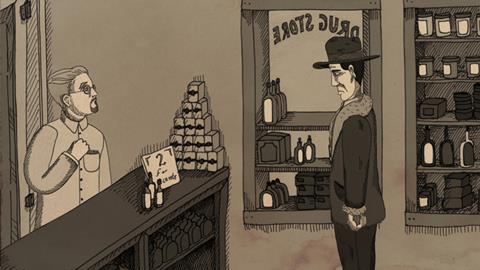 In 1917, Kansas doctor John Romulus Brinkley discovered that he could cure impotence in men by transplanting goat testicles into his subjects. And a medical legend was born. Or so the story goes. One of the most colourful and controversial characters in the history of alternative medicine is the subject of the cheerfully unpolished, semi-animated documentary Nuts!.
Lane's homespun aesthetic works well with the quirky nature of the story which unfolds
Filmmaker Penny Lane traces Brinkley's rise, and dramatic fall from grace, in a lively film which combines archive footage, talking head interviews with historians and animated segments which compliment the narration. Nuts! premiered in Sundance and arrives in Annecy already well into its festival journey. It's fair to say that this amiable oddity is ideally suited to the festival circuit, however it is set for a limited theatrical release in the US this month (June 2016) and could attract interest from specialist arthouse distributors and television. Amazon has SVOD rights.
The film, we are pointedly told at the beginning, is based on a book about the life of John Romulus Brinkley. It is later revealed that the book was self-financed and self-published, but even before this fact is known, we suspect that Brinkley is a gloriously unreliable witness. The purveyor of miracle cures, not just for impotence, but a whole host of other ailments, he has now rather fallen by the wayside of US folk history, but in the 1920s and 1930s, this larger-than-life huckster medic was a phenomenon. Satisfied patients queued up to brandish babies for the cameras, all born almost exactly nine months after Brinkley's scrotal intervention. Celebrity clients included Rudolf Valentino. And Brinkley's patented treatment was so well-known that Buster Keaton included a joke about it in one of his films.
Not content with his medical empire, Brinkley, an astute self-publicist, branched out into radio. KFKB (Kansas Folks Know Best) broadcast an eclectic mix of country music, folksy comedy and a daily segment titled Medical Question Box. In this, Brinkley would ponder letters from listeners and prescribe treatments. He struck up a deal with pharmacies to ensure that he got a cut of their profits from his advice.
The newly-formed American Medical Association took note, and targeted Brinkley, claiming that his treatment was bogus. At the same time, his broadcasting career was abruptly curtailed by the Federal Radio Commission. Brinkley sidestepped the rulings of both, relocating his medical practice in Texas, and building a new, even more powerful transmitter in Mexico, just across the border.
Brinkley's downfall came when, in an act of supreme hubris, he sued his chief persecutor, Morris Fishbein from the AMA, after Fishbein accused him of blatant quackery. In the spotlight of the court, it was revealed that Brinkley's goat gonads were little more than snake oil. Brinkley himself was at best a con man, at worst a psychopath. His empire crumbled.
Lane keeps the story moving briskly, and deftly shifts our sympathies from Brinkley to his persecutors as the tale progresses. The use of animation is sometimes a little crude, but the homespun aesthetic works well with the quirky nature of the story which unfolds.
Production company: Gland Power Films, Cartuna
Contact: Gland Power Films lennypane@gmail.com
Producers: James Belfer, Caitlin Mae Burke, Penny Lane, Daniel Shepard
Screenplay: Thom Stylinski
Cinematography: Hallie Kohler, Penny Lane, Joseph Victorine, Mark Walley, Angela Walley
Editors: Penny Lane, Thom Stylinski
Production design: Melis Seylan
Music:Brian McOmber
Cast: Gene Tognacci, Andy Boswell, John Causby, Kelly Mizell, Jeff Pillars, Thom Stylinski, Fran Taylor