Dir: Andrew Dominik. UK, 2016, 112 mins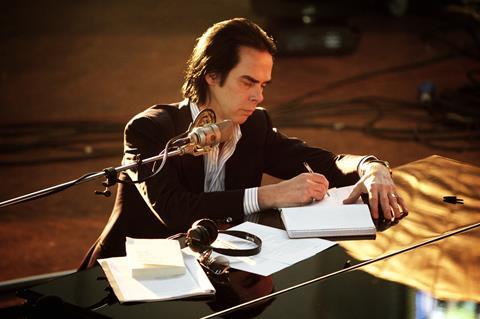 Singer-songwriter Nick Cave has always been an artist with a reputation for gazing into the abyss and emerging with strange treasures. We see that creative ability put to the extreme test in Andrew Dominik's documentary portrait One More Time With Feeling. On one level, the film is a traditional filmed supplement to a musical product, documenting the recording of Skeleton Tree, the latest album by Cave and his band the Bad Seeds. But the film is also about the state of mind of Cave, his musicians and his family in the aftermath of the death of his 15-year-old son Arthur, who fell from a cliff near the family's Brighton home in July last year.
Dominik illuminates the art and experience of a sometimes reluctant subject in a way that is enlightening, where it could have been painfully intrusive
To say that Dominik's film touches on a raw nerve is an understatement, but the film, dedicated to the memory of Arthur, is revealing both about these musicians' creative processes, and about questions of mourning, trauma and emotional survival. Shot in 3D, almost entirely in black and white, the film represents a moving companion piece to Forsyth and Pollard's 2014 Cave documentary 20,000 Days on Earth, and will be required viewing for Cave fans and other music lovers when it appears internationally on cinema screens for one night only on September 8.
Moving into new territory after acclaimed drama features Chopper, The Assassination of Jesse James… and Killing Them Softly, director Dominik goes for a somewhat self-reflexive documentary approach, suggesting that the film itself is taking shape, and himself finding his feet as a documentarist, as things develop – much as Cave's new songs take form.
The camera crew is often visible, sometimes obtrusively, and it is made clear that shooting in 3D is anything but a casual business: the film's title, taken from a line in one of the songs, also refers to the evident fact that some of the action is staged. Cave himself talks at length in his Brighton home or in a taxi, interviewed sometimes awkwardly by an off-screen Dominik, and sometimes in voice-over that apparently represents an internal monologue.
He talks candidly about trauma, his changed responses to the world, and about the necessity of continuing to be creative. He is, as ever, an exceptionally thoughtful and articulate speaker, even when musing on the difficulty of finding words adequate to events. His wife Susie also opens up about her feelings, most touchingly when she displays a painting made by Arthur when he was five; the couple's other son Earl also appears visiting the studio, and in this scene the sense of family solidarity and tenderness is palpable.
It's not always apparent why the film was made in 3D, especially since it starts out so much emphasising head shots and tight interiors; the canvas very much opens up, however, in the studio sequences, where the space between the studio itself and the control room is often exploited to vivid, sometimes disorienting effect. Eight songs are featured, sometimes reprised in different versions, and the dominant impression is of a very fluid approach to songwriting, based on repetition, dense instrumental textures and Cave's incantatory singing; as far as the music's construction goes, violinist and keyboard player Warren Ellis emerges as the key alchemist in the process.
More impressionistic material doesn't always come off, notably the film's one colour sequence, featuring Danish soprano Else Torp, where for the only time the images – and it should be said, the music – are tinged with borderline kitsch. But throughout, cinematographers Alwin H. Küchler and Benoît Debie use 3D space with inventiveness and variation, maximising intimacy rather than spectacle. And Dominik generally manages to illuminate the art and experience of a sometimes reluctant subject in a way that is enlightening, where it could have been painfully intrusive.
Production companies: Iconoclast, Pulse Films, JW Films
International sales: Picturehouse Entertainment, sales@picturehouses.co.uk
Producers: Dulcie Kellett, James Wilson
Cinematography: Alwin H. Küchler, Benoît Debie
Editor: Shane Reed
Music: Nick Cave and the Bad Seeds
Main cast: Nick Cave, the Bad Seeds, Else Torp, Susie Cave, Earl Cave