Anchored by an authentic relationship Li Ruijun's portrait of provincial China is his most moving yet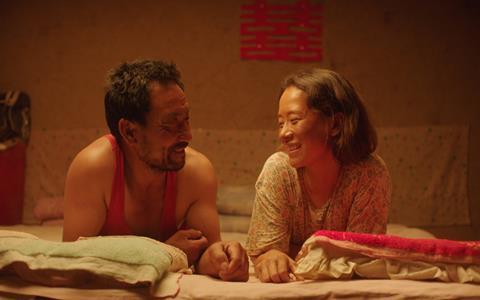 Dir/Scr: Li Ruijun. China. 2022. 131 mins
The title of Return to Dust could be taken as a statement that Chinese indie luminary Li Ruijun has retreated to his cinematic roots in rural fables after critiquing the big city dream with Walking Past The Future (2017). Largely set in the boomtown of Shenzhen, Li's previous feature represented a tentative step into the mainstream complete with a high profile producer-star in Yang Zishan. Yet despite receiving a fair promotional push as part of a concentrated effort to create a space for indies in the domestic multiplex market, the film struggled to connect with a wide audience. Li may have once again firmly planted his camera in the north western farmlands which he captured so evocatively in The Old Donkey (2010) and Fly With The Crane (2012), but Return to Dust is not a mere reprise of their gentle lyricism. Rather, this poetic tale of an arranged marriage which blossoms into a true partnership is Li's most affecting and accessible work to date.
It packs a quiet emotional punch
Following its international premiere in competition at the Berlinale, Return to Dust should cement Li's standing on the festival circuit through a run of prestige engagements. At home, it's sadly unlikely to receive more than the fleeting art-house appreciation that greeted the director's previous features, but international prospects are more promising given that it packs a quiet emotional punch. A limited theatrical release could be on the cards, while it would certainly be an ideal acquisition for any specialist streamer seeking to enrich its China content.
Set in a Gansu village circa the early 2010s, it chronicles the arranged union between Ma Youtie (Wu Renlin) and Cao Guiying (Hai Qing). Both are well into middle age and have been matched by their families as a means of relieving domestic burdens since they still live with relatives. Although respected for his hard-working nature, the humble Ma is one of the poorest members of the community, while the withdrawn Cao has been bullied since childhood and suffers from a loss of bladder control.
As the seasons change, Ma and Cao grow closer by facing whatever life throws at them. Since he possesses a rare blood type, Ma is asked to make debilitating donations to aid the medical treatment of the businessman who props up the local farming economy. There is also the task of building a new home as an initiative to improve countryside living standards entails that the house provided with the arranged marriage will be demolished in exchange for modest compensation.
Much like Tibetan auteur Pema Tseden, Li is a Chinese indie filmmaker who yearns for his work to reach an audience at home, so keeps politics on the periphery to instead focus on individuals whose ways of life are being altered by transformative state policy. This approach ensures that Li has been able to craft humanistic works which express the significance of the land beyond economic necessity. To this end, Return to Dust never indulges in poverty pity, instead foregrounding the personal virtues and core skills that still facilitate a self-sufficient existence in a modernising world. The general effectiveness of top-down urbanisation strategy is acknowledged by having the village folk wholeheartedly believe that Ma has won the lottery when he is offered a new apartment in the nearby town. However, the farmer is bemused as to why anyone would want to overlook the fields from a high-rise structure (his question of "how can a peasant live without land?" is as existential as it is practical).
Tacit commentary aside, the core of this patiently paced film is the burgeoning central relationship. An early scene of Ma and Cao being prompted to move closer together when sitting for a wedding photograph is eventually contrasted with moments of genuine intimacy. In-between, they gradually develop a familiar rhythm that is noted by repetitions: Cao suggesting that Ma take a break from work, only for him to insist on doing one more thing, or Ma's habit of asking Cao if decorations are correctly aligned before fixing them to the wall. Both actors lean into physical traits. Wu exudes a dogged stoicism that relaxes when his farmer sees the fruits of his labour while Hai's hunched fragility conveys social timidity yet also a particular form of defiance against the odds. Li's sense of place certainly makes Return to Dust a rich provincial portrait, but it's the utterly authentic performances which afford a universal resonance by tenderly illustrating a growing, everlasting bond.
The film is lovingly realised with Li refining his warm-hued aesthetic so the jarring colour correction that marred Fly With The Crane isn't evident here. It also has a more expansive feel than his previous village-set features since cinematographer Wang Weihua is a dab hand at capturing landscape having shot Knife In The Clear Water (2016) and Ala Changso (2018). Mixing traditional arrangements with subtle electronic elements, Peyman Yazdanian's score complements the earthy visual texture without overly romanticising Li's depiction of peasant life.
Production companies: Qizi Films, Beijing J.Q. Spring Pictures Company, Such a Good Film, Beijing Alibaba Pictures Culture Co., Dream Media Co., Hucheng No.7 Films, Aranya Pictures Co., Hangzhou Qin Zi Zai Co., Beijing Showcase Culture Media Co.
International sales: M-Appeal, sales@m-appeal.com
Producers: Qin Hong, Zhang Min, Li Yan
Production design: Li Ruijun, Han Dahai
Editing: Li Ruijun
Cinematography: Wang Weihua
Music: Peyman Yazdanian
Main cast: Wu Renlin, Hai Qing, Yang Guangrui, Zhao Dengping, Wang Cailan