Alfonso Cuarón has made his most personal film; it may also be his best.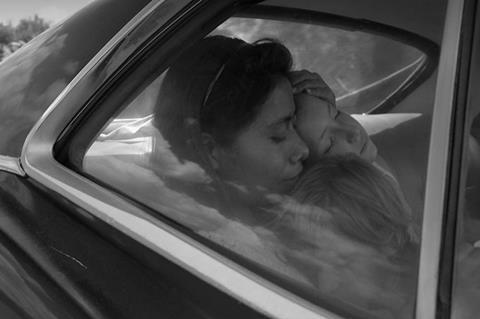 Dir/scr/cine: Alfonso Cuarón. Mexico, 2018, 135 mins
In making his most deeply personal film – to the point of modelling the sets on his family's old apartment in the middle-class Roma district of Mexico City and filling them with his mementos – Alfonso Cuarón has written a love letter to all the women around the world who have devoted their lives to the children of the families who employ them. Directing, writing and shooting this film, he has spurred himself to a glorious technical achievement: watching ROMA is like reading his autobiography; the intense flow of family life punctuated by hundreds of intimate little details for the viewer to savour.
Cuarón's fluid camera frames and eulogises the landscape he grew up in
Famously, ROMA is a Netflix pick-up from backer Participant Media: the deep pockets of the SVOD platform will help this small, no-star, black-and-white Spanish-dialect film from a master director reach an audience because even a post-Gravity Cuarón might have had trouble with a film like ROMA in the independent marketplace without compromise. Yet in its naked beauty this is very much an enduring big-screen proposition; not necessarily theatrical, but certainly for festival audiences and cinephiles. An awards-qualifying run in the US is on the cards, but ROMA could test – and prove – how Netflix works with the festival world going forward, even after the as-yet-un-released TX date.
The fact that ROMA is set in in a flavourful Mexico City of 1970/71 doesn't restrict this story of domestic servitude or confine its appeal to Latin America; low-status help the world over has and continues to work exhausting hours with poor pay and conditions to deeply love and care for their employers' children – a part of, but apart from, the family. Yet the appeal of the film is also its deeply-layered specificity; the realistic nature of the family and its drama, the random threat thrown up by the political landscape; and Cuarón's fluid camera framing and eulogising the landscape in which he grew up. If there's any parallel, it's with John Boorman's Blitz-set Hope And Glory, though they're literally worlds apart.
Men certainly don't emerge from Cuarón's story smelling of any perfume apart from the dog turds which decorate the entrance to the family compound in Colonia Roma during this period of political strife in Mexico. The culprit is beloved pet Borras, and nanny/maid Cleo (non-actor Yalitza Aparicio) fights a losing battle every day with his copious excrement. A beautifully-framed credit sequence starts with the water washing away Borras's sins before the camera moves into the house, panning and following simple village girl Cleo as she fights another daily battle against the mess created by four young children, their parents, and grandma. Her best friend Adela (Nancy García) cooks, while there's also a driver. They start when the sun rises; they're the last to bed.
Dad is a doctor called Antonio (Fernando Grediaga) whose arrival home at night is calibrated like a military parade; protesting there's "dog crap everywhere", he soon departs, pretending to the kids that he's in Quebec at a conference. Mum Sofia (Marina de Tavira) is tearful and barely coping, especially when he doesn't send any money to support her unruly, loving brood. She snaps at Cleo, takes her for granted, but nobody here is a bad person: this is the accepted order of things, and when Cleo becomes ill-advisedly pregnant by the dubious martial arts fanatic Fermin, she is given the best of help throughout the pregnancy. An earthquake at the hospital's baby unit, however, is an unsettling omen for things to come.
Through the absolute worst of times, Cleo will support the family, and they will love her fiercely in return, but it's not just her indigenous features which set her apart: she's staff, and the call to make tea, clear up, or get out of the way is never too distant. As Fermin so eloquently puts it, she's a "fucking servant" at the end of the day, no matter how much the little children adore her as she kisses them awake.
While Cuarón tells an intimate story, never more so than when the family is home, he also effortlessly widens it out to fill the screen. New Year's Eve at a hacienda in the country, where a forest fire breaks out; a trip to the cinema where Cleo breathlessly tracks her wayward charges; and, finally and devastatingly, the Corpus Christi Massacre is re-staged, leading to the film's most haunting, confronting and evocative sequence. Sound design is as specific as the visuals and delivered in Dolby Atmos; from the ever-barking dogs to the haunting calls of the street vendors.
There's a lot of love in ROMA, and, as is the way with love, it doesn't always arrive in ways that are equal, or reciprocated, or even endure. His first film to be set in his homeland since Y Tu Mama Tambien in 2001 is Alfonso Cuarón's most personal film, and his most honest. It may even be his best.
Production company: Esperanto Filmoj
International distribution: Netflix
Producer: Nicolás Celis, Gabriela Rodriguez, Alfonso
Screenplay: Alfonso Cuarón
Editor: Alfonso Cuarón
Cinematography: Alfonso Cuarón
Production design: Eugenio Caballero
Main cast: Yalitza Aparicio, Nancy García, Marina de Tavira, Fernando Grediaga, Veronica Garcia