Dir. Argyris Papadimitropoulos. Greece. 2016. 104mins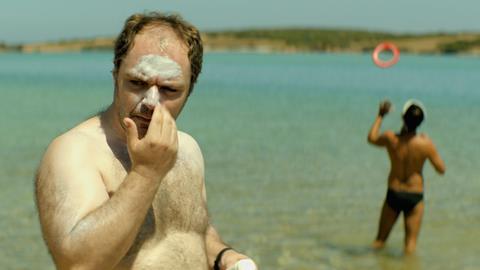 Midlife crises don't get much messier than the one portrayed in the third feature from Argyris Papadimitropoulos (Wasted Youth), which explores an infatuation that turns to obsession, with devastating results. A deftly handled cautionary tale, there is a compulsive, creeping horror to this portrait of a man losing all self-respect. That said, it is frequently a tough watch.
Given the high quality of the behind-the-camera package and the provocative nature of the material, festival interest is a given
This is confident, unflinching filmmaking which, while it succumbs to a fairly predictable climax, manages to show us things we may not have seen – or wanted to see – before. Not least of these is an extreme close-up of a tongue licking an eyeball.
The film secures a place for Papadimitropoulos alongside Yorgos Lanthimos, Alexandros Avranas and Athina Rachel Tsangari on the list of emerging filmmaking talent from Greece. Given the high quality of the behind-the-camera package and the provocative nature of the material, festival interest is a given. And while the film is poly-sexual rather than homosexual in inclination, it shares some tonal similarities with Alain Guiraudie's Stranger By The Lake and, as such, has the potential to reach a limited theatrical audience.
The film introduces us to 40-something doctor Kostis (Efthymis Papadimitriou) as he arrives at his new post as GP on the tiny holiday resort island of Antiparos. Kostis is obviously a man lugging the considerable weight of disappointment along with his suitcases. He arrives in winter, when the island is battered by rain and the population shrinks to 800. The locals string up fairy lights and give full-throated toasts to the new year; Kostis glumly sips his beer before being called out to examine a dead grandmother.
The contrast when Papadimitropoulos cuts from January to August hits like a tequila shot. Kostis's clinic is flooded with sunlight; tourists clamour to get the night's drinking injuries patched up. One of these is 21-year-old Anna (Elli Triggou), who trails her multicultural entourage of hedonistic party pals like a slipstream. Anna and her friends are casually cruel in the way that only the very young and the very beautiful can be. She toys with him in the same way a cat plays with something it is planning to kill; Kostis is smitten and, for the first time in the film, smiles.
Caked in sunblock so thick it looks like a clown's greasepaint, Kostis sets out to engineer an "accidental" meeting. He finds Anna, lazily intertwined with her gang, dozing on a nudist beach. By submitting to their mocking jokes and paying for their drinks, he manages to buy into their gilded circle of friendship.
Papadimitropoulos makes effective use of rhythms and repetition. Kostis, briefly part of the in-crowd, sees the endless, sexually charged summer nights as thrilling and glamorous. Later, when he has fallen from favour, the same clubs become tawdry, desperate and sordid. The party scenes start to look like some monstrous Hieronymous Bosch orgy of naked cavorting figures.
The passing reference to Lolita in the dialogue is no accident. There are several parallels between this film and Nabokov's novel, not least the inevitable trajectory to obsession and ruin and the fact that it's a struggle to find a sympathetic character. But in common with Lolita, it becomes clear that disliking the characters doesn't make the story any less compelling.
Production companies: Oxymoron Films, Marni Films
International sales: Visit Films info@visitfilms.com
Producer: Phaedra Vokali
Screenplay: Argyris Papadimitropoulos, Syllas Tzoumerkas
Cinematography: Christos Karamanis
Editor: Napoleon Stratogiannakis
Production design: Aliki Kouvaka
Main cast: Efthymis Papadimitriou, Elli Tringou, Milou Van Groesen, Dimi Hart, Hara Kotsali, Marcus Collen, Yannis Tsortekis