Directors: various (anthology; see credits). US, 2015. 92mins.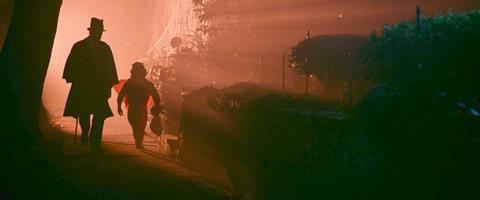 Tales of Halloween is a ten-story omnibus (from 11 directors) in which all the stories take place in the same (especially troubled) archetypal suburb (and a grittier neighbourhood across town) on a busy Halloween night. The concept evokes Michael Dougherty's 2007 cult favourite Trick 'r' Treat, but the package more closely resembles recent anthologies like the V/H/S and ABCs of Death films.
These Tales are tempting enough to become a genre festival draw and a likely download/rental/purchase item for the October holiday season; it's possible there will be further instalments in Halloweens to come.
Premiering at Canada's Fantasia International Film Festival before closing the UK's FrightFest, Tales has its own, distinctive style with creatives drawn from a Californian horror filmmaking community, a tendency to favour '80s-look practical effects over GCI, a traditional storytelling approach that abjures the found footage or shaky-cam mannerisms of the V/H/S films, cameos for veteran genre directors (Joe Dante, John Landis, Mick Garris) and actors (Barbara Crampton, Caroline Williams) and a freewheeling, fan-friendly horror-comic sensibility.
After animated titles by British filmmaker Ashley Thorpe (Borley Rectory) which accompany a theme by veteran composer Lalo Schifrin, Adrienne Barbeau appears in a homage to her disc jockey role in the original The Fog as one of several elements which tie the stories together (along with background trick or treaters and a couple of cops).
Sweet Tooth, directed by Dave Parker (The Hills Run Red), is an archetypal urban legend about a candy-hogging bogeyman who even eats sweets out of greedy victims' stomachs. The Night Billy Raised Hell' directed by Darren Lynn Bousman (several Saw sequels), casts Barry Bostwick as Mr Abaddon, a wisecracking demon who plays a nasty (but funny) trick on a devil-masked child who has bothered him. Trick, directed by Adam Gierasch (Autopsy), features stoner/boozer slackers (including genre fixtures Trent Haaga and Tiffany Shepis) assaulted by machete-wielding children; nastier in tone than most segments, this puts forward a bizarre theory about why so many contemporary kids go in for pirate costumes.
The Weak and the Wicked, directed by Paul Solet (Grace), is an urban spaghetti western with Grace Phipps (Some Kind of Hate) as a girl gangleader stalked by a masked avenger. Grimm Grinning Ghost, directed by Carolyn (Soulmate), is a winning anecdote with veteran Lin Shaye spooking easily-scared Alex Essoe (Starry Eyes) with another ghost tale; unusually in this company, Carolyn pays off with a nice 'boo!' moment and doesn't pile on the splatter.
Ding Dong, directed by Lucky McKee (May), is an inventive nightmare cartoon about a childless housewife (Pollyanna McIntosh) who reacts crazily to the parade of children trooping up to the front door. Replete with references to Hansel and Gretel and The Wizard of Oz, this affords McIntosh – a specialist in extreme characters - a chance to pull out all the dementia stops, and appear as a many-armed, red-faced witch.
This Means War, directed by Andrew Kasch and John Skipp (Clowntown), pits two kinds of Halloween display against each other – a traditional spookshow and a heavy metal splatterfest – in a neighbourly squabble with a gory finish. Friday the 31st, directed by Mike Mendez (Big Ass Spider), is a Friday the 13th parody in which a Jason-style killer (Nick Principe) is trick or treated by a cute claymation alien from a flying saucer in an escalating effects battle. The Ransom of Rusty Rex', directed by Ryan Shifrin (Abominable), is a horror twist on O. Henry's The Ransom of the Red Chief' (filmed by Howard Hawks for the 1952 omnibus movie Full House) with Sam Witwer and Jose Pablo Cantillo kidnapping a masked tyke only to find his millionaire father (Landis) uninterested in paying a ransom or even in taking the abductors' calls – and then discovering something nasty under the mask.
Finally, Bad Seed, directed by Neil Marshall (The Descent), signs off with an outrageous, effects-heavy story in which a tough cop (Kristina Klebe) pursues a killer mutant pumpkin lantern that has bitten the head off its creator and gone on a rampage.
Breakout omnibus horror hits are rare – Dead of Night (1945), Tales From the Crypt (1972) and Creepshow (1982) are among the stronger performers - but the form offers horror cognoscenti the equivalent of a sample platter and these Tales are tempting enough to make this a genre festival draw and a likely download/rental/purchase item for the October holiday season. The level of quality is consistent, though there is eventually a tendency to repetition as most stories focus on horrible people who get just desserts in amusingly horrid ways. Given that the V/H/S and ABCs films have become mini-franchises, it's possible this will lead to further instalments in Halloweens to come.
Production company/international sales: Epic Pictures, info@epic-pictures.com
Directors: Darren Lynn Bousman (The Night Billy Raised Hell); Axelle Carolyn (Grim Grinning Ghost); Adam Gierasch (Trick);Andrew Kasch & John Skipp (This Means War); Neil Marshall (Bad Seed); Lucky McKee (Ding Dong); Mike Mendez (Friday the 31st); Dave Parker (Sweet Tooth); Ryan Schifrin (The Ransom of Rusty Rex); Paul Solet (The Weak & The Wicked).
Series producers: Patrick Ewald, Shaked Berenson, Axelle Carolyn, Mike Mendez
Screenwriters (in order): Darren Lynn Bousman, Axelle Carolyn, Andrew Kasch, Neil Marshall, Lucky McKee, Mike Mendez, David Parker, Ryan Schifrin, Clint Sears, John Skipp
Main cast: Lin Shaye, Pat Healy, Barry Bostwick, Joe Dante, John Landis, Kristina Klebe, John Savage, and Adrienne Barbeau
Contact: Facebook.com/TalesOfHalloween