Dir: Errol Morris. USA. 2016. 76 mins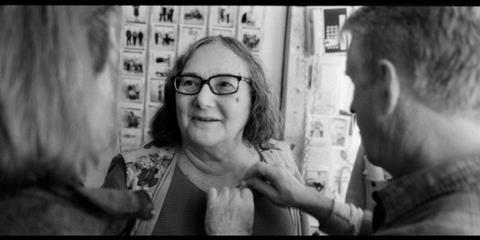 The latest documentary from Errol Morris is a stylistic departure for the famously rigorous filmmaker. Not only is it an affectionate and personal film – the subject, Elsa Dorfman, is a long-standing friend and Morris's emotional investment in her story is evident in every frame. It's also far more informal in approach than his normal forthright technique.
Dorfman, a self-described 'nice Jewish girl', didn't pick up a camera until her late twenties
Rather than interrogate his subject, with the intimidating requirement of eye-contact with the camera, Morris allows Elsa to amble through her memories and rifle through her archive of work. That the resulting film is as interesting as it turns out to be is largely thanks to Elsa's unassuming charm as an interviewee.
This doesn't have the hot button topicality of some of Morris's other pictures, nor does it have the satisfying sense of intellectual cut and thrust which comes with Morris pinning down one of the slippery, powerful men who tend to be the subjects of his most successful films. This documentary, like its subject, is gentle and warm. And as such, while it's an enjoyable watch, it is perhaps less easy to market. Although Finding Vivian Maier demonstrated that there is an audience for films about underrated female photographers, Maier's was a mystery story while Dorfman is an open book.
More festival berths should follow Toronto and Telluride; and although it could achieve modest theatrical success, the film would be best suited to venues with programming skewed towards explorations of photography and contemporary art.
Dorfman, a self-described 'nice Jewish girl', didn't pick up a camera until her late twenties. Before this, she had worked as a secretary in New York at the Grove Press, a leading publisher of the Beat writers. She recalls her incredulity when Allen Ginsberg demanded "Where's the can?", having never heard the toilet referred to in this way before. Inauspicious a meeting though it was, this was the beginning of a lifelong friendship. Ginsberg became one of her most regular, high profile (and frequently naked) subjects. Others included Bob Dylan, Anais Nin, W. H. Auden and singer Jonathan Richman.
Partly due to the gender bias in the world of photography during the years that Elsa was most active; partly of her diffidence when it came to self promotion, and partly because her work was unfashionably sunny, Dorfman never achieved the profile that she deserved. This means that there is little archive film material available and Morris relies on Dorman's own portrait photography archive to fill in her back story. Fortunately, it's extensive, and Dorfman sifts through the recollections that stir with each shot eloquently and with an understated pride in her own talents.
Dorfman became best known for her use of large format 20x24 polaroid stock for her easygoing, informal portraits. She rented one of only five large format polaroid cameras in the world and ran a studio in Cambridge, Massachusetts. When polaroid went bankrupt and stopped producing certain film stock, Dorfman had retirement forced upon her. Her thoughts about this, and other issues pertaining to being an artist coming towards the end of her career, are quietly profound.
Production company: Fourth Floor Productions, Moxie Pictures
International sales: Submarine info@submarine.com
Producer: Steven Hathaway
Cinematography: Nathan Allen Swingle
Editor: Steven Hathaway
Original score: Paul Leonard-Morgan
Feturing: Elsa Dorfman