Dir. John Lee Hancock. US, 2016, 116 mins.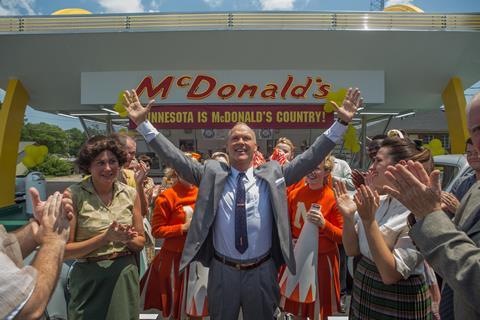 "If my competitor was drowning, I'd walk over and put a hose right in his mouth," says Ray Kroc (Michael Keaton) in John Lee Hancock's savoury drama about the travelling salesman who seized McDonald's in the 1950s and made it what it is today. With a Trumpian timeliness which was probably not intentional – The Founder shot in May 2015 and has flip-flopped its US release several times via The Weinstein Company – John Lee Hancock's depiction of the origins of the company's success turns out to be a queasy indictment of American post-war capitalism.
The take-no-prisoners extent of Kroc's ambition is The Founder's unique playing card, and Hancock delivers it with a depressingly special sauce.
Perhaps The Founder moved around the calendar due to anxiety over a potential corporate McNightmare. In its frank and finger-pointing portrayal of the greedy foundations on which the company's global real estate empire is built, the film is similar to The Social Network or Steve Jobs; it's also driven through choppy narrative waters by a single powerhouse performance. The release uncertainty could, however, simply be down to TWC's corporate woes as foreign partners fire the gun and The Founder goes out in Australia through Roadshow this week ahead of a Jan 20 wide push in the US.
Keaton's drilling performance reminds the viewer in Trump's America that "nothing in the world can take the place of persistence" (if you believe in The Power of the Positive, that is). Whether there's a current commercial appetite for that kind of sour takeaway note remains to be seen, but Keaton should push The Founder through to Awards contention (the film now also qualifies – after another last-minute tweak - for the UK's BAFTAS through StudioCanal where it opens on February 10).
Previous films by John Lee Hancock (The Blind Side, Saving Mr Banks) have been softer-edged; Tom Hanks portrayed Walt Disney in Saving Mr Banks as a tough but twinkly-eyed mogul. And The Founder, as scripted by Robert Siegel (The Wrestler) sets the scene softly in the MidWest in 1954 where the toothy travelling salesman Kroc – never too far from a bottle of rye – hawks his milk-shake machines through lacklustre car-hop drive-ins across an impeccably-designed Missouri.
He may seem like a hopeless Willy Loman, but 52 year-old Kroc is still very much burning to find success. An unusual order for six Multimix machines prompts him to hop across the country to San Bernardino, California, where he visits the original restaurant and meets the quirky McDonald brothers Mac (John Carroll Lynch) and Dick (Nick Offerman) and strikes a deal to franchise their Speedee service system, "a sensation 30 years in the making".
Chunking chewy buns of exposition at the audience for almost 45 minutes, The Founder sets itself up as a tussle between Kroc and the McDonald brothers; his is a take-no-prisoners approach to empire building; they're steadfast in their desire to protect their vision of a fast food nirvana. (The Founder relied on testimony from family members and McDonald's food is consistently portrayed as wholesome; in the end, it all boils up over milkshake powder versus the real thing).
Kroc is depicted as desperate; he watches On The Waterfront and his favourite song is Pennies From Heaven, he's evangelical about the potential of McDonald's, and his marriage to Laura Dern has hit a wall, which makes this "professional leech" a "wolf in the henhouse" with everything to play for. But the extent of Kroc's greed is The Founder's unique playing card, and John Lee Hancock delivers it with a depressingly special sauce.
Keaton fully delivers the kind of brio that makes a 52 year-old man hungry - and able - to both see and execute the idea of the courthouse, the flag, and fast food chain McDonald's as an emblem of booming Main Street, post-War America.
Produced by Aaron Ryder for FilmNation Entertainment and the actor Jeremy Renner with his partner Don Handfield through their The Combine label, The Founder "by no means tarnishes McDonald's," according to FilmNation, but that's all a matter of taste at the end of this film - are you with Kroc's genius or the brothers' integrity?
If audiences can survive a somewhat slow start, they should be seduced by the film's all-encompassing attention to period detail which extends from the drive-in diners to the original burger stand, Kroc's stifling domestic milieu and the small-town society club nights (production designer Michael Corenblith dials back a few years from Mr Banks) It's all a perfect stage for John Lee Hancock to set up a denouement in which persistence turns the ridiculous into something terrifyingly sublime.
Production companies: FilmNation Entertainment, The Combine, Faliro House Productions
US Distribution: The Weinstein Company
International sales: FilmNation Entertainment
Producers: Don Handfield, Jeremy Renner, Aaron Ryder
Executive producers: Glen Basner, Alison Cohen, Karen Lunder, Bob Weinstein, Harvey Weinstein, David C. Glasser, Christos V. Konstantakopoulos, Holly Brown, David S. Greathouse, William D. Johnson
Screenplay: Robert Siegel
Cinematography: John Schwartzman
Editor: Robert Frazen
Production design: Michael Corenblith
Music: Carter Burwell
Main cast: Michael Keaton, Nick Offerman, John Carroll Lynch, Linda Cardellini, Patrick Wilson, B.J. Novak, Laura Dern