Dirs: Marieka Walsh, Warwick Thornton, Jub Clerc, Robert Connolly, Anthony Lucas, Rhys Graham, Ashlee Page, Tony Ayres, Claire McCarthy, Stephen Page, Shaun Gladwell, Mia Wasikowska, Simon Stone, David Wenham, Jonathan auf der Heide, Justin Kurtzel, Yaron Lifschitz, Ian Meadows. Australia. 2013. 179mins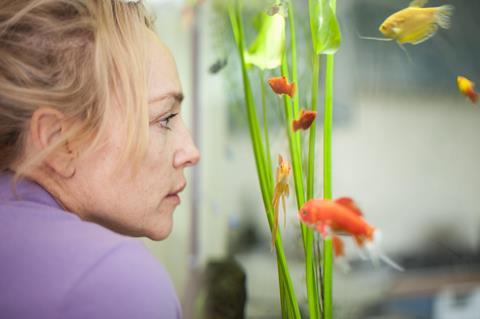 Australian novelist Tim Winton's 2005 collection of 17 interlinked stories, The Turning, is the rock-solid basis for this minifestival of short films, each with its own director, writer, cast, crew and production company. At three nonstop hours, as played at its Melbourne International Film Festival premiere, it's a demanding length for any entertainment, but producer Robert Connolly - whose concept this is - has equally eccentric plans for its September 26 local release.
Of the internationally known actors on show, Rose Byrne shines in a 'trailer trash' portrait (in Claire McCarthy's The Turning) very different from her usual work.
For an initial 16-screen, two-week run Tim Winton's The Turning (a clumsy title, but you can see the main selling point) will play once a day at a special price ($A25), with a complimentary "limited edition" glossy programme and with a much-needed 10 minute comfort break. This striking plan, aimed squarely at book lovers and arthouse cinemagoers, will inevitably deliver great percentages and perhaps lead to a slimmed-down, more widely marketable version for national and international viewing.
Connolly's vision was for each team to have total control of the interpretation and presentation of their segment. This means that the central Lang Family characters — Vic, Gail, Bob and Carol — are played by different actors in each of the stories in which they appear. This can be confusing — sometimes they can be aboriginal — but will be less of a problem if your glossy programme sets you right.
Also varied are the directorial styles — from dialogue-filled naturalism to voice over memories and part-dreams. There's even a mute, studio dance segment, quite a challenge at the 150-minute mark. Crucially, there are many marvellous locations — vast plains, dripping swampland, impenetrable ranges, pounding oceans — the background to Winton's acclaimed fiction over the years.
Of the internationally known actors on show, Rose Byrne shines in a 'trailer trash' portrait (in Claire McCarthy's The Turning) very different from her usual work; Cate Blanchett and Richard Roxburgh play Gail and Vic dealing with his difficult mother on Christmas Day (Reunion, written by Blanchett's husband Andrew Upton and loosely directed by fast-rising theatre man Simon Stone); Hugo Weaving is Bob tracked down by his son after many years isolated in a remote tin shack (Commission, written and debut directed by actor David Wenham).
Actor Mia Wasikowska (Alice in Wonderland, Jane Eyre, etc) impresses as a first-time writer/director with the fluid Long, Clear View. Also notable is Cockleshell (director, Tony Ayres; writer, Marcel Dorney), segment opener Big World (writer/director/cinematographer, Warwick Thornton) and Aquifer, a gripping contribution from overall producer Connolly.
The financial backing of the Australian Broadcasting Corporation guarantees a national TV showing of this bold collaborative venture. It deserves to be seen, with all its challenges and bold complexities, on a cinema screen.
Production company: Arenamedia
International sales: Level K, http://levelk.dk
Producers: Robert Connolly, Maggie Miles
Executive producers: Andrew Myer, Paul Wiegard
Website: www.theturningmovie.com.au
Main cast: Cate Blanchett, Rose Byrne, Miranda Otto, Richard Roxburgh, Hugo Weaving, Callan Mulvey, Susie Porter, Toby Wallace, Brenna Harding, Robyn Nevin, Dean Daley-Jones, Dan Wylie