A museum director's life goes downhill in the wake of a PR stunt designed to promote a piece of performance art called The Square.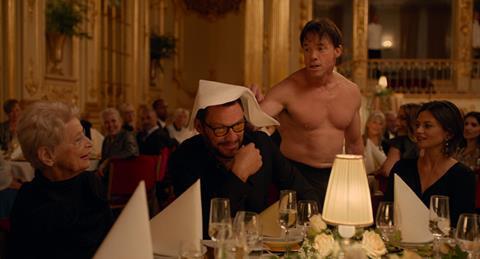 Dir/scr Ruben Östlund. Sweden, Germany, France, Denmark. 2017. 142 mins.
Ruben Östlund certainly doesn't rest on his laurels. The Swedish director's follow-up to his breakout feature, Force Majeure, is easily his most ambitious film yet. Taking well-aimed potshots at the contemporary art world and the attention-grabbing PR industry, it also raises questions of trust, responsibility and the increasing moral insulation of people in advanced societies.
Wanting it all – including an indulgent 142 minute running time – The Square is at its best doing just two of the many things it assays
This is a sprawling, original satirical drama with moments of both dark and light comedy, and one standout scene involving a performance artist monkeying around at a gala dinner. It's the 'sprawling' bit that will test audiences who let the Force Majeure be with them. As an inventive, thought-provoking reflection on our times, and as an audacious audiovisual album with some great tracks on it, The Square delivers. As a drama, however, it packs several great punches that somehow don't add up to a whole fight.
At times this feels like a brilliant series of bravado sketches and set pieces, often relying on disruptive elements – like the Tourette's sufferer who yells insults during a marvellously funny and uncomfortable museum talk given by a contemporary artist played by Dominic West.
Force Majeure was a needle-sharp deconstruction of human (mostly male) self-deception. The Square takes on some of those same male foibles and subterfuges – mostly in the character of Christian Nielsen, the gradually unravelling museum director played with gusto and finesse by Danish actor Claes Bang (familiar to fans of Scandi crime series The Bridge). But Christian's story is used as a peg for all sorts of themes and variations, characters and cameos, making for a deliberately messier, more open-ended experience – something reflected in the film's often jazzy, freestyle way with narrative continuity.
First presented via an interview with Anne, an American journalist played gamely by Elisabeth Moss, Christian is revealed to be a smooth operator, an art-world manager and schmoozer who is nevertheless a committed believer in the power of contemporary art to shock, move and encourage reflection. Even, perhaps, to effect social change: that's the idea of The Square, a new installation that his publicly-funded Stockholm museum is due to present. Based on a project conceived by Östlund and Kalle Boman that was exhibited in Sweden and Norway in 2014 and 2015,The Square is a four-by-four metre patch of ground – to be marked out in the plaza outside the museum – that acts as a "sanctuary of trust and caring" within which "we all share equal rights and obligations".
In that first interview, Christian is contemptuous of private collectors who sequester art from public view. But it's made clear that his museum's public is still a limited, affluent one. It's the brilliantly staged scam-robbery of Christian's phone, wallet and cufflinks in a public 'square' that puts the museum director in touch with the kind of underclass that would never visit his institution.
Here he makes the first of three errors of judgement that play out through the film. The second involves a couple of young social-media savvy PR whizz-kids who come up with a shock-tactic idea to promote The Square on YouTube. The third, taken at a drunken after-show party, involves Moss' character Anne, who is revealed to be living with a chimpanzee with artistic tendencies (this is not the only echo of Paolo Sorrentino in The Square – not a director one would ever previously have associated with Östlund).
'Bystander apathy' is one theme explored here in several images and story forays – the instinct that makes us walk past a slumped tramp who could be dead, but is probably (we reassure ourselves) just drunk. But the director broadens this trope, brilliantly exploited by the thieves who rob him in broad daylight, so as to hold up to scrutiny our conflicted, guilt-ridden attitudes to needy (or faking?) beggars, Romanis and asylum seekers.
Wanting it all – including an indulgent 142 minute running time – The Square is at its best doing just two of the many things it essays. The first is to use a municipal contemporary art museum – conceived by Östlund and architect Gert Wingårdh as a Modernist space inserted into the fabric of Stockholm's Royal Palace – to probe in comic but also serious ways how we engage with culture, power, and each other. The second is to chart the undoing of a cocky, polished aesthete turned businessman and politician, whose downward trajectory begins when he tries to let his alpha male side out of its cage. But in all its flawed brilliance, The Square remains an original, visceral, uncomfortable and essential viewing experience.
Production companies: Platform Produktion AB, Essential Films, Parisienne, Coproduction Office
International sales: Coproduction Office, market@coproductionoffice.eu
Producers: Erik Hemmendorff, Philippe Bober
Executive producers: Tomas Eskilsson, Agneta Perman, Dan Friedkin, Bradley Thomas
Cinematography: Fredrik Wenzel
Production design: Josefin Åsberg
Editor: Ruben Östlund, Jacob Secher Schulsinger
Main cast: Claes Bang, Elisabeth Moss, Dominic West, Terry Notary, Christopher Laessø, Marina Schiptjenko, Elijandro Edouard, Daniel Hallberg, Martin Sööder