Ben Affleck and Tye Sheridan star in George Clooney's adaptation of a writer's memoirs set in Long Island of the 1970s and 80s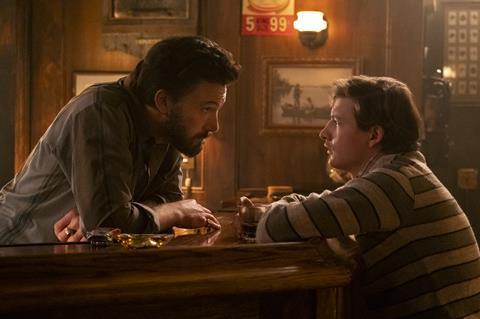 Dir: George Clooney. US. 2021. 105 mins.
George Clooney's eighth film as a director is a warm if ultimately flimsy coming-of-age drama about a young man who must let go of his absent father in order to fulfil his dream of becoming a writer. Based on the memoir by Pulitzer Prize-winning journalist JR Moehringer, The Tender Bar has plenty of familiar qualities — the nostalgic vibe, the gentle life lessons, the exploration of family — that are mitigated somewhat by a few touching passages and a collection of unfussy, lived-in performances, including that of Ben Affleck as a kindly uncle keeping a close eye on our sensitive protagonist. But neither the milieu nor the insights are especially fresh, despite the tender tone.
Clooney embraces the material with what might best be described as a bland, feel-good pleasantness
Premiering at the London Film Festival, this Amazon title will be released in US theatres on December 17 before landing on the streaming platform globally in early January. Affleck is joined in the cast by Tye Sheridan and Lily Rabe, but the subject matter may prove the biggest draw, especially for adult viewers who will appreciate the undemanding approach and the wealth of 1970s hits from the likes of Golden Earring and Steely Dan on the soundtrack.
The film is set largely on Long Island as preteen JR (Daniel Ranieri) and his harried single mom Dorothy (Rabe) have to move back into her father's (Christopher Lloyd) home because she can't afford her own place. Never really knowing his dad, a disc jockey who walked out years ago, JR has always been drawn to his mother's brother, Uncle Charlie (Affleck), a bartender and father figure who encourages him to pursue his passion for reading. Later, as a college student, JR (now played by Sheridan), will pursue a career as a writer, although he lacks confidence in his talent.
Working with cinematographer Martin Ruhe and costume designer Jenny Eagan, Clooney gives the story, which takes place over the 1970s and '80s, a rich hue, with Ron Livingston providing a honeyed voiceover as the adult JR looking back on his childhood. Although the young JR deals with abandonment issues and romantic heartbreak, The Tender Bar never treads into particularly traumatic terrain, practically guaranteeing from the start that a happy ending awaits.
Newcomer Ranieri exudes sweetness, and he and Affleck have a cosy rapport. Affleck, who won an Oscar alongside Clooney as producers of Argo, knows precisely how to play Uncle Charlie, giving this overgrown bachelor an endearing spirit: Charlie may be a working stiff, but he's a well-read, thoughtful guy who teaches the boy the importance of self-respect and intellectual curiosity. William Monahan's screenplay too easily turns Uncle Charlie into an abstraction — the idealised male role model — but Affleck's effortless charm is nicely utilised.
Yet a lack of urgency consistently hampers this likeable tale, coupled with the fact that the main character's narrative isn't particularly compelling. When Sheridan takes over the role from Ranieri, JR starts to show a little more swagger in his college years, but the script shifts focus to his underdeveloped on-again/off-again relationship with Sidney (Briana Middleton), a wealthy Yale classmate who likes sleeping with him but will never truly love him. The Tender Bar addresses class divisions — JR's humble origins make him self-conscious at his posh Ivy League school — but they're not dissected in any meaningful way, just as the lingering sorrow over his estranged father feels superficial rather than a driving force in the young man's life.
Beyond The Tender Bar's nostalgic qualities — highlighted by Kalina Ivanov's period-specific production design and the inclusion of classic-rock radio staples such as 'Radar Love'— Clooney embraces the material with what might best be described as a bland, feel-good pleasantness. JR will finally confront his no-good father (Max Martini), but even then the film shies away from the story's inherently darker textures. Indeed, whether it's a health scare that befalls Dorothy or the challenges JR faces once he finagles a job at The New York Times, there's a weightlessness to the picture that diminishes the character's journey of self-discovery.
Presumably, Clooney's sepia-toned approach is meant to underline his affection for JR and the family members who adore him. But by not digging deeper, the director shortchanges the very real growing pains that profoundly shape people's lives— especially in those individuals who later turn their childhood into a successful memoir that will eventually be adapted into a motion picture.
Production companies: Smokehouse Pictures, Grand Illusion
Worldwide distribution: Amazon
Producers: George Clooney, Grant Heslov, Ted Hope
Screenplay: William Monahan, based on the memoir by J.R. Moehringer
Production design: Kalina Ivanov
Editing: Tanya Swerling
Cinematography: Martin Ruhe
Music: Dara Taylor
Main cast: Ben Affleck, Tye Sheridan, Lily Rabe, Christopher Lloyd, Daniel Ranieri