Hafsteinn Gunnar Sigurosson's third feature is a perceptive exploration of spiralling domestic tensions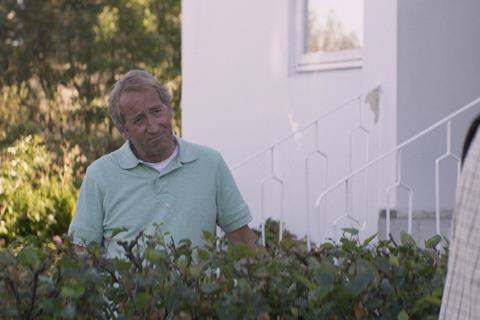 Dir/scr. Hafsteinn Gunnar Sigurðsson. Iceland/Denmark/Poland/Germany, 2017, 89 mins.
Unsettlingly perceptive as well as absurdly comedic, Under the Tree chronicles domestic tensions left to fester; when grudges branch out like a leafy tree in a suburban backyard, everyone suffers. In his third feature following 2011's Either Way and 2014's Paris of the North, Icelandic writer/director Hafsteinn Gunnar Sigurðsson mines the minutiae of unhappy marriages and neighbourhood disputes to amusing and astute effect.
Under the Tree proves cool in hue, calm in pacing and collected in framing, even as on-screen hostilities heat up
Inspiring ample laughs as well as palpable unease, the sharp, stylishly-made film should easily jump from its Venice Orizzonti and Toronto Film Festival slots to international attention. A Rams-scale breakout hit mightn't necessarily eventuate, but a hearty response on the feature's home turf should follow; Paris Of The North, Sigurðsson's previous collaboration with co-scribe Huldar Breiðfjörð, was a 12-time nominee and dual winner at the 2015 Edda Awards. Given that the filmmaker's efforts have already inspired one US remake — with Either Way becoming the David Gordon Green-directed Prince Avalanche — Under the Tree could also prove ripe for an English-language adaptation.
Indeed, while humanity might like to believe we've evolved beyond eye-for-an-eye thinking, tit-for-tat bickering sends Atli (Steinþór Hróar Steinþórsson) and his wife Agnes (Lára Jóhanna Jónsdóttir) — along with his parents Inga (Edda Björgvinsdóttir) and Baldwin (Sigurður Sigurjónsson) — down a retribution-filled path. Agnes' discovery of Atli watching a sex tape of himself with an old girlfriend sees him kicked out of their apartment, kept away from their young daughter, and their feud aired everywhere from her workplace to their building co-op meeting. At his parents' home, Inga's acid tongue inflames a quarrel with neighbour Konrad (Þorsteinn Bachmann) and his new, young wife Eybjorg (Selma Björnsdóttir) over a towering timber.
After starting with Atli's nostalgic self-gratification and its fallout, Under the Tree swiftly gives Inga's escalating battle with Eybjorg most of its attention. That's an understandable choice; insights into pettiness, paranoia and minor disagreements spiraling out of control never failing to enthrall.
Key to the feature's effectiveness is its presentation of outlandish behaviours with relatable motivations, especially those that spring in close quarters. Self-made pornography, pre-school teachers, beloved family pets, painful past losses, long-held resentments, and the ubiquity of IKEA; nothing is off-limits here.
If Sigurðsson and Breiðfjörð's script plunges everyday situations into darkness, so too does their cast; their deadpan aplomb cutting to the heart of the film's societal commentary. In what becomes a mélange of performances of tiered intensities, Rams' Sigurjónsson is quietly commanding in a more reserved role, as is the also impressive Jónsdóttir, while Steinþórsson makes an impact playing frenzied and careening.
The movie belongs, however, to the scene-stealing Björgvinsdóttir, who spits acrimony and expletives with such force and assurance that she instantly thrusts the character into the annals of memorable screen matriarchs.
Style-wise, Under the Tree unsurprisingly proves cool in hue, calm in pacing and collected in framing, even as the on-screen hostilities heat up. Cinematographer Monika Lenczewska (Park) and editor Kristján Loðmfjörð (a Sigurðsson regular) shoot and edit with judicious precision that heightens the film's hilarity and terseness in tandem.
Shots which shroud figures not only in the contentious shade of the titular plant, but also layer reflected vistas over spirited discussions, offer discerning visible commentary about the multi-faceted emotions and impulses at work here. A sense of composure stems from well-timed cuts, while Daníel Bjarnason's (The Deep) needling score adds drama as the movie creeps towards its wryly bleak climax.
Production companies: Netop Films, Profile Pictures, Madants, One Two Films
International sales: New Europe Film Sales, jan@neweuropefilmsales.com
Producers: Grímar Jónsson, Sindri Páll Kjartansson, Þórir Snær Sigurjónsson, Caroline Schlüter Bingestam, Ditte Milsted, Jacob Jarek, Klaudia Smieja, Beata Rzezniczek, Jamila Wenske, Sol Bondy
Screenplay: Hafsteinn Gunnar Sigurðsson, Huldar Breiðfjörð
Cinematographer: Monika Lenczewska
Editor: Kristján Loðmfjörð
Production designer: Snorri Freyr Hilmarsson
Composer: Daníel Bjarnason
Cast: Steinþór Hróar Steinþórsson, Edda Björgvinsdóttir, Sigurður Sigurjónsson, Lára Jóhanna Jónsdóttir, Þorsteinn Bachmann, Selma Björnsdóttir, Dóra Jóhannsdóttir, Sigríður Sigurpálsdóttir Scheving