A middle-class Polish couple experience the refugee crisis in a provocative but flawed debut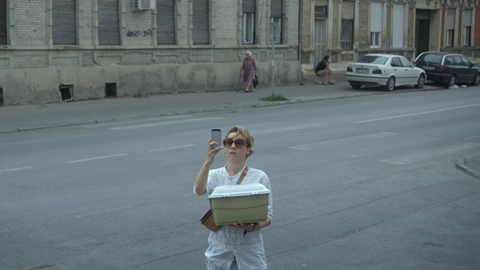 Dirs: Klara Kochańska, Kasper Bajon. Poland/Republic of Macedonia/Czech Republic. 2018. 75 mins
A joint feature debut by Polish filmmakers Klara Kochańska and Kasper Bajon, Via Carpatia is an attempt to confront the refugee crisis in Europe from the perspective of a middle-class Polish couple who are forced out of their comfort zone. Bold in concept, a little underwhelming in execution, it's nonetheless a thought-provoking experiment whose subject matter ought to guarantee a festival showing after its debut in Karlovy Vary's East of the West competition.
Via Carpatia captures the bewilderment and hopelessness of people thrown into an experience with which they simply can't identify
In 2016 Kochańska, whose short Tenants won a Student Academy Award, and her partner Bajon decided they wanted to make an immediate response to the refugee crisis. And with two other couples – one actors, the other cinematographers – they took their cameras on the road to the Balkans. The result is both scripted and to some extent reactive, a fictional conceit spurred by a real event, namely the Greek government's decision to dismantle the Idomeni camp on its border with Macedonia, relocating thousands of refugees.
Juliia Kijowska and Piotr Borowski play Julia and Piotr. We learn little about them, other than they have a nice apartment and a pet tortoise. His mother has retired and at a celebration dinner the couple speak of their holiday plans. But the old woman throws a spanner in the works: she wants her son to collect his father, from Idomeni, and bring him home.
There are immediate questions that will remain unanswered, not least what the man is doing in a refugee camp, or his nationality. It seems likely Piotr has never met him. In answer to his wife's nervous incredulity, he retorts: "She didn't make him up. They've been on the phone every week for 30 years."
Their shock and discomfort at the request is highly relatable: it's one thing to sympathise with people whose stories you hear on the news, thousands of miles away, another to be coerced into engaging directly with that world.
Some time later, Julia and Piotr begin their journey. Bizarrely, they've brought their tortoise with them. They are a very unhappy looking pair. First stop, for fake passports for his father, a reminder that refugees can't just be collected at the gate, even if they're family; this man is going to have to be smuggled home.
The radio news is a study in contrasts: the European Championships, a pre-presidential Trump praising Saddam Hussein, and reports of the violence as refugees refuse to leave the Idameni camp. Motorways, service stations, borders pass indistinctly, until we hear Greek music on the radio and, in their new hotel, the couple are told that police are searching for refugees.
In many respects, this is a template road movie – a route, destination and a purpose, the characters' relationship informed by the trip itself as much as the arrival. Julia and Piotr move towards the Greek/Macedonian border with trepidation and wavering commitment, thinking of themselves more than the man they're seeking. Rather than bond in their predicament, they're driven apart.
The filmmakers shoot the actual journey to the camp, their outlook limited largely to the van, motorways and hotel rooms, with the actors to a degree improvising their emotional journey. Such limitations can sometimes reap rich rewards, yet on this occasion the drama feels denuded by them. The thin character detail is fine, the scarcity of meaningful dialogue or interactions far less so. Though the absence of refugees fits the narrative agenda, it somehow typifies the sketchy feel of the film. Via Carpatia captures the bewilderment and hopelessness of people thrown into an experience with which they simply can't identify. But it's a shame Kochańska and Bajon didn't employ more of the satire of their final shot, as the couple return to their complacence.
Production company: MD4
International sales: IKH Pictures Promotion
Producer: Agniesszka Kurzydło
Screenplay: Kasper Bajon, Klara Kochańska, Julia Kijowska, Piotr Borowski
Editing: Barbara Fronc, Marcin Sucharski
Cinematography: Zuza Kernbach, Julian A. Ch. Kernback
Main cast: Julia Kijowska, Piotr Borowski, Bajram Severdžan, Dorota Pomykała