A look behind the facade of the Portugese empire through the archives it still maintains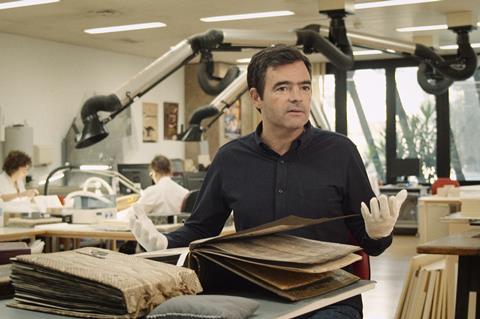 Dir. Joana Pontes. Portugal 2021. 93 minutes
The complex, often painful legacies of colonialism have provided material for dozens of documentaries and fiction-features in recent years, but Juana Pontes has nevertheless found a rewarding new angle on familiar terrain with Visions Of Empire (Visões do Império). A calmly measured second feature from the Angolan-Portuguese academic/filmmaker — who has mainly worked in television over the past quarter-century — it world-premieres at DocLisboa and should find future favour with the programmers of similar events and channels, especially those with human-rights emphases.
The unsung heroines and heroes of archivism, both in Portugal and across the world, could hardly hope for a more persuasive testament to their craft
Pontes, whose As Horas Do Douro (2010) focused on the wine business and did not circulate widely beyond Portugal, here chronicles and narrates a personal journey exploring the image and reality of the country's disparate, widely-scattered former empire. It came to and end after 1974's epochal Carnation Revolution, which marked the end of the repressive Estado Novo regime associated with dictator António de Oliveira Salazar. The emergence of Angola, Mozambique, Guinea-Bissau, São Tomé & Príncipe and Cape Verde as independent countries rapidly followed, with Goa and Macao reabsorbed into India and China respectively at much later dates.
Starting with her own faded family snaps taken in the Angolan capital Luanda — and inspired by Filipa Lowndes Vicente's 2014 volume The Empire of Vision: Photography In The Portuguese Colonial Context (1860-1960) — Pontes tracks down similar photographs and postcards found a Lisbon flea-market, aided by the author, then embarks on a year-long tour of various archives around Portugal.
While it isn't clear whether the film comprises the contemporary record of Pontes' wanderings or a post-facto recreation, neither is this distinction especially important. Along the way her voice is heard but her face is never shown, an editorial decision which gives centre stage to eight archivists, interviewed individually, and with Pontes' contributions excised. Their testimonies build an engrossing picture of how Portugal constructed and maintained a certain image of its empire: an enterprise that was "pluri-continental and multi-racial," unified by Catholicism and by connections to the central government in Lisbon.
This was, as expressed by the engaging Miguel Bandeira Jerónimo — accorded the most extensive screen-time of the octet — a "paper empire… am imagined cartographic reality… that politically and administratively did not, in fact, exist." Maps, documents and, especially, photographs, enabled "an illusion of control, an illusion of order" and even "an illusion of sovereignty".
Pontes, like the audience, comes to appreciate the extent to which the historical developments recorded in these photographs involved considerable and systemic exploitation, violation and bloodshed. The supposed process of "civilisation" tended to mean — for the hapless "natives" — unpredictable degrees of pacification and domination, and even in certain instances enslavement (especially on São Tomé & Príncipe) and/or extermination.
The photos themselves are nearly always formally posed, serene-looking affairs, but Vicente Lowndes speaks of "the violence inscribed in these images", and the "ethical issues" revolving around their present-day display and use. Pontes and company make a convincing case that these visual records of Portugal's problematic past can and must be part of the nation's cultural heritage; the crimes and errors of the past can help ensure nobler futures via "a shared understanding of our history."
Crucial to this is the role of the archives themselves — offshoots of or attachments to institutions of various types and stripes including universities, government records departments, the botanical gardens at Coimbra, the national military museum and the shrine at Fatima.
The interviewees are evidently leaders in their field; while six of the eight are women, only one (the last to be seen, Carmen Rosa) is a person of colour. It's a matter of regret that the scope of Pontes' self-circumscribed enquiry does not permit more direct input from those who were themselves colonised, or who are descended from such people. But her film is really as much about the archives and their — middle-class, highly-educated — senior staff as it is about those who took, posed for or utilised the photographs contained therein.
In her coda Pontes sadly notes that these archives, while treasure-troves containing unique items of inestimable educational and cultural value, suffer from a "a shocking lack of resources." And while Visions Of Empire never explicitly presents itself as a campaigning corrective to such neglect, the cumulative impact of its quiet, rational and intelligent approach is hard to misinterpret. The unsung heroines and heroes of archivism, both in Portugal and across the world, could hardly hope for a more persuasive testament to their craft. There is, Pontes shows, more than one way of performing magic while wearing white gloves.
Production company: Vende-se Filmes
International sales: Vende-se Filmes, Lisbon, info@vende-sefilmes.com
Producers: Patrícia Faria, Filipa Reis
Screenplay: : Joana Pontes, Filipa Lowndes Vicente, Miguel Bandeira Jerónimo
Editing: Rui Branquinho, Joana Pontes
Cinematography: Rui Xavier
Music: Carolina Néu