An Argentinian drug mule faces the horrific consequences of her actions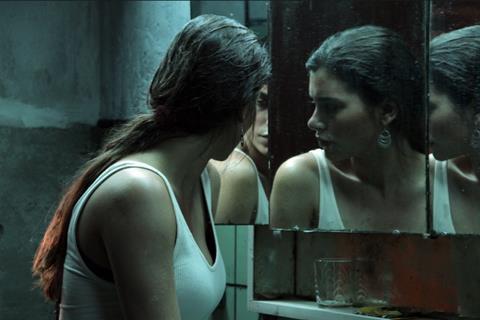 Dir Barbara Sarasola-Day. Argentina. 2018. 97mins
It was meant to be a quick and easy way to make some cash. But as the film opens, Martina (Eva De Dominici) and Manuel's (Rakhal Herrero) first run across the border between Bolivia and Argentina as drug mules is going seriously wrong. Backed into a corner, Martina calls upon the only person she knows who can help – Javier (Alejandro Awada), the father she has never met. The second feature from Argentinian director Barbara Sarasola-Day, this is a grubbily atmospheric thriller which pulls few punches and makes no excuses for its characters' actions.
The story is both gripping and grim
There are obvious parallels here with Joshua Marston's Maria Full Of Grace – both have a similar narrative featuring a young woman who is chooses to take the high risk route to an easy life by swallowing drugs to smuggle them. But while Marston's film is careful to contextualise Maria's circumstances, underlining the fact that she is a victim of unfortunate fate, White Blood boldly draws Martina as an altogether less sympathetic character. She is self-interested and self-destructive. She has hit rock bottom and is resigned to the fact that she probably belongs there.
The somewhat toxic characterisation of the central character, and her tough-to-justify actions might represent a marketing challenge to a distributor looking to connect the film with an arthouse audience, however the sweaty urgency of the pacing and the lean and efficient direction will work in the film's favour. The picture screens in Macao following a premiere at the Rome film festival and seems likely to enjoy further festival interest.
Both Martina and Manuel have swallowed upwards of 60 little latex wrapped capsules of cocaine. But Manuel is doubled up in pain. And as Martina watches helplessly, his body contorts into a spasm of agony and he dies. The film follows Martina's desperate actions when she learns that the dangerous men who paid her to move the drugs don't consider Manuel's death an obstacle to their delivery. And yes, that means she has to somehow extract them from her dead lover's guts.
Sarasola-Day has create a sense of place which prickles with menace. The spiteful streets of the border town are haunted by the kind of people who survive by feeding on the weak. And the insalubrious hotel room, where Manuel heaves his last tortured gasp, is an airless cell. It is lit with a sickly sodium glare which makes everyone look as though they are rotting from the inside out. And in a way, Martina is. The betrayal of the father who has never acknowledged her has shaped her life. When Javier grudgingly agrees to help her on the condition that she never contacts him again, Martina looks almost amused that her low expectations have been met, yet again.
For his part, Javier, a doctor, is visibly repelled by his daughter. He sees the bedraggled hair, the cocaine sweats and dead eyes rather that his own flesh and blood. A former model, De Dominici embraces an unglamorous role which almost, but not quite, conceals her natural physical beauty. It's an ugliness which goes soul-deep – Martina reaches out for help but it becomes increasingly clear that she is also looking for revenge.
The score – featuring lots of sleazy reverb and dive bar guitar – adds to the lowlife scrabble of Martina's journey. The story is both gripping and grim. You get the sense that, even for the characters who survive the ordeal, something inside has died.
Production Companies: APucara Cine
International Sales: Varsovia Films, Lucía Chávarri lucia@varsoviafilms.com
Producer: Diego Dubcovsky
Screenplay: Barbara Sarasola-Day
Editing: Eliane Katz
Cinematography: Soledad Rodriguez
Music: Santiago Pedroncini
Cast: Eva De Dominici, Alejandro Awada, Sergio "Negro" Prina, Rakhal Herrero