Some 25 projects from 21 countries are featured in CineMart 2016, IFFR's much vaunted co-production market.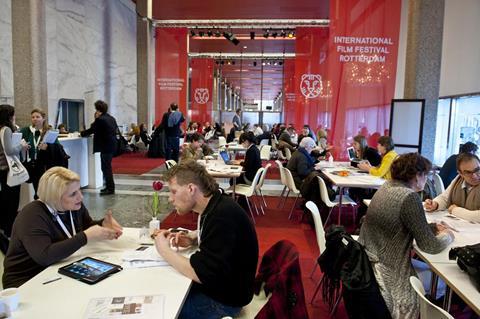 Now in its 33rd edition, this is the oldest event in its kind - and it has received a boost this year from the appointment of producer and regular CineMart attendee Bero Beyer as IFFR festival director.
Organisers report a major spike in the number of projects submitted to CineMart.
"It is crucial to be very selective in the kind of projects that we present. There's a lot of overproduction and a lot of markets and places where projects are brought into the world," states Marit van den Elshout, Head of Industry/CineMart Manager.
Once projects are chosen, there is still homework to be done. It is never just a case of filmmakers turning up and pitching blindly. The CineMart organisers help them prepare for their meetings and are designing a mentoring programme for those who are interested post-CineMart.
Budgets of the films chosen range from around €500,000 to just under €4m. The Last Harem, from director Maryam Keshavarz, is one of the most expensive projects at this year's bazaar. A 19th Century Persia-set drama about a young, rebellious, cross-dressing musician, the film (made through Neon Productions) has a mooted budget of €3,600,000 and is intending to shoot early next year.
Unlike almost every other CineMart entry, it already has a sales agent, Funny Balloons, involved. (It's generally a policy to select projects without sales representation because part of the point of the CineMart is to allow the sellers to discover the projects for themselves.)
New Ben Sombogaart feature, Rafael, a refugee-based romantic drama, has a budget of just under €3,800,000. This is an Italian/Belgium/Tunisia/Netherlands coproduction. Partners involved include Reinier Selen's Rinkel Film, Rome-based Verdeoro and Entre Chien Et Loup.
One of the most intriguing projects in the selection is Burhan Qurbani's updated version of Berlin Alexanderplatz, which re-sets Aflred Doblin's classic 1920s-set novel among the refugee community in present-day Berlin.
Also provoking considerable curiosity is Jessica, the latest project from Platform Production, the Swedish company set up by Erik Hemmendorff and Ruben Östlund. Directed by Nina Thyberg. the film, already supported by Film Väst and the Swedish Film Institute, is billed as an "intimate, brutal and humorous observation of the porn industry and all the bodily preparations this profession requires."
Oscar-nominated Mustang and Cannes Jury Prize winner The Lobster are just two recent films that the event helped coax into existence. Meanwhile, at next month's Berlinale, another CineMart project, United States Of Love, directed by Floating Skyscapers filmmaker Tomasz Wasilewski, will be screening in competition.
Alongside the CineMart, there will be various industry debates involving such notable market figures as The Match Factory's Michael Weber and Hengameh Panahi of Celluloid Dreams. There are over 700 CineMart attendees and a further 600 industry guests. There will be 60 young producers attending the Rotterdam Lab.
As van den Elshout acknowledges, the CineMart still works in more or less the same way it always has - and that's what appeals to delegates.
"I've thought many times we should stop doing this and create something completely new but this is actually still the catalyst for people to come. It really works," she states. "It's still a really good way for people to get to know a producer/director team and to figure out if there is something they can do together on a financial level and also if there is a creative connection."