HBF+Europe to support co-productions with emerging territories.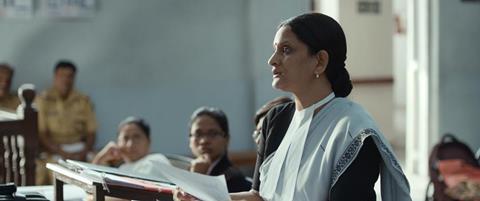 After several lean and uncertain years, prospects are looking up for IFFR's Hubert Bals Fund, which supports filmmakers from developing countries.
Through new scheme HBF+Europe, supported by Creative Europe, the Fund is now looking to support European producers who act as minority co-producer on high-quality film projects by filmmakers from emerging countries.
HBF Manager Iwana Chronis said: "We are very excited about this. We got additional funding through Creative Europe Media for the Fund, which is very, very welcome. It also means we are starting something new."
For a number of years, the Fund has been running HBF Plus, which offers Dutch producers support for working on projects from developing countries.
Now, with the EU MEDIA support worth €300,000 as well as additional funding from other sources, HBF is in the position to back producers from all over Europe.
This year, the Fund will support four films with production investment and will also provide financial assistance for the marketing and distribution of a maximum of four films. The new scheme is expected to strengthen further the ties between HBF and IFFR's co-production market, the CineMart.
Special event
To tie in with the new scheme, HBF and Creative Europe organising a special event, Coproducing Beyond Europe. This special day - consisting of panel discussions and networking events between European and non-European producers - will take place on Jan 27 during CineMart.
In recent years, HBF's core funding has been under threat as the Dutch Ministry of Foreign Affairs has lessened its support. Nonetheless, Chronis is optimistic that the budget will stabilise at around €800,000 a year.
New interview series
In Rotterdam, HBF is launching new interview series Brave Talk. This is a series of in-depth interviews following the screening of a film critically addressing issues related to human rights or social injustice.
Brave Talk consists of a short introduction to the film and an in-depth interview between the filmmaker and host Geoff Andrew, film critic and senior programmer at BFI Southbank in London.
The following films will participate in Brave Talk (each of them supported by the HBF in the past):
Jan 27: Court by Chaitanya Tamhane
Jan 28: A Corner of Heaven by Miaoyan Zhang
Jan 29: NN, by Hector Galvez Campos.
There are 19 films supported by the Fund (up from 11 last year) screening in the various sections of this year's festival. Several are in contention for the Festival's Tiger award.
"It (the funding) is still not 100% secure for the next decade but it looks a lot more positive than it did a few years ago," added Chronis.
"It is also a very organic development to move more into co-production. If 80% of all the films we support end up as European co-production, it is a logical development to try to highlight that even more."