The Swiss director talks about "underground dwellers", which receives its international premiere in competition at International Film Festival Rotterdam (IFFR).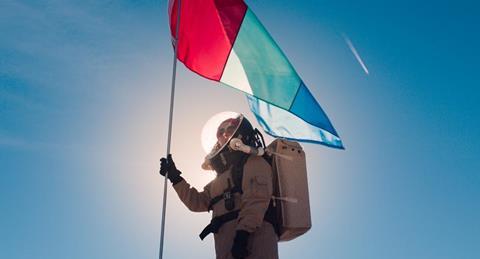 Young Swiss director Nicolas Steiner made Tiger contender Above And Below as his graduation film at film school - but don't think this means it is a low budget chamber piece.
Steiner's feature doc took years to complete and involved him venturing to far flung places in the US - from underground tunnels in Las Vegas to the farther reachers of the California desert.
The project had its roots in his time as a Fulbright Scholar at the San Francisco Art Institute.
"I started to get in touch with ghost towns, a lot of 'dead' places," the director recalls of research he undertook while in San Francisco.
Steiner was intrigued by a picture he had been shown of an astronaut standing in an empty red desert. "I was looking at the picture and thinking, whoa, are we already on Mars?" This led him to the "Mars people" who feature in the film.
The director was equally curious about the underground dwellers, many of them crystal meth addicts, in Las Vegas.
"It took me weeks and weeks to figure out how the tunnels worked," Steiner recalls. "I was constantly trespassing. I got arrested once." The underground dwellers were "nice" people but they were still suspicious of this affluent looking stranger in their midst.
"Of course, there were situations where I would act a little differently," Steiner says in hindsight as he recalls the fearless (and slightly naive) way he approached his subjects.
All being well, the director will show Above And Below to some of these subjects, possibly even down in the tunnels themselves.
The first cut of Above And Below was six and a half hours. The film took almost a year to edit. Gradually, Steiner saw thematic connections between what he had shot. "The theme of family came up and I didn't know that was going to be such a big thing. Dave got rejected by his daughter and April is looking for her father."
This isn't verité, fly-on-the-wall style documentary making. Steiner wants his audience to have "an experience, a trip" and for his film to seem as cinematic as possible.
The tutors at his film school in Germany (the Film Academy Baden-Württemberg, Ludwigsburg). were initially sceptical about the project, which they saw in an unfinished cut. It was too big, too sprawling, too poetic, too wild and too unusual - at least by comparison with most student films.
"The teachers destroyed me…and I think it is the film from the school ever that has been in the Rotterdam Competition!"