Honorary Heart of Sarajevo Award for actor who attended the festival with new film A Perfect Day.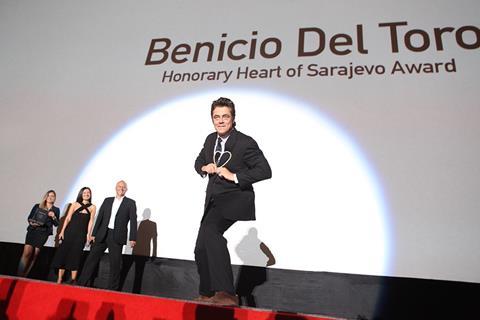 Oscar-winning actor Benicio Del Toro has accepted the Honorary Heart of Sarajevo Award at the Sarajevo Film Festival (Aug 14-22) , where he presented his latest film A Perfect Day.
In director Fernando Leon de Aranoa's drama, which premiered in Cannes' Directors' Fortnight strand, Del Toro plays a veteran field aid worker trying to resolve a crisis in an armed conflict zone.
The film screened last night (Aug 20) as part of Sarajevo's Open Air Program, in front of an audience of around 3,000.
Previous recipients of the prize include Gael Garcia Bernal, Mike Leigh, Bela Tarr and Angelina Jolie Pitt.
Del Toro will take part in a masterclass at the festival today for the participants of the Talents Sarajevo initiative, a platform for emerging film professionals.