Ahead of the European Film Forum's exhibition panel in Sarajevo, Geoffrey Macnab looks at how fresh thinking is leading to new opportunities for cinemas in eastern Europe.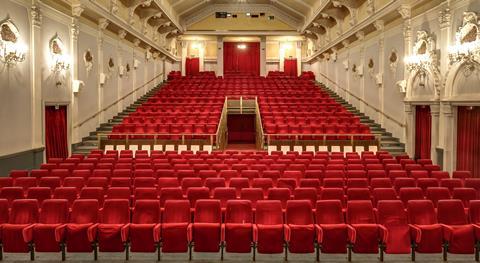 There was a period in the 1990s when cinema exhibition in eastern Europe looked to be on the fast road to extinction.
"The theatrical sector almost died in the former Yugoslavia," acknowledges Sarajevo Film Festival's head of industry Jovan Marjanovic of the time after the Yugoslav wars, when investment in the film industry dried up.
Festivals such as Sarajevo played a crucial role in keeping film culture alive - and in giving Balkan audiences the chance to see European films. Now, as speakers will underline during a special exhibition panel at the European Film Forum in Sarajevo, the picture looks altogether rosier.
Independent exhibition is looking stronger than ever seemed possible, while there has been a pronounced - and unpredicted - multiplex boom.
"Things are changing," says Marjanovic. "We didn't expect multiplexing to take off after the economic crisis… that was something that a couple of years ago analysts could not foresee. Everybody said multiplexing was going to be difficult and they asked, 'Who is going to invest in the infrastructure?'"
Competition in the region between rival operators such as Cineplexx and CineStar has been one factor driving multiplex growth. Austria-headquartered Cineplexx has opened cinemas in Serbia, Montenegro, Croatia, Slovenia, Macedonia, Albania and Italy.
CineStar, which has regional headquarters in Croatia, has also been opening and upgrading cinemas across the Balkans. Meanwhile, as part of its global expansion, IMAX has been targeting eastern Europe, opening cinemas in Zagreb and Belgrade (IMAX's Giovanni Dolci is expected in Sarajevo for the exhibition panel).
Christof Papousek, managing director/CFO of Cineplexx, agrees that the region is on the upswing but points out there are still wide variations. For example, Slovenia and Croatia, both EU members, have far more developed exhibition sectors than non-EU member countries such as Serbia, Montenegro and Macedonia. "In these two countries [Slovenia and Croatia], the development of cinema was strongly connected to the development of shopping malls. Every shopping mall developer wanted to also have a cinema," he says.
Cineplexx currently has six multiplex sites in Slovenia, three in Croatia, three in Serbia and one each in Macedonia, Albania and Montenegro, with new sites expected to open soon.
"There are further sites in development. In Serbia, we really see a big potential," Papousek notes, pointing to the country's young population. Belgrade, a city of more than 1.5 million people, currently has only two multiplexes.
Papousek talks of "working hand-in-hand with the distributors to create a strong movie-going awareness". Part of this strategy is to try to show local films as well as Hollywood blockbusters. With piracy a constant threat, it is also important to have the best and most comfortable facilities. He also warns of the damage high VAT rates and tax demands can do to the newly resurgent industry.
New networks
In Croatia, the founding of the Croatian Independent Cinemas Network in November 2014 has had a transformative effect. The network currently numbers 27 cinemas in 24 cities and towns.
Thanks to a digitisation initiative supported by the Ministry of Culture and the Croatian Audiovisual Centre, most of the country's independent screens have been digitised.
"Without [digitisation], lots of cinemas around Croatia would have been closed," acknowledges Hrvoje Laurenta, who is the Cinema Network president, and also CEO of Cinema Europa and Zagreb Film Festival.
There is a new-found camaraderie between the cinema operators in the network. In past years they hardly knew each other existed but now, as members of the same national organisation, they realise they share many of the same problems and goals.
Many of the exhibitors are active in distribution as well, and some of the cinemas in the network have lengthy and illustrious histories. For example, Cinema Europa in Zagreb is 90 years old and has stayed open through several wars and the break-up of the former Yugoslavia.
The network caters to every audience, from ages "three to 103", Laurenta quips. But across the region, disparities are still evident. Claude-Eric Poiroux, general director of Europa Cinemas, points to his organisation's recent research revealing the relative lack of screens in countries such as Bulgaria and Romania.
"In these two countries, the problem is that the number of screens is insufficient. There are far fewer cinemas than in the rest of Europe," Poiroux points out. Bulgaria has 165 screens - one screen for every 44,149 inhabitants. Romania, meanwhile, has 259 screens, or one screen for every 77,298 inhabitants. Both figures compare unfavourably with the European average of one screen for each 22,322 inhabitants.
Poiroux notes that multiplexes are being built in both countries. That is a positive sign, even if these multiplexes programme primarily US films. Indeed, Hollywood usually has a market share of 80%-85% in the region.
Independently owned cinema chains remain rare, and those that are in existence tend to be poorly equipped.
Only two cities in Bulgaria - Sofia and Varna - have cinemas in the Europa Cinemas Network, which offers support to theatres that commit themselves to screening a significant number of European non-national films. In Romania, six cities - Bucharest, Brasov, Cluj-Napoca, Constanta, Craiova and Targu Mures - have cinemas in the network.
Films on the road
In the absence of arthouse cinemas, the region has become increasingly reliant on travelling cinemas.
Palme d'Or-winning Romanian director Cristian Mungiu is one of the film-makers in the region who has learned to improvise in order to ensure his movies are seen by local audiences. Starting with his 2007 Cannes winner 4 Months, 3 Weeks & 2 Days, Mungiu has taken his films on the road, screening them in communities big and small that do not have cinemas.
Other Romanian film-makers such as Daniel and Catalin Mitulescu have attempted something similar. Stefan Kitanov, director of Bulgaria's Sofia International Film Festival, has likewise taken travelling cinema to towns including Burgas, Plovdiv and Gabrovo - as, of course, has Sarajevo through the regional Operation Kino programme.
"The funny thing is that major distributors here are doing it as well as the arthouse distributors," Marjanovic says of travelling cinemas. "Both groups are going on the road."
Another trend is the Occupy Cinema movement. In the late 1990s and early 2000s, old cinemas across the region were closed as property developers moved in: movie theatres faced being turned into apartments or offices. In reaction, there was a campaign to grab back these venues. Activists recently took over the abandoned Zvezda cinema in Belgrade, a theatre that was more than 100 years old. Films were screened in an attempt to spark a cinephile culture in the Serbian city.
Squatting in cinemas may not do much for exhibition in the Balkans in the long run but it is having a positive effect in the short term. The Occupy Cinema movement has sparked debate about film culture and caught the imagination of younger cinema-goers. "We want to make more and more cinemas in this region believe it is worth screening European films," says Claudia Droc of Europa Cinemas, who will be attending the Sarajevo exhibition panel. "One thing that is difficult in this region is the very small market share for national films."
International festivals and distributors may be buzzing about the Romanian 'New Wave' of directors such as Mungiu and Cristi Puiu (The Death Of Mr Lazarescu), but that enthusiasm has not always been matched by Romanian cinema-goers themselves.
When national films do well with their own audiences, Droc points out, they can help change audience habits. Cinema-goers who have seen and enjoyed local movies are more likely to take a chance on films from other European countries. "Your appetite is, let's say, opened for this," she says.
Developing audiences for diverse programming is key, says Tina Hajon, former head of exhibition at the Croatian Audiovisual Center and a member of Europa Cinemas' experts committee. She says it is inspiring to see young people bringing new life to the Zvezda, or Operation Kino bringing films to towns where there are no cinemas.
"But for all of them, it's difficult to have continuous activity and to be able to finance themselves," she warns. "In our region there is a lack of long-term cultural policies and financial support for independent cinemas. There is a need for new schemes of national support for cinemas that have a cultural mission… the new generation of cinema-goers are our future. Audiences have changed and cinemas also. We have to reinvent them, creating the demand for a diverse cinema."
Festivals such as Sarajevo and Transilvania International Film Festival can help the exhibition sector. By foregrounding local movies, they can help audiences develop a taste for them. They can also be key for industry attendees, as Hajon points out. Sarajevo's Avant Premiere programme, launched in 2014, is also a useful way for regional exhibitors to see upcoming films and make programming plans.
Potential for innovation
Droc refuses to accept the conventional wisdom about eastern European cinema needing to catch up with western Europe. "The thing that interests us is whether these [eastern European] countries can go on their own path," she says. "It is not necessarily to use the words 'catch up' but rather 'innovate'. Maybe they can do something new… that is where the fun part will be. We will start looking at whether cinemas in eastern Europe can lead innovation."
Countries of the former Yugoslavia such as Croatia, Slovenia, Bosnia and Herzegovina, Macedonia, Montenegro and Serbia may each be relatively small but, together, they constitute a sizeable market of more than 20 million people. They also have a long, shared cinema history.
"There is definitely space for co-operation between all countries in the region," suggests Laurenta of the way exhibition is evolving. "We were once one country before. We are very close to each other and we speak the same language."
Co-operation, he suggests, is not a choice as the exhibition sector looks to grow in the region - it is a necessity.