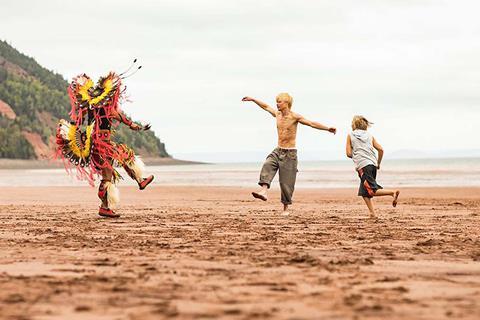 In Canada, Indigenous filmmakers can look to several government-backed initiatives for support as they work to put their stories on screen. Telefilm Canada's Indigenous Stream, for example, provides $3.1m (c$4m) a year in feature-film production and development financing for creators from the country's Indigenous communities. The Indigenous Screen Office (ISO), meanwhile, an independent organisation whose founding partners include Telefilm, the Canada Media Fund and public broadcaster CBC, operates to foster Indigenous storytelling and promote Indigenous values in the film and TV sector.
Such initiatives have helped get Indigenous films including Wildhood, Red Snow, Beans and Night Raidersmade (the latter two through Telefilm's regular funding streams). And, according to Telefilm executive director and CEO Christa Dickenson, the commitment to back filmmakers and boost representation is ongoing.
"As a step towards more authentic representation and narrative sovereignty for Indigenous peoples, Telefilm is committed to supporting Indigenous filmmakers in bringing their visions to the screen," says Dickenson. "It is of utmost importance that we work towards improving our policies and practices to better serve the needs of Indigenous filmmakers from across the country."
The challenges involved in providing national public funding for Indigenous film, in Canada and internationally, will be the subject of 'Pathways to Change', a February 11 panel in the European Film Market's (EFM) Industry Sessions strand that will examine how 'colonial' funding institutions (ie, those run by national governments) can do better for Indigenous filmmakers.
While funding for Indigenous filmmaking has recently been on the increase, there is still a need for more, suggests Adriana Chartrand, Telefilm's lead Indigenous initiatives and content analyst, who will moderate the EFM panel. "We've made great strides, especially in Canada, in terms of the public funding," Chart­rand says. "We're very lucky to have this funding, but of course more funding would always be welcome, especially considering a lot of Indigenous stories based on traditional legends need special effects."
Another issue, Chartrand adds, is "ensuring that creative and financial control is with the Indigenous people making the project".
There is also the growing issue of Indigenous identity fraud, a problem highlighted recently when the Indigenous identity of Michelle Latimer, maker of prize-winning documentary Inconvenient Indian, was called into question (claims rebuffed by the filmmaker). "There are a lot of false or misrepresented claims to Indigenous identity in Canada and elsewhere where public funding exists for Indigenous people," Chartrand explains. "So one of the big things is working with Indigenous communities to develop better policies around Indigenous identity."
The challenges surrounding Indigenous film are all too familiar to Greenlandic Inuit writer/director Pipaluk Kreutzmann Jorgensen, known for her 2018 feature Anori, and Canadian Inuit writer/director/producer Alethea Arnaquq-­Baril, director of documentary Angry Inuk, both of whom are set to participate in the EFM panel.
Jorgensen wants to make This Road Of Mine, her coming-of-age drama set in 1990s Greenland, with Arnaquq-Baril's Red Marrow Media as the producer. The company is based in the far north Canadian territory of Nunavut and, says Jorgensen, "they understand a lot more about the culture and the story that we want to tell than the Kingdom of Denmark [of which Greenland is a constituent country, even though it was granted home rule in 1979]."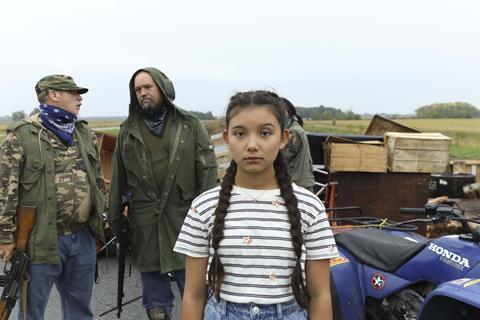 Greenlandic Inuit and Canadian Inuit may live and work separated by national boundaries, Jorgensen asserts, but "we are the same people, we see ourselves as one community." The potential Inuit filmmaking partners, however, have come up against Canadian funding rules that have so far made the project difficult to get off the ground.
"As Inuit producers we can't produce a project with a Greenlandic Inuk as writer and director, not on anything more than a micro-budget scale," Arnaquq-Baril explains. "And micro-budgets are difficult to work with in the High Arctic, because it's just so expensive here.
"To make it work we would have to do a co-production, which means the Indigenous partners would have to give up ownership to non-Indigenous people. And we're fighting hard in Canada to make it possible for Indigenous creators to maintain ownership of their own intellectual property."
The problems encountered by This Road Of Mine are part of a bigger issue affecting many Indigenous filmmakers with shared cultures and communities, Arnaquq-Baril argues.
"The present-day colonial borders are not drawn along the lines of the Indigenous nations' borders," she says. "So we're often split up by the internationally recognised borders, even by the provincial and territorial borders within Canada. It's incredibly difficult to tell stories about our own people, our own experiences that we relate to, because of funding restrictions."
After wrestling with the problem for more than a decade, however, Arnaquq-Baril is finally seeing hopeful signs. "I've been lobbying for this kind of policy change for probably 15 years now," the Inuit producer says. "It felt like we were up against a wall for many years. Then in the last few years it's changed and I feel like there's a number of people in different agencies that are considering this and how they could make it work."
The experiences of other groups in other countries might provide pointers for how Indigenous filmmakers can work more easily across national boundaries. In Norway, the International Sami Film Institute (ISFI) has been providing filmmakers from the Sami people, whose lands encompass parts of Norway, Finland, Sweden and Russia, with skills training, mentoring and funding since 2007.
ISFI, which also distributes films on its own streaming platform, has helped get features such as Sami Bloodand The Body Remembers When The World Broke Open produced and worked with partners including the Sundance Institute and the Canada Media Fund to establish the Arctic Indigenous Film Fund. ISFI director Anne Lajla Utsi, another participant on the EFM panel, suggests that the institute has given filmmakers a vital measure of independence.
"We decided we needed our own film institute that could support Sami-­language films," she says. "In the past 12 years we've been building it and our funding is growing slowly and we have a new generation of Sami filmmakers such as Amanda Kernell [Sami Blood] and Elle-Maija Tailfeathers [The Body Remembers When The World Broke Open], who is a Blackfoot from Canada and also Sami from Norway."
Significantly, ISFI "can support Sami filmmakers in any country — it doesn't have to be only Sami filmmakers from Norway", explains Utsi. "We can also co-­produce with other Indigenous peoples."
Organisations like ISFI could serve as a model for other Indigenous groups looking to develop their own filmmaking identities, Utsi suggests, and sharing experiences could help people around the world deal with the challenges they face. "What is important is that we have our own sovereignty when it comes to establishing and funding and running organisations and building up our own institutions," she says. "And that those institutions are not part of some national film institute or national broadcast company but are independent and Indigenous-owned.
"There are so many common challenges, so there is a lot to gain from that direct Indigenous brotherhood and sisterhood. It's important and very inspiring."

Comprised of some 200 professionals passionate about Canadian content, we work to finance, develop, and promote the Canadian audiovisual industry of today and tomorrow.
View full Profile