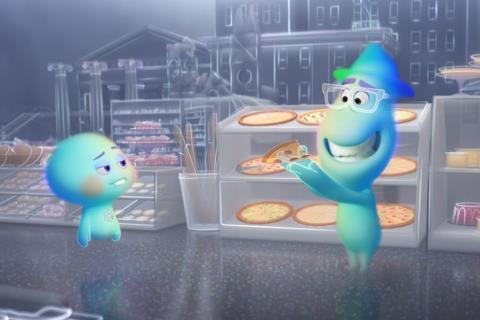 In another grim yet not unexpected development for the stricken exhibition sector, Disney has pulled Soul from its November 20 theatrical release slot and will debut the Pixar film on Disney+ in the US on December 25.
The family film will open theatrically in international markets where the platform has not yet launched, on dates to be announced.
The latest casualty to the pandemic comes as cinemas in New York and Los Angeles remain closed, and follows decisions by Warner Bros and MGM/Eon to push the theatrical releases of Dune and No Time To Die, respectively, into 2021.
The move to pull Soul from the theatrical release calendar means Warner Bros' Wonder Woman 1984 on December 25 remains the only major tentpole left on the calendar in a year that has seen box office decimated, leaving debt-laden cinema chains struggling to survive.
If cinemas in New York and Los Angeles do not reopen soon after more than six months of closure, and Covid-19 surges continue across parts of the world, observers say Wonder Woman sequel will most likely get bumped to 2021.
Earlier this week Cineworld, the second largest chain in the world, said it was temporarily closing its UK sites and US-based Regal sites as of today.
AMC and Cinemark remain open, however Disney executives will feel their streaming platform is a bankable way to make money in a current environment where southern Californian theme park Disneyland, which accounts for so much of The Walt Disney Company's bottom line, remains closed.
A press release issue on Thursday afternoon (October 8) said the pandemic had provided "opportunity for innovation in approaches to content distribution", noting that Disney+ has drawn more than 60m subscribers in its first year of launch.
It is understood subscribers will not have to pay a premium to watch Soul on Disney+, as they did when Mulan launched on the service recently.
Soul, an official Cannes selection that is due to screen physically at BFI London Film Festival on Sunday (October 11), will remain eligible for Oscar consideration so long as the film appears on the Academy's Screening Room member site within 60 days of its debut on Disney+.
Pixar Animation Studios chief creative officer Pete Docter directed Soul, which features the voice talents of Jamie Foxx, Tina Fey, Phylicia Rashad, Ahmir Questlove Thompson, Angela Bassett and Daveed Diggs.
Docter said he hoped Soul would bring "some humour and fun to people at a time when everyone can surely use that."
Now that Soul has vacated the November 20 slot, DreamWorks Animation's Croods: A New Age is the big US Thanksgiving release. The animation sequel is expected to get a shortened theatrical run before Universal moves it to PVoD for December holidays.
In cases where a film plays at AMC Theatres sites for a minimum of 17 days before it goes to PVoD, AMC CEO Adam Aron said this week the exhibitor "will share in premium revenues coming from their early availability in the home".